Discover more from Best Evidence
The true crime that's worth your time.
Over 1,000 subscribers
It's true, but it's no crime: Two days after Sarah broke down Quibi's systemic issues when it comes to true crime for Primetimer, and the same day she warned that the streaming network's demise is nigh in this very publication, the company announced that it was shutting down.
There was an inevitable Medium post from the company admitting defeat, and there are countless postmortems out there for those who want to snicker at its gravesite (if you do, throw in a choked '"GRANT" for me). Perhaps lost in the shuffle is a new true-crime doc that launched on the network the day before it died.
Called Big Rad Wolf, it's about the rise and fall of American Apparel, the once-ubiquitous t-shirt (etc.) company known for its supposedly progressive labor policies (I won't take y'all on a tangent into how most of our non-U.S.-manufactured t-shirts are made, but trust me: it's bad) and provocative advertising.
Its founder and former CEO, Dov Charney, was the subject of slews of sexual harassment and assault allegations over the years ("Dov Charney's 10 Slimiest Moments" is the kind of listicle we need more of, in my opinion), and Big Rad Wolf looks at allegations of financial crimes at the company, as well.
The doc is a co-production with Vice (here's a self-promotional item on the doc from that publication) and the rumor — I stress "rumor" here; I am getting this from people who aren't in a position to make a deal — is that Vice can take it back and shop the show elsewhere. That would be great, as so far, no one's expressed interest in buying the Quibi library and (as I believe Best Evidence subscriber Tara Ariano suggested when Quibi launched) turning the bite-sized episodes back into grownup-length properties.
Then again, all that content is probably at fire sale levels now. If I were a streaming platform, I might buy the whole storage unit, keep what I want, and dump the rest on YouTube and collect that ad revenue. Which means I can finally watch Murder House Flip, which Sarah says is so crappy I am not allowed to pay for it. — EB
---
Quibi wasn't the only tower to topple Wednesday. Purdue Pharma, the company behind OxyContin, accepted a plea deal in which it will plead guilty to three felonies and pay an $8.3 billion fine, Bloomberg (among others) reports. At issue is the marketing of the painkiller, a drug so addictive that it's often cited as the sole force behind the U.S. opioid epidemic. From the report:
The agreement calls for Purdue's owners, members of the billionaire Sackler family, to make an immediate $225 million payment to the government and for the company to pay $250 million after its bankruptcy is concluded, the U.S. Department of Justice said Wednesday. The remaining amount owed by Purdue will be counted toward the company's payout to its creditors, court records show.

The deal is likely to boost Purdue's effort to move past claims it helped spark a public-health crisis over opioids with its marketing of OxyContin. Yet the company still faces thousands of civil claims by local and state officials, for which Purdue has previously proposed a $10 billion settlement in bankruptcy court. Governments are seeking reimbursement from Purdue and others for tax dollars spent coping with the crisis, which has led to more than 200,000 U.S. overdose deaths and chronic addiction.
I don't disagree with reporters Jef Feeley and Chris Strohm that the settlement was part of an effort by the drug company "to move past claims it helped spark a public-health crisis over opioids with its marketing of OxyContin," but let's be clear: they can only "move past" it if we let them. One way to keep Purdue's admitted crimes in the forefront — a move that, one hopes, will help put the fear of consequences in other drugmakers — is to support great reporting on the crisis their drug has allegedly wrought. Because, of course, the drug crisis won't end when the Sacklers write that check.
So I polled Sarah on some of the best reporting out there on the opioid crisis, and here are her picks:
Heroin Cape Cod, USA This 2015 HBO doc "is a cinema-verité look at the heroin epidemic currently sweeping America's small towns and communities, focusing on eight young heroin addicts in idyllic Cape Cod, Mass," its press materials say. It's available to stream on HBO Max.
Dopesick Beth Macy's 2019 book forced Sarah to take "a brief ragey stroll around the basement," she wrote in her May review, not because the book is bad, but because the entire situation is "utterly infuriating." "But it's excellent," she concludes, writing, "I know we've all had a time of it so far in 2020, but there's something to be said for getting mad and staying there." You can find Dopesick on Amazon, where used copies of the paperback version as are low as $4.50.
My picks:
The Pharmacist This Netflix series begins as a murder mystery, then turns into something else entirely, as a pharmacist whose son was killed in a drug deal gone wrong mounts his own investigation into the case. You can stream it here.
Addiction Nation Back in the earlyish 1990s, I read an interview with actor Dolph Lundgren in which he talks about how a casually-prescribed dose of Percocet for an on-set back injury derailed his entire life. Since then, I have been very suspicious of painkillers (Dolph scared me straight, y'all!), and when my then-boyfriend was handed an open-ended prescription for Oxy for his back pain in 2003 (after a visit with a physician's assistant, no less), I kind of freaked the fuck out and told him no. He's now my husband, and (perhaps out of kindness) still says that I saved him, to which I respond, "No, Dolph did." All this to say that Addiction Nation author Timothy McMahan King did not have a Lundgren fan in his life to steer him away from his doctor's orders, and it nearly killed him. King is a marketing and PR guy, so he gets how these drugs are pitched to us in a way others might not. One caveat: As with many addicts, King takes the notion of a higher power very seriously, so non-religious folks might be put off by some of his more theological takes. It's on Amazon here. — EB
---
I'll take any excuse I can get to link to one of my favorite true crime longreads. Elon Green's "The Untold Story of the Doodler Murders" is, as far as I'm concerned, the definitive take on the poorly-investigated serial killer who stalked San Francisco's gay community in the 1974 (and was rumored to have menaced Rock Hudson, among other closeted luminaries). Back then, only the local gay papers covered the case, because even in swinging 70s SF, crimes against the LGBTQ community weren't worthy of the publications delivered to the city's "decent" families daily.
Now the SF Chronicle is finally taking the case on, in a podcast called The Doodler. Its host is Kevin Fagan, a longtime reporter at the paper, and it's set to debut some time in 2021. For now, they're seeking tips on the case via the show's website, and you can read more on the show's backstory here.
---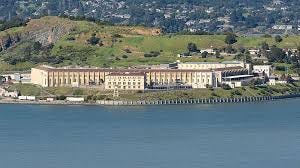 A COVID-19 outbreak at San Quentin is "the worst epidemiological disaster in California correctional history." So ruled the state's First District Appellate Court this week, saying that the California Department of Correction and Rehabilitation exhibited "deliberate indifference" when it transferred hundreds of untested inmates from the California Institution for Men in Chino to Quentin, prompting over 3,000 cases of coronavirus and at 28 deaths.
The Bay Area News Group reports that prison officials "did not follow the advice of public health experts" as the disease spread across its population. As of October 14, "the statewide prison population remains at around 8,000 people past its design capacity," which means that even now, inmates are denied the social distancing opportunities that the rest of us enjoy. — EB
---
ESPN's The Running Man podcast dropped its full season this week. This is another show from ESPN Investigates, which brought us Bloodlines, a supposedly great podcast about misdeeds in horse racing that I can't listen to because I am an animal freak.
This new podcast is about "an obscure former Olympian and alleged serial sexual predator, Conrad Avondale Mainwaring," a press release for the season says, and is an offshoot of a 2019 investigative project from ESPN's "Outside the Lines" team.
The multimedia package from the investigation is pretty great (it's also very long, so give yourself some time for this one) and can be found here. The podcast is available via all the usual apps, and ESPN has an episode-by-episode rundown of the show for those who want to scan ahead for triggers. Of which there are plenty, as this is a four-decade tale of manipulation and abuse. Have a great weekend! — EB
---
Friday on Best Evidence: A reader comment spurs a Dr. Death discussion.
---
What is this thing? This should help. Follow Best Evidence @bestevidencefyi on Twitter and Instagram. You can also call or text us any time at 919-75-CRIME.