Murder Unboxed · A Fyre Pod · Lobster Boy
Plus the decade's best reporting, and Farid Fata
Oh, Quibi. (Like, I know every headline about the network starts like that now, but: where else can you really go with it.) The app has forged ahead with new shows in recent weeks — specifically, true-crime shows like Last Looks (dropped 10/12) and Murder Unboxed (hit a couple days ago). My omnibus review for Primetimer of those two plus Murder House Flip tries not to BE flip about why Quibi isn't it. One of the reasons: consistently missing opportunities to innovate, in the true-crime space or any other:
Wouldn't it have been more compelling to film the unpacking of an evidence box without the foreseeable gauzy re-enactments and talking-head interviews — and just let the evidence speak for itself, meditatively unpacked and laid out on a well-lit table? Wouldn't the dried blood, dowdy carpet squares, .44 Magnums et al. tell their own stories about the passage of time and the fragility of life — reminding us in their ugliness and brutality that murder is ugly and brutal? The unpacking is literal, but also metaphorical, forcing us to look at our own participation in crime as entertainment.

Maybe Quibi should hire me to head up their true-crime division, because my take isn't great, but at least it's new.
I would make a joke here about Quibi calling me, but recent headlines suggest there's not going to be anyone left to make said call pretty soon. Tech publication The Information notes in its lede from yesterday's piece that "Jeffrey Katzenberg may be nearing the end of the road" with the mobile streamer; the piece is paywalled, but what my cheap ass could see of the article also said that "employees have said important strategy meetings have been cancelled … Some employees have informally been scheduling goodbye drinks, these people said." That doomy update tracks, both with the steady stream of reports in the entertainment AND business press that Quibi was "exploring a sale" and with follow-up headlines noting the dearth of takers. Yesterday, several outlets nodded to Quibi's quiet apps launch for Apple TV, Android TV, and Fire TV — devices for traditional sets. It's a pivot that might have stopped the slide had someone thought to make it in March, or even May, but if the demo were going to care, it might help for it to know this had occurred?
I can report anecdotally that, during the process of my trying to get screeners of Murder Unboxed a couple weeks back, the PR team was initially very helpful and cheery, and hooked me up with the first set of Last Looks eps on Anna Delvey — but as my deadline approached, I was told MU screeners weren't possible, and then contact ceased entirely. Radio silence can mean a lot of things in 2020, but my first assumption here was that my contact's job was eliminated.
THEN I got notice of a new Last Looks trailer,
in an email that also touted the newest eps of Last Looks about the "mysterious Cape Cod murder" of fashion writer Christa Worthington. The fact that this is one of the only non-opioid-based cases that made headlines off-Cape doesn't mean it's not a pretty straightforward story; even Quibi is going to have trouble making much of a meal of it narratively, but of course they…blunder ahead with it anyway, which is pretty much the problem with Quibi in a nutshell. — SDB
---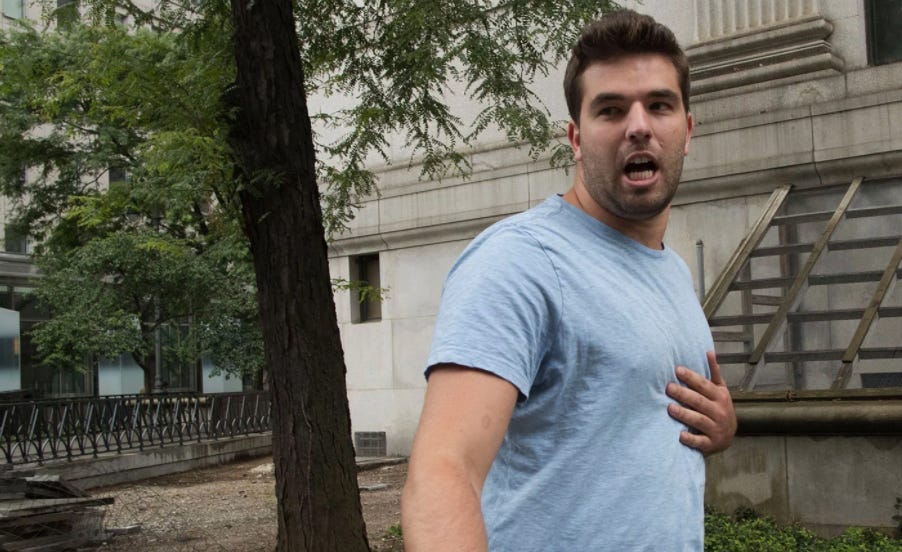 Billy "Fyre Festival" McFarland is doing a podcast from prison. (This is actually tangentially related to the previous item; Last Looks DID remind me that Anna Sorokin used McFarland as a model for her "something out of nothing" "business" "plans.") The name, Dumpster Fyre, is kind of a gimme, and McFarland's wanting to "set the record straight" is not really a selling point either, IMO; Vanity Fair's Kenzie Bryant concurs:
Which brings us to the question: after the actual Fyre Festival in 2017 and all the reporting on the Fyre Festival and its pop culture and legal fallout in 2018 and the documentaries about the Fyre Festival in 2019, do we really need to relitigate Fyre Festival right now? Short answer is no. 
I mean, would I listen to a podcast from McFarland's fellow inmates, bagging on him? Yes. Would I rewatch one of the Fyre docs and point and laugh again? Yes. Do I need a bunch of poorly mixed rationalizing from "the guy who got six years for some of the most obvious, spectacular public fraud this side of Bernie Madoff (and then ran another fraud while out on bail)"? Newp. — SDB
---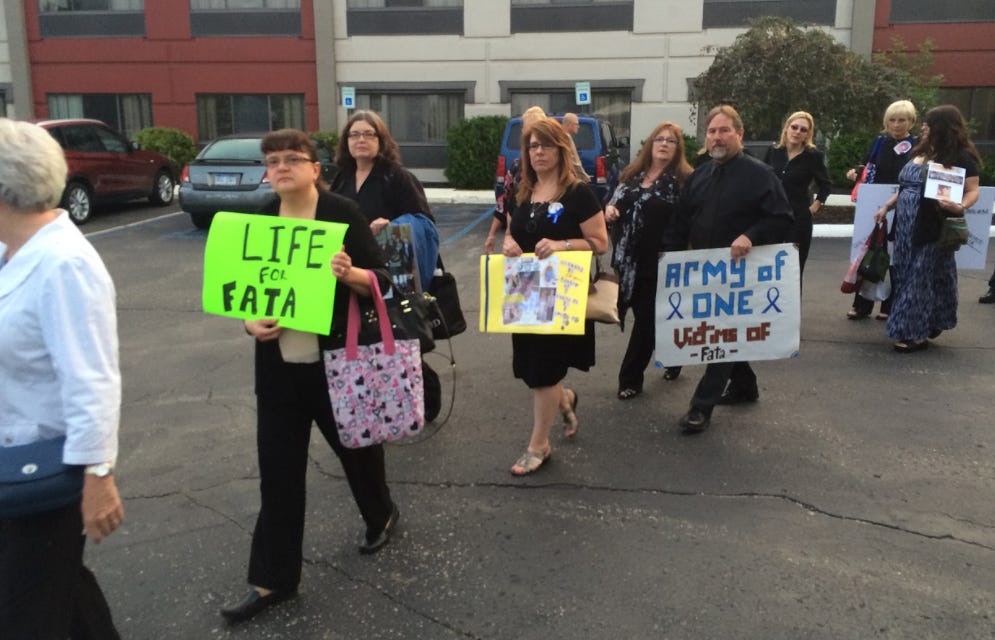 Dr. Death's second season has arrived on Wondery+. "Wait, but: already? Didn't they just re-cast the first season?" No, that's the TV adaptation, which they did recast last week and which hasn't started shooting yet. The podcast, the story that started it all, has returned with another tale of…well, I can't get this "hypocrite/Hippocratic" wordplay to go, but you get it. The podcast dropped on Wondery's pay service yesterday; it'll hit Apple Podcasts October 27. Here's the brief:
Dr. Death Season 2 tells the true story of what happened when a Michigan doctor poisoned his patients with drugs they didn't need to treat diseases they didn't have. With more than 500 victims, many of whom didn't survive his treatment, Dr. Farid Fata rightfully earned the nickname given to him by his victims...

Dr. Death
If you're looking to prep, Dateline ran an episode on Fata in early 2016 called "Do No Harm"; you could also fill in the blanks with more recent stories about Fata's failed attempts to get compassionate release amid COVID. — SDB
---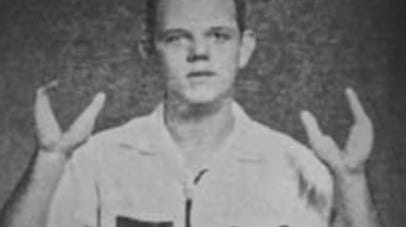 You know how I've mentioned several times in the last few years that it seemed like Investigation Discovery was shifting towards a more measured, less trashy logline? Well, like the man said, nothing gold can stay. …Okay, I do think generally ID has brought more thoughtful, less crass programming under its umbrella in the last decade — as I type this, the somewhat controversial but well crafted Village Of The Damned is evidently re-airing — but Killer Carnies is SO trashy, niche, and cynical that it threatens to undo all that brand-shifting work in a single stroke. Or…pinch. (Sorry.) Here's a summary from ID's landing page for the show: "A brutal murder sends shockwaves through the carnival community, and every performer is a suspect. Lobster Boy's death reveals long-buried truths, and a reign of terror meets a shocking end. Life at the carnival will be forever changed."
Pajiba's Genevieve Burgess is "impressed and disconcerted that ID thinks there's enough of these cases to sustain an entire series with this concept." Me, I've got a lot of questions just about the Lobster Boy case, namely whether the "shocking end" is that he was eaten with drawn butter or what…so I guess I'm not better than ID. Uh, spoiler. — SDB
---
…Fantastic, now I have "Soldier Boy" stuck in my head (for a record 154,965th time in my life), except now I'm singing "Lobster Boy" instead of the real lyrics. This is the kind of unique content Quibi wishes it could generate, folks! And it's less expensive, too. Okay, mostly it's free, but if you'd like to support our work — and get extra content, like Eve's and my Forcening reviews! — a subscription is just $5 a month.
Or just forward the newsletter to a like-minded friend; the more the merrier here at Batey 'n' Buntsy's Tacky Murder-Ballad Emporium. ("Leave me out of this" - Eve.) — SDB
---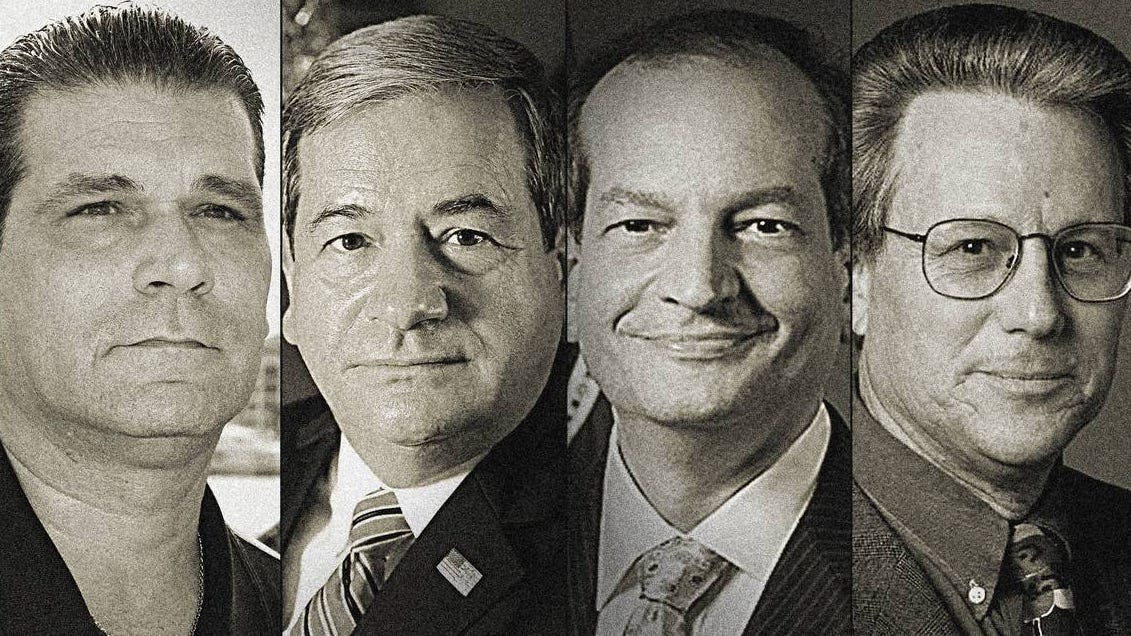 "Here's a list of the 10 greatest works of journalism of the past 10 years. Care to argue about it?" That's the headline on a piece by WaPo media columnist Margaret Sullivan from last week, but the list is from NYU's Arthur L. Carter Journalism Institute; it "looks at this past decade, 2010 to 2019, and is intended to 'honor really great work that has already stood the test of time,' according to the project's organizer, journalism professor Mitchell Stephens." In case you don't subscribe, the list includes a fair bit of crime and crime-adjacent reporting, including Kantor and Twohey's She Said, Alexander's The New Jim Crow, Julie K. Brown's reporting for the Miami Herald on Epstein's sweetheart deals, and WaPo's own database of police shootings from 2015 to the present.
I don't necessarily "care to argue" the selections, but I feel like that's only because I've forgotten a story or series I found really striking — and anyway, I'm just some guy. Do you guys see any oversights in the Post list? It's hard to advocate for removing any of the current works, but should other pieces have merited consideration? (I wouldn't mind seeing the honorable mentions. Is Farrow on there? Kolker's Lost Girls?) — SDB
---
Thursday on Best Evidence: Not sure what Eve's got cooking [insert regrettable Lobster Boy callback here] but keep an eye out for upcoming documentaries…and a prison break.
---
What is this thing? This should help. Follow Best Evidence @bestevidencefyi on Twitter and Instagram. You can also call or text us any time at 919-75-CRIME.