The Blotter Presents 150: Athlete A and American Greed S13E06
Plus: Schechter's latest, and the best Betty Broderick
This week I'm talking with Stephanie Early Green about Athlete A. (I just typed "Athleta"; very different podcast.) Stephanie was my guest to discuss a couple of other projects related to Larry Nassar's swath of abusive destruction through USA Gymnastics, so we wondered what might set Netflix's take apart — and it's much more an indictment of USAG allowing Nassar to prey on its athletes unchecked than other coverage of the case. Not an easy watch, but we recommend it.
We're less hot on the Scott Menaged episode of American Greed, which is in some ways a solid explainer on the business of real estate…but then in other ways insufficiently process-y about Social Security fraud. It's like CNBC thinks that if we understand how it's done, we will then do it ourselves? There's also a tone-deaf account of a Menaged associate's sad demise. Can Stacy Keach's extra-mustard VO make it worthwhile? Have a listen here, and peep the show notes below. — SDB
SHOW NOTES
---
Harold Schechter has a new book out. Unless you're relatively new to the genre, you've probably come across some Schechter at some point — although you've likely avoided reading it on public transpo, as his publishing house isn't trying to act like the content isn't lurid (viz. the cover of Schechter's Ed Gein book). Ditto his latest, Ripped from the Headlines!: The Shocking True Stories Behind the Movies' Most Memorable Crimes, which a garish yellow cover festooned with cartoon murder weapons and celluloid, but I may have to pick this one up as a Blotter Presents Cold-Case-pedia.
L.D. Barnes's review for New City Lit suggests that RftH is great for that — I did know Butterfield 8 was based on a real case, but I don't recall the details — and recommends the book as a "primer" for writers looking to adapt real cases. Not sure I agree that the folksy drawings which apparently accompany the text would add to the discourse, but on the other hand,
Schechter's selection shows how, over time, the mores of society have changed. Earlier movies often left the sexuality of the characters out of the story, leaving the entire motives of some crimes muddled. Schechter offers new insight on the classic crime movies of the 1930s and 1940s, many of which were sanitized because of stricter enforcement of 1930's Production Code after 1934, as well as customs of the times.
I feel like I've read a number of exegeses on Dog Day Afternoon and the relative queerness of the film version, versus the true story, so I'm assuming that's discussed; I'm also interested to see how/whether Rope is addressed (boy, do creators of scripted material love them some Leopold and Loeb). So…it looks like I'm buying this! — SDB
---
A paid subscription to Best Evidence helps us buy and read books like Ripped from the Headlines — and let YOU know if it's true crime that's worth your time. It gets you extra content, too (coming this month: my review of Anne Perry and the Murder of the Century, about "the Heavenly Creatures case")! All that plus the latest Theranos dumbassery, in your inbox every weekday for just $5 a month.
Unemployment benefits are fixing to end for lots of people, so if you can't make a paid sub work, 1) we get it, and 2) we still welcome tips and requests! Found a nutty Lifetime biopic on YouTube? Wondering if a secondhand McGinniss is worth three bucks? Leave a comment, or call/text us at 919-75-CRIME. — SDB
---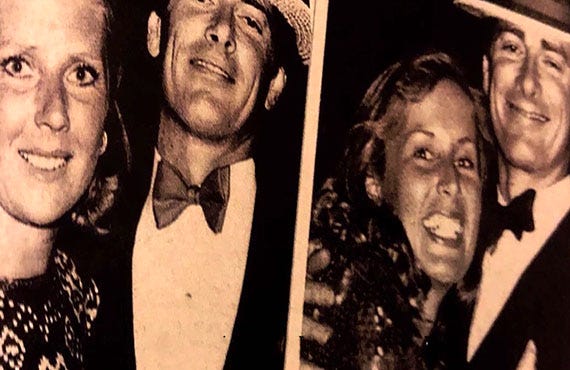 How many of you stuck with Dirty John: The Betty Broderick Story until last night's finale? I admit I'd let it stack up on my DVR…until last week, when I swept through all the available episodes so I could write up a best-bets (well: "best Bets," really, I suppose) piece for Primetimer on the highest-profile Broderick-case properties. Spoiler: you needn't bother with Snapped, but if time is tight and you need a good case overview with some eyes-emoji-inspiring casting (Meredith "Elyse Keaton" Baxter and Stephen "RevCam" Collins, playing an onscreen couple for the second time — All The President's Men was the first), I'd go with Woman Scorned, which is hall-of-fame vintage-miniseries true crime:
A Woman Scorned isn't the most efficient rendering of the story, and in hindsight it looks a bit cheap, but it's actually held up pretty well for a '90s network production. It's also a great window into what passed for true crime back in the twentieth century. We didn't have podcasts, or Reddit. We had Ann Rule, and we had these all-star-cast telepics.
And we watched them uphill, both ways, in the snow, and fought off Valerie Bertinelli with our looseleaf notebooks! jk, Bertinelli isn't like that. (hee.) Anyway, I think Dirty John S2 is fantastic and an acting tour de force from Amanda Peet (and not for nothing, but Slater is great too — well cast, yes, but he's bringing some needed nuance to a guy who was legitimately complex); it elides some facts of the case that I'd rather have seen/gone into, but it's the best of the three on offer. If you watched the whole season, let us know what you thought, if you'd have shortened the episode order, whether I was the only one who recognized one of the Broderick kids from Finding Carter, etc. — SDB
---
And now, some content drops and longform pieces to get you over the hump.
There's kind of a barrage of new true-crime TV/docuseries coming out in the next two weeks and then not really much until Labor Dayish; if you've got something you're looking forward to/think we should cover, here or on the pod, let us know! — SDB
---
Thursday on Best Evidence: Cold Case Canada, a network rebrand, and Murder in the Outback.
---
What is this thing? This should help. Follow The Blotter @blotterpresents on Twitter and Instagram, and subscribe to The Blotter Presents via the podcast app of your choice. You can also call or text us any time at 919-75-CRIME.