Second Seasons · Verified · Wedding Drama
Plus: A podcast from the lawyer in 'The Staircase'
Two popular-and-difficult properties are heading into second seasons. First, there's the podcast Broken: Jeffrey Epstein, which as a show produced by Adam McKay (the director of The Big Short and Vice) and hosted by The New Yorker's Ariel Levy was arguably the best of the glut of Epstein-focused shows that dropped last year.
Now it's back, with new cover art (this time, Epstein's face gets a red "X"??) and a new host: ABC News's White House correspondent Tara Palmeri. According to a teaser that dropped earlier this week, the second season will cover survivors of his alleged abuse, and are "fighting for the truth." Interestingly, it seems to be a direct competitor of ABC's Truth and Lies: Jeffrey Epstein podcast, which also seeks to cover the "women who survived his crimes." That show dropped in full last month and can be heard here.
Also looking at a second season is The Trials of Gabriel Fernandez, which — says show creator Brian Knappenberger to Entertainment Weekly — could easily sustain a second season. Referring to the victim's mother, Pearl Fernandez, and her boyfriend, Isauro Aguirre (both of whom are imprisoned for the child's torture and slaying), Knappenberger says:
It's not like we created this television series and now we're on to the next thing, moving on with our lives. This is something that is lodged in the heart of everybody that worked on it. Part of it is a mystery. Like, who are these people? How did this happen? Why did this boy's life get taken like this? There are still so many unanswered questions. So if they wanted to talk to me, I would absolutely talk to them on the record.
But what about you, as a viewer/listener? Do you need more on either case, or do you feel like at a certain point, it's time to move on? Let us know what you think. — EB
---
A new podcast covers your darkest fears of the so-called "sharing economy." The show's called Verified, and it's about "the trust we place in the sharing economy and the power that a simple checkmark or digital review can hold over our lives." It covers the sexual assaults attributed to an Italian cop Dino Maglio, who was known as the "Couchsurfing Rapist" for how he found his victims: via Couchsurfing.com, which was a progenitor of Airbnb.
So far, the show's dropped three episodes, and it looks like the first season is all about Maglio. But the show's topic is an incredibly rich vein to mine — think about the headlines we see every day about sketchy VRBO hosts, assaults by Uber drivers, and on and on. If done right, and if the gig/sharing business model continues apace, the potential for future Verified seasons is infinite. — EB
---
Ugh Amanda Knox. You guys, I feel like it was kind of Amanda Knox's game to lose at one point: falsely convicted (or not!), the world was her oyster after her release from prison after four years after her conviction in the death of Meredith Kercher was overturned. After that, she could have built a great career as a writer, pundit, consultant…but I'm not here to discuss her career choices, but her personal ones.
Now, look, if she'd chosen to keep her personal life private and someone invaded her privacy, I'd likely leave her alone, but that's not the case here: Knox has been very public about her attempts to crowdfund her wedding and, subsequently, how challenging planning said shindig has become.
But in a piece bitingly headlined "Inside Amanda Knox's Perfectly Conventional Love Story," E Online reporter Natalie Finn expertly details the furor around Knox's pairing with to Christopher Robinson, which while celebrated on February 29 of this year was actually made official as of Dec. 7, 2018.
When called out on the matter, the couple said that they "filed paperwork to be legally married in December," ostensibly "to simplify our taxes and insurance." Sure, sure — I have friends who had a courthouse ceremony in advance of the "real" one for reasons as pedestrian as the need for physical therapy (insert comments on how fucked up the U.S. health-care system is here).
According to Oxygen, at last weekend's crowdfunded affair, 100 guests "snacked on popcorn, potato salad, and chips while sipping Bloody Marys and beer, and there was a Pompeii Wood Fired Pizza oven available for people to make personal pizzas." I sincerely hope that last line is a mistake, as if I were invited to a wedding and forced to make my own pizza, I'd be a real shithead about it. But that's just me, perhaps. — EB
---
Sarah and I are no Amanda Knox, but we, too, want your money. In exchange, we can't offer you personal pizzas, but we can promise you five issues a week of Best Evidence, exclusive subscriber-only original content, access to all comment sections and open threads, and our gratitude and appreciation! All this for only $5 a month or $55 a year — and you never, ever have to worry that just maaaaybe we killed someone after all.
---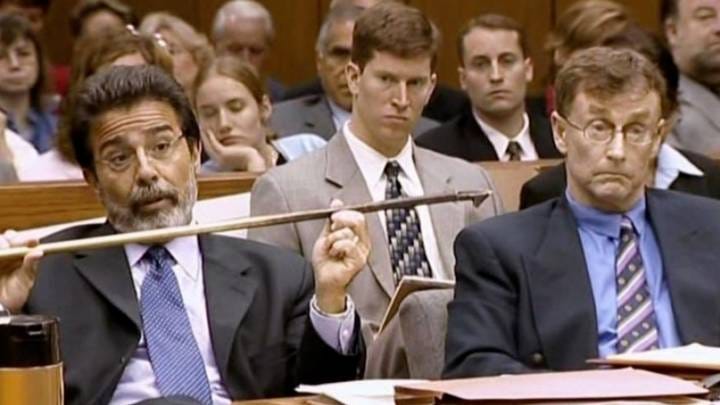 You might know David Rudolf from his role in The Staircase — he's the lawyer who defended novelist Michael Peterson in his trial for the death of his wife, Kathleen. Now he's launching a podcast, Deadline reports, about "injustices at the hands of law enforcement and others in the criminal justice system." Rudolf's co-host will be his wife and fellow defense attorney, Sonya Pfeiffer, and will be called Abuse Of Power.
In a statement, Rudolf and Pfeiffer say "Our goal is that Abuse of Power will build compassion and awareness, educating and motivating listeners through a diverse collection of stories we can all identify with. The sooner we stop 'othering' and start understanding, the sooner we'll find solutions to the systemic problems within our criminal justice system." It's tentatively scheduled to launch in late May, 2020. — EB
---
Friday on Best Evidence: There's a new podcast on multi-level marketing and I am super into it.
---
What is this thing? This should help. Follow The Blotter @blotterpresents on Twitter and Instagram, and subscribe to The Blotter Presents via the podcast app of your choice. You can also call or text us any time at 919-75-CRIME.