Scottsboro · Oprah · Amanda Knox
Plus: Still more longreads!
In honor of awards season, we're looking back at some of the overlooked true-crime films that have been nominated in the Academy Awards Best documentary category in years past. This week's installment is 2000 nominee Scottsboro: An American Tragedy.
Scottsboro: An American Tragedy examines one of our nation's grossest and most notorious miscarriages of justice, in which nine young African American young men aged 13 to 19 were accused of raping two white women on a train as it traveled from Chattanooga to Memphis in March 1931. While the men were housed in the jail in Scottsboro, Alabama, authorities called in the National Guard to head off a lynching by a mob of white men. But the calls for "justice" from the white population of Scottsboro couldn't be tamed, and within two weeks, the youths were on trial and facing execution. As Scottsboro: An American Tragedy deftly points out, there was no more unspeakable crime at this time in the south than the violation of a white woman by a black man. And in fact, the protection of white womanhood was essentially the point at which southern culture pivoted in the Jim Crow era.
A production of PBS' American Experience history series, Scottsboro: An American Tragedy manages to wrangle the details of multiple trials while giving voice to the falsely accused and the tragedy that befell them: the permanent interruption of nine boys' adolescence, and the autonomy forever ripped from them.
The documentary is expertly narrated by Andre Braugher, and includes trial proceedings voiced by some familiar folks (Stanley Tucci as defense lawyer Samuel Lebowitz; Frances McDormand as chief accuser and liar Victoria Price) as well the accused's testimonials about their experiences during trial and incarceration. Rounding out the narrative are interviews with historians, descendants of those involved in the case, and Scottsboro residents.
The film does an excellent job chronicling how Scottsboro politicized a generation of activists. The role of the Communist Party of the United States is particularly interesting as they sought to draw the world's attention to the plight of blacks in the south and the "uncompleted revolution" of abolition through funding the defense, staging protests, and taking the mothers of the Scottsboro Boys on a speaking tour. As the film notes, the Scottsboro case radicalized many whites and was one spark in an interracial equality movement.
And while the injustice of the Scottsboro case and the torment the accused endured through years of imprisonment is enraging, Scottsboro: An American Tragedy offers some solace in the legal precedents the case created – namely, the right of the poor to effective counsel and the integration of Southern juries (through the Supreme Court decisions Powell v. Alabama and Norris v. Alabama respectively). The case's long arm and its repercussions on American's racial history are worthy of our examination, and Scottsboro: An American Tragedy offers a tight narrative construct for beginning to do so.
(Scottsboro: An American Tragedy is available on Vimeo, but the quality isn't great. It is available on DVD. Consider this my appeal to PBS to make more American Experience content available for streaming.) – Susan Howard
---
Like this newsletter and wish you could get even more? Then — if you're not already — sign up to become a paid subscriber of Best Evidence today!
And if you're already a supporter, remember that a subscription to BE is a gift that keeps on giving. If we didn't write this thing, we'd be giving it to each other!
---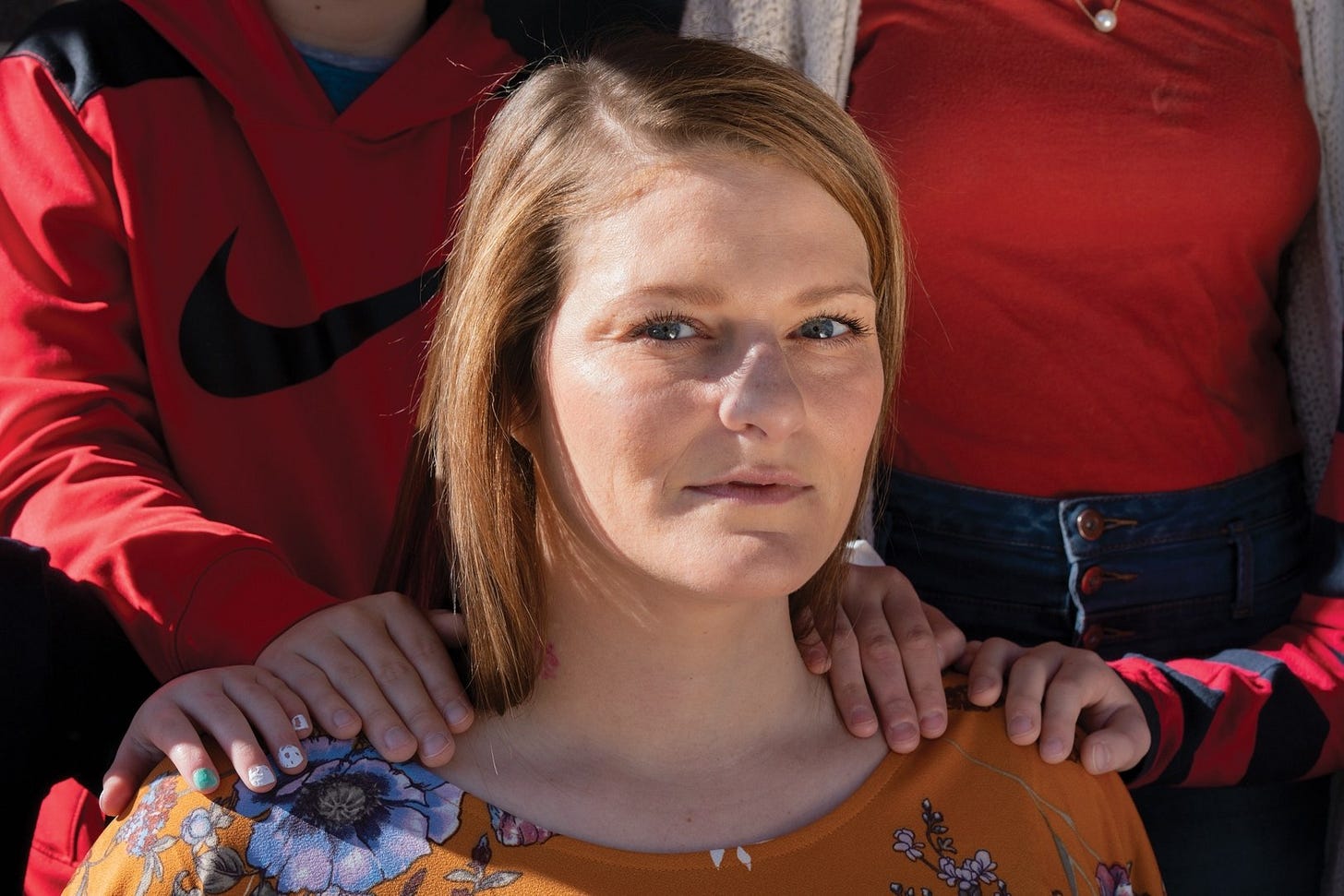 Longreads alert! Trying to chop my backlog of magazines down to a manageable height, I tackled a handful of New Yorkers over the long weekend, and came away with two pieces to recommend. The first, Jennifer Gonnerman's "The Interview," is from the 12/2 issue of the mag, and it's about volunteers who prep prospective parolees for their meetings with parole boards -- and specifically Richard Lloyd Dennis, who was convicted in 1972 of killing a New York City police officer. Gonnerman goes deep about the process: who's making parole decisions in New York State, how logistically the meetings go (video-conferencing in rundown conference rooms, a lot of the time), and the politics of advocating for -- or against -- a cop-killer. While the outlines of the crime itself remain frustratingly obscure, perhaps that's part of the point, that at this great a distance from the murder and from Dennis's old self, it's hard to feel like you "know" "enough." (Gonnerman also covered Kalief Browder for the magazine; you can hear excerpts of her interviews with Browder here, and you can listen to me and Eve talk about the excellent Time: The Kalief Browder Storyhere.)
You'll know more, perhaps, than you'd like to about the crime that drove Brittany Smith to kill her attacker in Elizabeth Flock's "A Violent Defense." The piece, from the 1/20 issue, follows Smith's case -- Smith was charged with murder for killing the man she claimed had sexually assaulted her earlier that evening, Todd Smith, apparently in part to keep Todd from killing Brittany's brother -- and others in which murder defendants claimed self-defense, or tried to use local Stand Your Ground statutes to defend themselves a second time in court. The description of the attack Brittany endured is unstinting; the reactions of everyone from local law enforcement to Todd's friends, downplaying her injuries and willfully misapprehending what a "real" rape is, are infuriating. It's not a wealthy region, and substance abuse is, it's implied, endemic -- but Flock smartly notes those issues without getting bogged down them. (Not that I'd have minded such bogging, usually, but I'm partway through Dopesick and I'm not sure how much more of that particular hardship I can take.) It's a tough read, but a worthwhile reminder that, as much headway as we're making on believing women, it's...not actually much, or enough. — SDB
---
The NYT had more on Oprah's withdrawal from a true crime doc on the sexual assault allegations against Russell Simmons. It's been about a week since we learned that Winfrey had parted ways with filmmakers Kirby Dick and Amy Ziering over the doc, which details the allegations against the famed producer by Drew Dixon, who accused Simmons of rape in 2017. Per the Times, Winfrey's claims that creative disagreements spurred the split are only part of the story, as not only was there "an intense campaign by Mr. Simmons and his supporters to get Ms. Winfrey to pull the plug" but that a social media campaign by the accused "targeted some of the women in the film."
In addition, Winfrey reportedly sent the doc to Ava DuVernay for advice over concerns that the filmmakers (who are white) might not accurately capture "the nuances of hip-hop culture and the struggles of black women." DuVernay "gave a harsh critique" of the film, the Times reports. "She's got Simmons on one side pressuring her," DuVernay says, "and then she's got a film on the other side that she doesn't agree with. So if she walks away from the film she seems like she's caving to Simmons, and if she stays with the film then she's putting her name on something that she feels doesn't quite hit the mark."
Winfrey also appeared on CBS This Morning Tuesday to further explain her thinking; you can view the interview above. — EB
---
40 days left until the wedding and 267 tasks left on the wedding To Do list. I've locked myself in the craftroom and I'm wearing my old prison uniform. Literally the very same sweatshirt and sweatpants I lived in in Casa Circondariale Capanne, Perugia.
Oh, Amanda. In an Instagram post from Sunday, Amanda Knox announced that with only 40 days left until her wedding, she's "locked myself in the craftroom and I'm wearing my old prison uniform in Casa Circondariale Capanne, Perugia." I don't even know what to think about this — I'm all about sustainability and wearing clothing as opposed to tossing it out, of course! But the seemingly calculated social media announcement of her outfit's provenance seems like a strange decision. But what do I know; 40 days before my wedding, I had to, like, go to work and crafting time was in very short supply. — EB
---
Wednesday on Best Evidence: The Blotter Presents is taking this week off, so expect surprises!
---
What is this thing? This should help.
Follow The Blotter @blotterpresents on Twitter and Instagram, and subscribe to The Blotter Presents via the podcast app of your choice. You can also call us any time at 919-75-CRIME.