Woody Harrelson · Al Capone · Kim Kardashian
Also: A tweeted history of San Francisco's jails
Blessings to Best Evidence contrib/subscriber Margaret Howie for bringing the trailer for Capone to our attention. CNN reports that the film, which was initially called Fonzo, is a biopic from allegedly weird director Josh Trank. It stars Tom Hardy in the title role, with Kyle MacLachlan, Matt Dillon, Linda Cardellini and Kathrine Narducci in supporting roles, and boy oh boy there's sure a lot of cigar-chomping and squinting going on. I'm speechless. — EB
---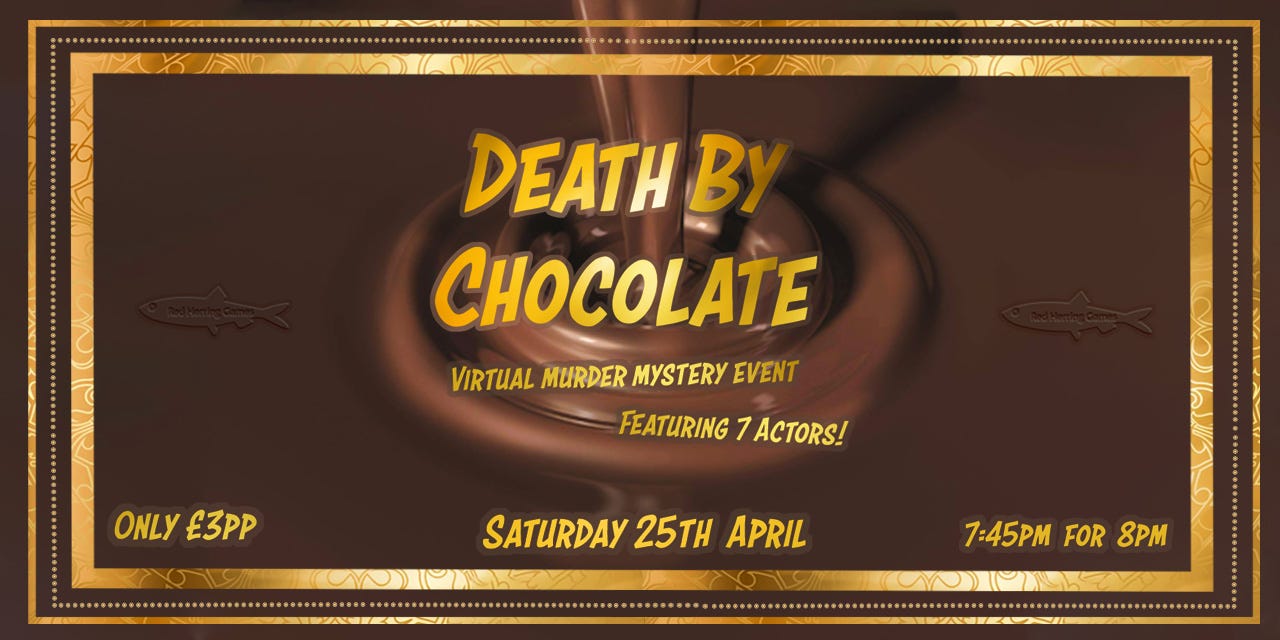 Crime-solving webinars are one way to keep actors working during the coronavirus crisis. Events like this "Death by Chocolate" Zoom seek to entertain those stuck at home and keep actors employed, with a virtual murder mystery to be investigated (and, presumably, solved) via videoconferencing. I'm so bored that I started watching Arrow, so this April 25 event sounds pretty great — and it's only £3, or $3.72 for those of us in the U.S. — EB
---
There are a lot of new podcasts to check out! Here's a quick roundup:
Son of a Hitman is a 10-episode podcast about actor Woody Harrelson's dad, who officials say killed at least three people. It drops in May.

ABC kicked Cutthroat Inc. off last month as a follow-up to a 20/20 episode on the slaying of SoCal man Christopher Smith by his business partner. Watch for new episodes every Thursday.

Project 7, a show about the disappearance of Montana militia leader David Burgert, is only two episodes into its six-episode run. The goal is to figure out where Burgert is now, as he was last seen running into the woods after taking a couple shots at some sheriff's deputies.
---
People magazine has screen-grabbed some of Kim Kardashian's Instagram stories about the practice questions she's answering for the California bar exam. "A woman visited a tiger rescue zoo with her family. While she was there, she tripped over a tiger's tail and injured her arm. Who should the woman sue and what is her best theory of liability?" one question read, apparently an allusion to Tiger King aka the show we are all sick of thinking about.
The questions come from JD Advising, a bar-exam prep company; when you click through to read testimonials on its offerings, you're sent to a "COMING SOON!" page. Seems like as good a sign as the background images associated with the questions it asks its clients. — EB
---
San Francisco Supervisor Sandra Fewer has introduced legislation to finally shut down the 7th Floor jail atop the Hall of Justice.
sfexaminer.com/news/superviso…
A while back I spent a month digging into the history of SF's jails and here's some of what I found...
Fewer introduces legislation to speed up closure of Hall of Justice jail - The San Francisco Examiner
Citing need for jail beds amid coronavirus, Sheriff Miyamoto opposes plan
sfexaminer.com
A Bay Area reporter recently tweeted a fascinating set of items about San Francisco's jail systems. The thread begins here, and includes a 1970s-era debate over use of mace or clubs on inmates and, more recently, a commendation for an inmate who likely saved a fellow prisoner's life. — EB
---
A colleague and I were talking about great crime reporting from Gannett newspapers, and we started to make an informal list. The company's been in trouble for years, and the current crisis has made things there harder than ever. So, please don't take this as a memorial, just a reminiscence of great Gannett reporting from the past that I hope we'll see again in the future.
"Seven Days of Heroin." In September of 2017, the Cincinnati Enquirer "sent more than 60 reporters, photographers and videographers into their communities to chronicle an ordinary week during the heroin epidemic in their part of Ohio." It's a remarkably humanizing piece on the destruction this drug (and inept policies to manage it) has wrought.

"Follow IndyStar's investigation of USA Gymnastics and Larry Nassar from start to finish." The Indianapolis Star's coverage of former USA Gymnastics coach Larry Nassar's multiple counts of sexual assault aren't in a simple package, but this page is a great timeline of how the paper blew the lid off the sport.

"Policing Baltimore." USA Today's 2018 look at the Baltimore Police Department is an obvious must-read for anyone who regularly references The Wire, especially since it details how the force ended proactive police stops — a decision that means that there "has been a lot more crime in Baltimore, especially murders, and people are getting away with those murders," one expert says.
---
We're not in trouble the way Gannett is, but we wouldn't mind your help. As writers/reporters in a world where media companies are staggering under a sudden loss of advertising (and my side hustles are dog-walking — which is all but dead as people work from home — and the ownership/operation of a store shuttered by my city's shelter-in-place), Sarah and I are so grateful to everyone who has purchased a paid subscription to Best Evidence! If you know of anyone else who might be interested, it makes a great gift…and Mother's Day is May 10, so give it a think!
---
Wednesday on Best Evidence: It's The Blotter Presents, Episode 140! Sarah is joined by Alex Segura to discuss The True History Of The Kelly Gang and Catch & Kill. Here are the show notes:
---
What is this thing? This should help. Follow The Blotter @blotterpresents on Twitter and Instagram, and subscribe to The Blotter Presents via the podcast app of your choice. You can also call or text us any time at 919-75-CRIME.