Trial By Media · Dirty John: Betty Broderick · Boston Throuple Con
Plus "Today In 'Tiger King'" and an AJC Breakdown update
Hello, readers. Thanks so much for joining us for another week of Best Evidence; if you haven't checked in on the True Crime A To Z project in a few days, we're up to J as of this writing, with K dropping in a couple hours. We know we missed stuff — that's why we post them as discussion threads, so that y'all will remind us of key entries! Got a friend who might think the crime-abet is interesting? Share!
---
[Content warning: this item concerns a child's death, and you may wish to skip it.]
Justin Ross Harris wants a new trial. Harris is currently doing life without parole after the events of June 18, 2014, which People recaps thusly:
Harris took his son, Cooper, to Chick-Fil-A for breakfast on June 18, 2014. After they ate, Harris neglected to take Cooper to his regular day care. Instead, Harris drove to his job as a web designer for Home Depot and locked the car doors while he worked. Temperatures soared to nearly 90 degrees that day.
You may remember Harris as the second-season subject of the Atlanta Journal-Constitution's Breakdown podcast — a pioneer in the field, although nobody talks about it much anymore for some reason. Pod notoriety notwithstanding, Harris's attorneys argue that prejudicial testimony made it impossible for Harris to get a fair trial, and that the court wouldn't allow his legal time to challenge police officers' testimony. A superior court judge will consider Harris's request in December of this year (I would drop a COVID-related "we'll see" on this, but Georgia is probably sticking to schedules, at least as of this writing). — SDB
---
Dirty John: The Betty Broderick Story gets a premiere date at last. Guys, I'm pretty stoked for this one, and while June 2 feels far away — y'all: it snowed the other day here in New York! just flurries, but still — it's only a few weeks until Amanda Peet as ur-scorned wife Betty Broderick leverages the second season of Dirty John to become the mega-star she should have become 15 years ago already.
Okay, there are some issues here, starting with the franchise confusingly keeping the name Dirty John (I keep calling this season Dirty Betty or Dirty John: Ugly Betty); there's also the fact — which my guest for that episode, Dr. Marcia Chatelain, pointed out — that Peet, who like I said is very underrated as a performer, not least for gameness, is going to have trouble really serving "let-herself-go frumpiness."
And finally, the ranking property here is a candidate for true crime's Mt. Rushmore. I'm speaking, of course, of A Woman Scorned: The Betty Broderick Story, starring Meredith Baxter (then) Birney as Betty and the (now) cancelled Stephen "RevCam" Collins as Dan. The whole thing's on YouTube:
AWS was many true-crime fans' entree into the genre, and it's a classic; Baxter Birney's vanity-free performance is a hall-of-famer. Can DJ: TBBS fill even one of its Easy Spirit pumps without turning Betty into a shrieking clown? We'll find out soon! In the meantime, I also recommend Bella Stumbo's Until The Twelfth Of Never, which is a doorstop of a book but won an Edgar in 1994 for good reason. — SDB
---
Times are tough for everyone. For us too — ad budgets have dried up; Eve's store…is, you know, in-person retail; we get it. We don't like being public-radio-pestery about asking for your support. But we could really use it, and we feel that Best Evidence is good value: the latest true-crime headlines, long reads, and analysis in your inbox every weekday for just $5 a month. We'll be keeping B.E. mostly free for the moment, but a paid subscription helps us pay contributors — and utilities. Can you convert an Americano into a sub today? (If you can't, we understand! We're just happy you're here. Clicking links helps too!)
---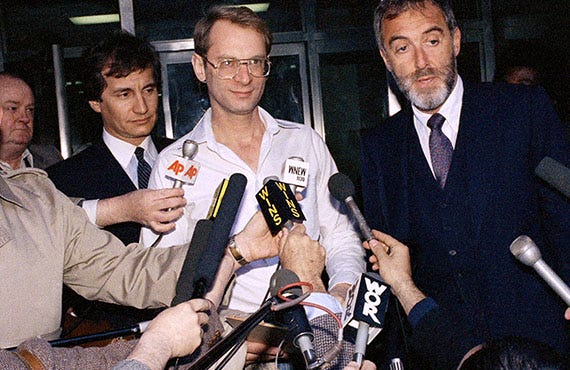 "Another Netflix docuseries? Man, I could really use a ranker." Great news; I wrote one! Trial By Media is out now on the 'flix, and I watched and ranked all six for Primetimer. More great news: all six are quite good, so you can watch them all straight through in order and not be like, "I wish someone had warned me the Diallo episode was a boring bummer." (It is that second thing. Fucking Giuliani.)
Each episode is around an hour long, so it's something of a commitment, but many of the mini-movies are directed by "names" (Tony Yacenda of American Vandal; Yance Ford of Strong Island). Not every ep seems entirely clear on its own relationship to the "trial by media" concept, but said concept is broad enough that the series is probably evergreen and could get another season if enough people watch it. — SDB
---
We should probably have a "Today In Tiger King" template around here. I guess we keep hoping the hype is going to deflate enough for us not to need it? But today's not that day, so here's a couple quick hits:
---
The Buntsy-vs.-the-magazine-pile project pays big dividends with a New York story from last summer, "The Most Gullible Man In Cambridge." Boiling the improbable con songwriter Mort Shuman's daughter Maria-Pia and her…bestie? special lady friend? Mischa Haider pulled on Harvard Law prof Bruce Hay down to a sentence is beyond my powers, although I think "paternity scam meets modified Spanish Prisoner" might come close. Nor was it within my abilities to put the article down once I'd started it, with the result that my husband was literally vacuuming around my foot while I stood, flamingo-stylee, in my office — AND there was a follow-up!
If you click on nothing else in today's edition, click on these; Kera Bolonik's questioning of how such an obvious — and frequently rude — set-up could not just work, but keep working for years on end is written so drily, it could smoke in the shower. Plus, the men coming out of the woodwork to compare notes is such a satisfying moment in any con story, when the marks realize each and all that they're not alone.
…You're done already? You demand a con-artist long-read rabbithole to vanish headlong into for the day? [shove] See you on the flip, Skip! — SDB
---
Tuesday on Best Evidence: Skarsgard docudrama casting, and True Crime A To Z reaches the halfway mark!
---
What is this thing? This should help. Follow The Blotter @blotterpresents on Twitter and Instagram, and subscribe to The Blotter Presents via the podcast app of your choice. You can also call or text us any time at 919-75-CRIME.