Discover more from Best Evidence
The true crime that's worth your time.
Over 1,000 subscribers
The Painter And The Thief · Lance Armstrong · Errol Morris
Plus a book poll, Epstein island allegations, and Gaffigan on Farley as Ford
No new podcast episode this week, but! B.E. forges ahead — and next week I'm joined by Margaret Howie, the True Crime A To Z panel's most dedicated long-read surfacer, to talk about Quiz. Subscribe and set those DVRs now!
---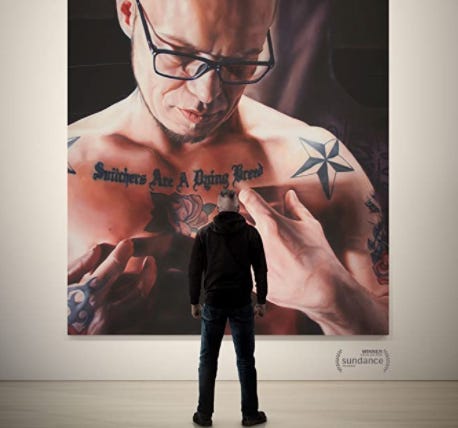 I haven't stopped thinking about The Painter And The Thief since we watched it the other day. The documentary is about the relationship between Barbora Kysilkova and Karl Bertil-Nordland, the latter of whom impulsively stole one of the former's paintings during a drug binge. In her quest to find out what became of the paintings, Barbora asks to meet with "Bertil," and as he sits for her, as a sort of restitution (Bertil doesn't remember what he did with the painting he took; some other guy heisted another of Barbora's paintings at the same time, but evidently the two thieves don't know each other), they become friends…emotional intimates.
And at first, the contrivance of such a situation in a supposedly unscripted work is mildly bothersome, the fudgy timelines nagging at you. Is it disingenuous that we don't see Barbora and Bertil's first contact at court, or just amateurish? Or is it something else?
I think it's something else. The Painter And The Thief has a student-y feeling at first; the participants seem self-conscious about having their conversations in front of a camera that itself doesn't seem to want to admit it's present. There is the predictable cohort of time-lapse shots of Barbora working on canvases. But those very scenes captivated me, because 1) I can't even draw a stick figure, but 2) I married a quite talented draftsman, and Barbora's process of blocking out and constructing a painting is so completely different from Dan's…I mean, I would watch an entire film about her, just…making. And as TPATT goes on, its ellipticism seems more and more purposeful and wise. Bertil, upon seeing Barbora's first portrait of him, is utterly stricken by it, touched to the point of sobbing; he is never asked to elaborate on his reaction in a talking-head interview, and we're left to unpack its complexities on our own — or just acknowledge that they exist and are unknowable, probably even to Bertil. In a later part of the film, Barbora doesn't respond to Bertil's calls, and this is not explained either, but when their relationship resumes its companionable bluntness at the end, it feels like a natural progression. Director Benjamin Ree could be more transparent about the whens — but elegantly illuminates the whats, without trying to explain complex whys that, in the end, boil down to "there's nowt so queer as folk." (Well, or whatever the Norwegian version of that idea is.)
TPATT isn't perfect; the narrative loses a bit of tone towards the end, and a closure-seeking reverse heist could have stood a little more context. But the swiftness with which Ree lets us know these two people, and feel that we too have become friends with them, is really something. (Bertil's misadventures very quickly provoke an "oh no!" response in the viewer that would be notable even if Bertil weren't a floridly tattooed addict prone to wearing jokey t-shirts.) Compassionate, curious, sad and cozy, The Painter And The Thief is unique, and I recommend it highly. — SDB
---
I'll have my Dopesick review for May in in a couple of days. In the meantime, don't forget to follow me on Goodreads, where you can see the other stuff I'm reading; and it's time to vote in the June book-review poll! Lots to choose from, including arson, death fraud, and shenanigans at elite boarding schools; pick me a gooder! — SDB
---
Let's do a quick link round-up before some of these stories pass their sell-bys, shall we?
Jim Gaffigan wishes Chris Farley were around to play Rob Ford, instead of Gaffigan himself. [ET Canada]

Jeffrey Epstein: Filthy Rich drops today; among other things, it alleges that Bill Clinton visited Epstein's island of horrors. [Daily Beast]

Attorneys say NYC mayor Bill De Blasio's social-distancing enforcement is just stop-and-frisk with a different name. [Gothamist]

Here's an explainer on the death of George Floyd and the subsequent protests in Minneapolis. [USA Today]

Errol Morris's upcoming doc on Timothy Leary has landed at Showtime; a trailer for the yet-untitled project is below. — SDB

---
Would you classify the Lance Armstrong episodes of 30 For 30 as "true crime"? I guess that's a larger question about the 30 For 30 franchise as a whole. Its greatest iteration, OJ: Made In America, qualifies, of course — but at the same time, OJ:MIA is about so much more than the murders of Nicole Brown and Ronald Goldman. And the best of the series' offerings are about more than sports; that's the point of them, that they use sports to tell other/bigger stories, and that they're about our cultural drive to do that. The installments on Len Bias or Allen Iverson are "about" those guys, but really about structural racism, or the way cocaine use was medicalized for white people and criminalized for people of color. Even "June 17, 1994" isn't exactly "about" the slow-speed chase that slowly blanked out every other sports story of that day (and they were myriad). It's about why it could and how we let it.
"LANCE" (capitals not mine and rendered with an eye-roll) is a compelling watch, for sure; it's directed by Marina Zenovich, whose work in the true-crime space with the Roman Polanski doc I found unsettling (in a good way). Her off-camera questions are out to make him squirm, and as a non-fan of Armstrong's, I'm here for that. (As is his former teammate, Tyler Hamilton, who seems to think Armstrong is not entirely forthright in Part 1. Shocker.) And technically, Armstrong's involvement with doping landed him in court, so I suppose attempting to defraud the US Postal Service cycling team gets it under the true-crime umbrella. But maybe I just want an excuse to discuss documentaries I'm almost sure will be very good, and will take any tangentially criminal behavior as my entree into doing so? Let me know what you think — and, if you've watched the first part of "LANCE," what you think of that. — SDB
---
Coming up on Best Evidence: Prison COVID strikes again, Tara Ariano confronts Tiger King, and more.
---
What is this thing? This should help. Follow The Blotter @blotterpresents on Twitter and Instagram, and subscribe to The Blotter Presents via the podcast app of your choice. You can also call or text us any time at 919-75-CRIME.