Discover more from Best Evidence
The true crime that's worth your time.
Over 1,000 subscribers
Don't forget to vote on the first bonus book-review topic of the new year!
---
As requested (hey Muffy!), my write-up of The Lindbergh Kidnapping Case, which originally appeared on Previously.TV in October of 2015. — SDB
*******
The 1976 TV movie is actually pretty good. Why hasn't it gotten a day pass?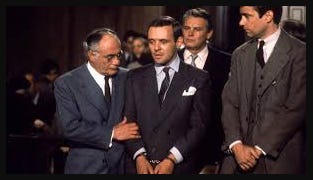 The Concept
Charles "Lucky" Lindbergh's toddler son, Charlie, is kidnapped (and, as it later turns out, killed) one cold winter night. The case becomes a sensational whodunnit that captivates the nation, and leads to the arrest and trial of Bruno Richard Hauptmann, who maintains his innocence until his execution in the spring of 1935.
Credits Cast
Cliff De Young (Flight Of The Navigator; numerous turns as various Kennedys) as Lindy; Sian Barbara Allen as Anne Morrow Lindbergh; David "Dr. Neil Bernstein" Spielberg as the prosecutor, Wilentz; Martin Balsam (Psycho) as Hauptmann's attorney, Edward J. Reilly; Denise "Dr. Lesley Webber" Alexander as Violet Sharpe; Joseph Cotten (The Third Man) as Jafsie; and of course Anthony Hopkins as Hauptmann.
Other Notable Names
It's a Hey, It's That Guy!-fest for sure: Tony Roberts, Peter Donat...even Michael O'Keefe is in this thing, though I have zero memory of seeing him.
J.P. Miller wrote the teleplay; he also wrote Days Of Wine And Roses and TV-movie classic I Know My First Name Is Steven.
Why It's In TV/Streaming Jail
Hard to say. You have a handful of acting legends in the cast -- Hopkins, Cotten, Balsam -- and it doesn't appear to have any rights issues, music-wise. As far as the subject matter, well, there's a reason Lloyd Gardner called his book The Case That Never Dies; I suppose you could argue that it went off the boil a bit once the men claiming to be the Lindbergh baby all grown up began to die off, but...it didn't, I don't think. The case has preoccupied people since the minute they found the child missing, and there's just enough doubt surrounding Hauptmann's involvement, Violet Sharpe's suicide, and what really happened that night that it'll never really stop.
NBC aired it initially; it could put TLKC on Hulu. It just hasn't.
Why It Deserves Parole
It's an excellent, orderly, thorough overview of the crime, investigation, and trial for newcomers to the case. A completist like myself is going to find it a little bit checklist-y, but it does tick every box, and the exposition regarding jurisdictional scuffles; the occasionally dry processing of the ransom and the forensic analysis of the ladder's wood; and the handwriting experts' testimony at trial is so smooth, it's imperceptible. It takes a couple of minor liberties with the facts as we know them, but nothing bothersome.
And the acting! Either it's subtle and deft, or it's cranked up to six hundred. De Young is really good as Lindbergh, restrained and occasionally awkward; Balsam is also excellent as Reilly, inevitably referred to as some variation on "a hard-drinking blusterer" who likely didn't represent Hauptmann adequately and may have been drunk during his summation. It's an easy thing to overplay, and he doesn't.
The extras, however, overplay hilariously. Lindbergh is sneaking out in disguise, to visit Jafsie for a money drop in the Bronx, and I swear there is a guy who climbed a tree the better to shout into a parabolic mic, "WHO'S IN THE CAR? IS THAT COLONEL LINDBERGH? OH IT'S NOE-BUDDY. RHUBARB PEAS AND CARROTS!!" Later, as the jury attempts to leave the courthouse without getting torn to shreds by eager reporters, the folks closest to camera really sell it:
Denise Alexander as Violet Sharpe is a scenery-bingeing delight. In her defense, Sharpe seems likely to have been a drama queen IRL and offed herself by drinking silver polish, so a demure portrayal is not indicated, but Alexander is going to do ALL the acting, OR ELSE.
"What about Hopkins?" Honestly? He doesn't get a whole lot to do for most of the film's two-and-a-half-hour running time except glare dully at various prosecution witnesses. He does nail Hauptmann's body language, I think, based on photographs I've seen.
Recommendation
TLKC does a great job with not just the facts of the case, but the crime-of-the-century sense of the time: that the Lindberghs eventually had to move to England to get away from the crush of press that never relented, and death threats against their second son, Jon; that souvenir salespeople and -seekers had no sense of propriety or occasion; that Jafsie had his own self-aggrandizing agenda that he cloaked in mawkish patriotism. Again, maybe a bit of a chore in the first half if you already know the case, but a meticulous and entertaining sit for everyone else and a nifty casting Venn of nearing-retirement Hitchcock/Welles stable talent and upcoming talent like Hopkins and O'Keefe.
NBC should drop it on Hulu as part of a before-they-were-huge campaign, perhaps in December when there isn't much new TV on...or coordinate with YouTube and some of their other content partners on a Lindbergh-case channel.
---
Subscribers to Best Evidence get access to the entire archive — the blog AND Patreon! — plus extra Briefs episodes (hee, "briefs") and book reviews, and more! AND we're in your inboxes five days a week with recs and DVR reminders. It's just $5 a month, and if we have 2000 of y'all by next summer, we'll cover the Theranos trial in person, just like Dominick Dunne! But, y'know, taller.
---
I posted this list to Patreon a couple months ago after a listener wondered…well, you'll see. This is already not exactly accurate? But that's how it goes with list-making, not that that's going to prevent me from dropping a Best 19 Of '19 ep tomorrow! — SDB
A couple of weeks ago, Lynn heard me say that Unbelievable probably made the top five shows I'd ever covered on the podcast, and wondered what else made the top five. I both looked forward to making the list and kind of dreaded it, and sure enough, when I sat down to do it, I was happy to revisit some old episodes and remember that there's a lot of good material in the genre (and more every day)...but getting the list from 24 to 14 to seven to just four more? Uch.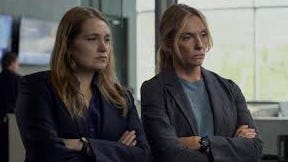 I will hate this list and want to change it seconds after I hit "publish," but that's the nature of these things. In chronological order, top five to date, not just shows but anything:
* 040 American Crime Story: The Assassination of Gianni Versace
* 089 The Inventor
* 099 When They See Us
* 108 Down City
* 113 Unbelievable
If the "shows"/series criterion is strict, The Inventor and Down City are out, and American Vandal S1 and Surviving R Kelly come in.
It was surprising to me that few podcasts were in serious contention; that Erin Lee Carr, whose work I adore, didn't make the final cut; and just how many properties I've talked about that concerned sexual assault/predators. 
Feel free to what-about the hell out of this. Lord knows I'm going to do it to myself. All these eps and more right here!
---
Blessings of the new year to you all, and thanks for making Best Evidence such a great community. Thursday on Best Evidence: DO you want your MTV?, plus more archival material.