The Killer Across the Table · Criminal Confessions
Plus: a longread on what Serial hath wrought
Is The Killer Across the Table just more of the same from John Douglas? The Killer Across the Table: Unlocking the Secrets of Serial Killers and Predators with FBI's Original Mindhunter is John Douglas' first offering since the Netflix miniseries bearing his moniker dropped. I've read many of Douglas' books (co-written with Mark Olshaker) over the years, and in retrospect, it's hard to distinguish between them. I recall liking some more than others (and loving one in particular), but they all pretty much follow the same formula: Douglas shares his war stories of coming face-to-face with violent offenders, details his methodology for figuring out the "why" behind their crimes, and often resorts to score-settling with law enforcement officials who would have been better off if they'd just listened to him earlier.
The Killer Across the Table follows this well-trodden path, detailing the crimes of four violent offenders: Joseph McGowan, who in 1973 sexually assaulted and murdered a seven-year-old girl named Joan D'Alessandro in Hillside, New Jersey; Joseph Kondro, child molester and killer of two young girls in Washington State in the 1980s and 1990s; Donald Harvey, an "Angel of Death" who murdered an unknown (but really high) number of patients in his care as a hospital orderly in Kentucky and Ohio (while also poisoning several people close to him); and serial killer Todd Kohlhepp, who murdered seven people in South Carolina over 13 years. There are two avenues for Douglas's sitting down with this lot: he was either interviewing or attempting to interview them for his short-lived MSNBC series Mindhunter (which I do not remember), or, in the case of McGowan, the parole board enlisted Douglas to offer his opinion on whether the subject was rehabilitated enough to leave prison.
Douglas weaves a lot of his "greatest hits" into the narrative, with mixed results. I found it most effective when Douglas looks at the precipitating stressor or inciting incident that led these criminals to act, and harkens back to cases like BTK/Dennis Rader. Less interesting were the war stories about interview methodology and a re-hashing of his encounters with the likes of Richard Speck and David Berkowitz.
The Killer Across the Table does feel a bit more toned down than Douglas's previous works, with a more balanced ratio of helpful and interesting information to self-aggrandizement. Mindhunter, Journey Into Darkness, The Anatomy of Motive, et al. lean very heavily on Douglas's sense of his own importance. That's why my favorite of his works is The Cases That Haunt Us, in which he examines some of the most notorious unsolved cases in history, ranging from Jack the Ripper and the Lindbergh kidnapping to JonBenet Ramsey. The ego is still there, but it's tempered by Douglas's detachment from the investigations themselves. I find myself going back to The Cases That Haunt Us frequently, especially when some new theory about one of these old crimes surfaces. Wondering what Douglas might have to say about it holds a lot more appeal to me than unpacking his interview methodology for the umpteenth time. If you are a Douglas completist, The Killer Across the Table certainly won't be a waste of your time, but I think pulling The Cases That Haunt Us down from the shelf might be more satisfying. -- Susan Howard
---
Dick Wolf's Oxygen show has a premiere date. Wolf, who we all know as the man behind the Law & Order family of shows, also produces a series for Oxygen called Criminal Confessions. In Oxygen's own words, the show "gives an inside look into actual police interrogations around the country with detectives who will stop at nothing until they find justice," which, given the rising public awareness of the invalidity of many confessions and the ominous tenor of a line like "detectives who will stop at nothing," seems like a distinct failure to read the room.
In a press release for the third season, Wolf says that the show will "continue to give crime buffs insight into a side of police work that has never been examined before," which isn't exactly true: Here's an examination from 1966, from 2011, and here's two more from this year. Perhaps to duck the inconvenient truths raised in the past decades, the show will begin with a 90-minute special on the Chris Watts case, in which "the lead investigators at the Colorado Bureau of Investigation" will offer "first-hand accounts on how they worked tirelessly to secure the ultimate confession putting Watts behind bars." If you want all that in your life, set your DVR for 6 PM on December 7. -- EB
---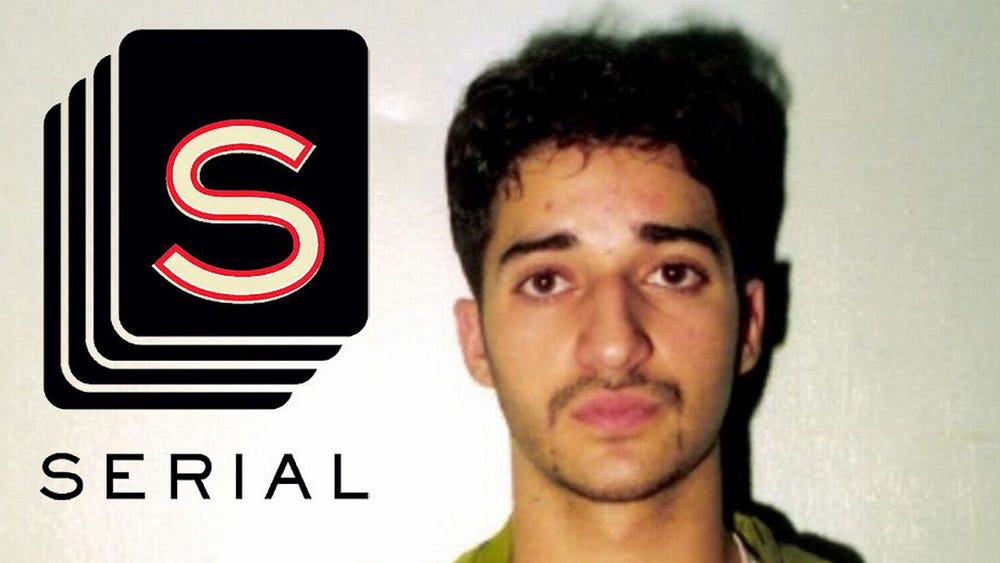 The AV Club has an interesting longread on how Serial changed the true-crime game. Reporter Katie Rife gives a brief overview of pre-Serial true crime, then dissects the impact it caused when it launched (both good and bad). From Rife's essay:
One of the key appeals of true crime stories—and this is also true of fictional thrillers and horror—is the vicarious thrill of observing someone else's mortal peril from a safe distance. That's especially true when one's own life feels unstable, as evidenced by the parallel rise in popularity of the horror genre in the politically volatile back half of this decade. Wrapped in a familiar, respectable package designed to give listeners the same breathless rollercoaster ride as their favorite TV dramas, Serial thus provided a perfect respite from real-world problems. And it did so while also presenting an opportunity for political enlightenment to expound upon at brunch.
Rife posits that Serial didn't just change how true-crime tales are told, but it changed the podcasting industry as a whole, setting the stage for the gold rush we see in the business today. That's a lot to put on Serial's shoulders, but she might have a point, as a high number of Serial listeners said it was the first podcast they'd ever listened to. (A gateway pod, if you will.) You can read Rife's full take on the Serial phenomenon here. -- EB
---
Tuesday on Best Evidence: Still working that out!
---
What is this thing? This should help.
Follow The Blotter @blotterpresents on Twitter and Instagram, and subscribe to The Blotter Presents via the podcast app of your choice. You can also call us any time at 919-75-CRIME.