The Blotter Presents, Episode 124: Detective Trapp And Savage Appetites
Plus: More on the Richard Jewell mess
In this week's episode of The Blotter Presents podcast, Sarah and guest Kevin Smokler gave Detective Trapp a listen. As previously discussed, the show is a product of the LA Times -- specifically, staff writer Christopher Goffard, who also brought us Dirty John. This time around, the focus is on Detective Julissa Trapp, who worked for years as a sex-crimes investigator before making the move to the murder squad -- a background that puts her in a solid position to investigate a string of sex-worker deaths that have been considered "low priority" by the department, and that turn out to be the work of an Orange County-based serial killer.
The problem with the podcast, Sarah and Kevin say, is that it's less a podcast than it is "a well-reported story read into a microphone" -- a problem we're definitely seeing rise again and again as legacy media organizations enter (or reenter, in some cases) the podcast game. They also note that Trapp's motivations are presented in a…problematic way that (infertility is a factor!?) put them both off. You can check Sarah and Kevin's work by listening to Detective Trapp here, and you can take in their full discussion here. -- EB
---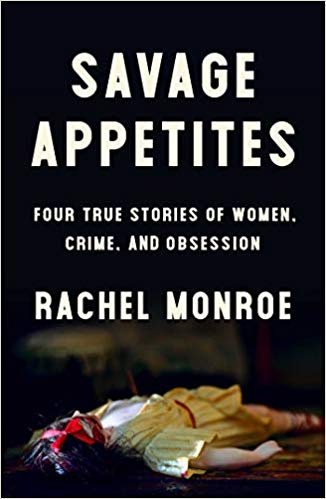 Sarah and Kevin's Cold Case isn't all that cold, as they tackled Savage Appetites, a book that dropped in August. Coverage of Rachel Monroe's dissection of the rising interest in true crime has been plentiful, likely because (I must credit Sarah for this thought) our culture is primed to interrogate crime review as entertainment.
The book, which is subheaded Four True Stories of Women, Crime, and Obsession, details the true-crime fixations of four women, none of whom are law enforcement professionals, in an effort to understand why interest in the genre skews so female. Sarah and Kevin liked the book, but said that the four tentpole narratives felt a bit stitched together -- and that some of the more, ahem, celebratory aspects of true crime culture could have been examined a bit more closely. If you haven't read Savage Appetites yet, Amazon had knocked its Kindle price down to $11.99 at the time of this writing (I paid $16.99 when it first came out, so the worm this early bird got cost me five extra bucks!). You can hear Sarah and Kevin's chat about the book here. -- EB
---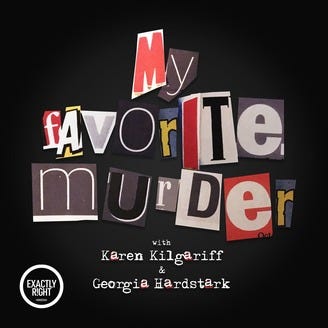 Speaking of the more celebratory aspects of true-crime culture, the hosts of My Favorite Murder just scored an enviable deal. MFM's Karen Kilgariff and Georgia Hardstark have struck a two-year, $10 million deal with Stitcher, a partnership that Hot Pod's Nicholas Quah compares to SiriusXM's plan to make Howard Stern the "crown jewel" of its business (remember that?)
According to a press release on the matter, Stitcher will finance show development for the pair's Exactly Right network, including "building out the network with staffing hires across marketing, business development, production and advertising representation." In other words, big business for the formerly humble pod. -- EB
---
I don't care if a female reporter dates her source in a rom-com—that's what rom-coms are about, crossed lines... it can be hacky or it can work, whatevs. But to do that in the portrait of a real reporter? Who isn't around to defend herself? Gross.
The furor over Richard Jewell's depiction of a reporter continues. The film suggests that reporter Kathy Scruggs traded sex for information, something that her former colleagues (Scruggs has since died) say is an unfounded and potentially defamatory claim. In a letter sent to Warner Bros., film director Clint Eastwood, and screenwriter Billy Ray, the Atlanta Journal-Constitution (where Scruggs worked at the time of the Jewell investigation) wrote, "We hereby demand that you immediately issue a statement publicly acknowledging that some events were imagined for dramatic purposes and artistic license and dramatization were used in the film's portrayal of events and characters" and "further demand that you add a prominent disclaimer to the film to that effect," Variety reports.
According to Deadline, however, Warner Bros is doubling down on the depiction, saying, "The film is based on a wide range of highly credible source material…The AJC's claims are baseless and we will vigorously defend against them." -- EB
Here's the ultimate irony on Richard Jewell: It was written by Billy Ray, who directed…Shattered Glass. Yes, the man who made a film on the importance of journalistic responsibility is now caught in a fracas over (inaccurately) showing a reporter exchanging sex for a scoop
---
Thursday on Best Evidence: A planned adaptation of some real Mexican crime.
---
We only have a few more days left of our 12 Days of Best Evidence. Until December 15, you can get five issues a week of BE for only a buck per week, what a deal! If you're already a paying subscriber, we're sorry to keep nagging you about this — but wanted to mention that BE makes a GREAT gift.
And if you're a free subscriber, please consider making the switch to paid — we do good stuff all week long, have a great commenter community, and would love to get paid for what we do. Until our $10 million deal with Stitcher comes along, this is how we keep the lights on.
---
What is this thing? This should help.
Follow The Blotter @blotterpresents on Twitter and Instagram, and subscribe to The Blotter Presents via the podcast app of your choice. You can also call us any time at 919-75-CRIME.