The Blotter Presents, Episode 106: No One Saw A Thing and The Doorstep Murder
Plus: Miss Manners on true crime
Sarah probably would have liked No One Saw A Thing more if she knew less. But, alas, she had to go and read Harry N. MacLean's In Broad Daylight, a book on the Skidmore, Missouri slaying of so-called "town bully" Ken Rex McElroy in front of scores of witnesses. (You can read her review of the book here.) Perhaps as a result, she says that the Sundance series (episode one of which can be streamed here) "barely scratches the surface" of the violence McElroy inflicted on his city as an alleged meth user, child molester, and much more.
Sarah and guest Allison Lowe Huff discuss the show on today's The Blotter Presents, which you can listen to here. All in all, they say, the show is well made, but plays it fast and loose with the correlation vs. causation, for what's ultimately an unsatisfying experience. -- EB
---
Don't be fooled by the Doorstep Murder's pedigree. The BBC Scotland podcast's host is Fiona Walker, a reporter who's done some great work as an investigative journalist for the outlet, but that's not enough to save the exploration of the death of a young Scottish banker slain in front of his home.
Sarah and Allison agree that the podcast, which aired last May, struggles with flaccid interviews and an overall air of self-indulgence, making this one a miss for them. You can listen to their dissection of the pod here. -- EB
---
Everybody's talking about the NYT's "50 States of True Crime" list. It came up in the comments on yesterday's Best Evidence, and is the topic of The Blotter Presents' Patreon-only episode that drops this Friday, so why am I also bringing it up here? Because it is fun!
As the name suggests, the piece lists a great true crime book for every state in the U.S., but doesn't fart around with any listicle/SEO nonsense claiming that their pick for each region is the "best" or "most murderery" or whatever the kids are googling these days. Even so, I'm sure Times books writer Tina Jordan (who compiled the list) is being deluged with "what abouts" and "how can you forgets," and I'm certainly not going to add to that. I will say that for some states with loads of fascinating crimes it must have been tough to pick just one. Patty Hearst over Charles Manson for my home state isn't something I'm going to argue with in the slightest, but it made me think that a map of another state broken down by county could provide a similarly fun list. What do you think? -- EB
---
I've long thought that the smartest thing you can do as a bank robber is be as boring as possible. As a reporter who receives press releases from official agencies including the FBI, I've always been struck by the creative way the feds nickname robbers based on their disguise (the woman above was referred to as the "red wig bandit," for example), and wondered why people didn't just change their appearance in an unremarkable way that stymied efforts to create a catchy moniker -- to fly below the radar, so to speak.
According to a report from CNN, those nicknames are an important took in catching the suspects, because news orgs are more likely to run a story that involves a clever name. In my experience, that's also reflected by traffic to a story: after all, are you more likely to click on "Police Seek Attila The Bun Bank Robber" or "Citibank Robbed By Suspect"? According to retired FBI Special Agent Harry Trombitas, who pushed for nicknames in bulletins from his Cincinnati bureau, "Instead of reporting a mundane bank robbery, this gave it a life of its own." So now you know: if you decide to go into a life of crime, make sure you look so dull that a traffic-hungry web editor will pass the press release on your crimes over for something far more interesting from, say, Florida. -- EB
---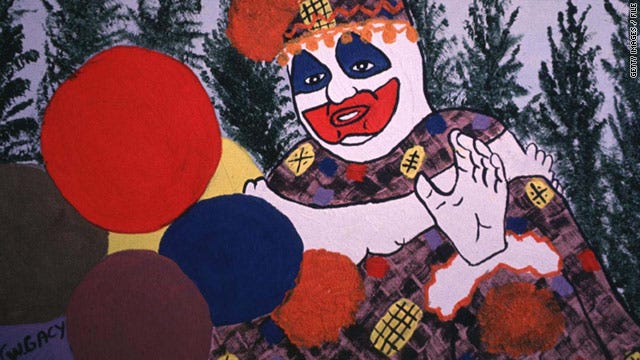 Miss Manners does not disappoint when confronted by a true crime etiquette question. The advice column, which these days is written by founder Judith Martin as well as her children Nicholas and Jacobina, was recently contacted by a reader who said that after a friend with whom the correspondent has "a shared interest in true crime and art" gave her (let's assume it's a her, though gender is unspecified) "a canvas with pictures of a murderer on it, and red paint splattered on it to look like blood," the recipient was both creeped out and and pissed off, as "clearly, very little effort went into it." In her response, Miss Manners says that to remain polite, the recipient must keep the painting, but can save it for display until the artist comes to visit. After all, Miss Manners says, "It might be useful as evidence." -- EB
---
Thursday on Best Evidence: My god, how can there be another Charles Manson thing coming up? And yet there is.
---
What is this thing? This should help.
Follow The Blotter @blotterpresents on Twitter, Facebook, and Instagram, and subscribe to The Blotter Presents via the podcast app of your choice. You can also call us any time at 919-75-CRIME.