The Blotter Presents 141: Bad Education and Frontline's "Terror In Little Saigon"
Plus Baskin agonistes, Loughlin motions, and the true-crime alphabet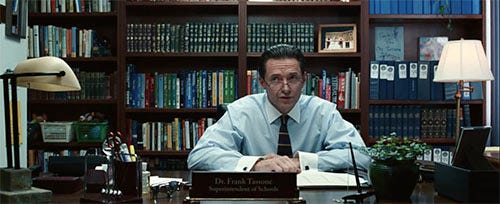 Toby's back already, huzzah! This time out, we're discussing the Hugh Jackman/Allison Janney-starring Bad Education, HBO's take on the Roslyn schools embezzlement scandal from back in the aughts. It's based, shocker, on a longform piece by Robert Kolker in New York — and the screenwriter is a guy who was in middle school when it all went down. It's got notes of All The President's Men, Election, and American Vandal (and not just because Jimmy Tatro has a small role)…but did it bring all those notes together? And should it have taken another, single point of view instead of lingering on shots of Frank Tassone at the club in Vegas?
Later, Toby had the misfortune of picking a rather off-brand Frontline, on the unsolved murders of Vietnamese journalists in the States, and the possible role of the federal government in getting that FBI file closed prematurely. The story is shocking and compelling; the Frontline itself…feels like something from another network, and not in a good way.
Want to hear Jackman growl the word "Jericho"? Who doesn't. Listen to Episode 141 here! — SDB
---
You've still got a couple of days to vote on what I read for the May bonus book review! It's currently tied between Edward Humes's Burned and Macy's Dopesick; will y'all crown one the winner of my undivided attention, or will you get two bonus reviews two months in a row?! — SDB
---
Interest in Carole Baskin remains unabated post-Tiger King, regardless of which side of the "she killed her husband" aisle you've sat down on. Noted exoneree Amanda Knox has jumped into the fray with an editorial at CrimeStory.com, titled "The Rush to Judgement of Carole Baskin," so notwithstanding the awkward modifiers of the title, it's fairly clear what you'll be getting:
This may sound like splitting hairs, but Joe Exotic, Doc Antle and Carole Baskin are people, not merely characters in a story. I say this as someone who knows what it's like to be reduced to a character in a morality play.

I commend the filmmakers for how they were able to show the complex humanity behind the self-styled cartoonish personality of Joe Exotic. That takes empathy, and skillful storytelling. But they didn't extend that treatment to Carole Baskin.
I don't disagree, and I think there's a PhD thesis — at least one — in how the representation of a certain type of true-crime subject gets gendered. Specific to this case, it's the trophy wife turned charity (ergo morality) arbiter, and the snarling response she provokes, often from an unconscious place. No matter how Baskin reacts to the rumors about her previous husband's demise, it'll be taken as "proof" of something…and because those rumors tell such a one-of-a-kind tale, she'll never a break from reacting, either. Baskin and Lorena Bobbitt could probably write another thesis on the way a single outré element of an allegation scorches the earth free of any ambiguity for miles around.
Knox goes on to talk about the "judgmental" stance of Tiger King, and where she loses me somewhat is in the idea that a documentary isn't "valid" if it's passing judgment on its subjects. My oft-repeated stance on this — that even the most "objective" and removed doc has made choices and judgments in what it shoots and includes, and that pure neutrality is not reasonable to expect, or interesting to watch — is somewhat at odds with what is understandably a primary preoccupation of Knox's. I'm also, as I often am with Knox's…well, let's call it "public presentation," nonplussed by choices she makes; here; she whiplashes the reader from a mild scolding about convicting Baskin the court of public opinion, to new lyrics for that TikTok parody.
tl;dr: when you're a wrongfully convicted hammer, everything looks like a nail that was planted at the crime scene.
But Knox's take is more sensical than that of the attorney for Baskin's missing husband, who appears to have watched that Criminal Intent take on the Durst case one too many times. Joseph Fritz told People that he does "'have reason to believe [Don Lewis] is dead,'" and claims he heard "from two sources" that Lewis was lured to a "nearby airport," strangled with an electrical cord, and thrown out over the Gulf of Mexico.
These sources aren't named; Fritz appears to have first shared this theory with Nancy Grace, so: boulder of salt; and Fritz's own comments would indicate that, if money's the motive in Lewis's disappearance, Baskin isn't the only one with a dog in the hunt:
"He was a pretty likable guy," Fritz says. "He never really hurt anybody. When he loaned money, it was at high interest rates. He aggravated somebody on a land purchase once; that was bad. But nothing I would say was worthy of murder."
Look, I'm married to a real-estate broker, and I wouldn't "say" anyone should get killed over these deals, but tensions run high for years over shit like this. The "younger wife fed him to a wild animal" narrative is almost impossible to resist, but the truth of these cases is always so much grubbier, no?
Hillsborough County Sheriff Chad Chronister does think Lewis was murdered, but doesn't even consider Baskin a person of interest at the moment, never mind a suspect. Even Fritz doesn't name her, saying he doesn't know who it was — or wasn't — just the "how." — SDB
---
We noted in today's Extra Hot Great episode that When Calls The Heart is proceeding for another season sans embattled college-admissions-scandaleer Lori Loughlin. Last week, the judge in the case called Loughlin's and her husband's claims that the government pressured Rick Singer to entrap them "disturbing," which I guess is one word for it. Loughlin and Giannulli want the case against them dismissed, and I doubt that's happening given their and the case's profile…but The Age Of COVID has brought about a lot of unforeseen changes, so who knows how it'll go when Gorton rules on that motion. That's set to happen Friday. — SDB
---
And speaking of Extra Hot Great, did you listen to our ABCs Of TV episode last week? It's an absolute unit at 2.5 hours, so if your daily outside-time walk takes you two counties over, that's a perfect companion — but the point is, it inspired me to put together a True Crime A To Z "event" for Best Evidence*. A few contributors and I have made lists of the ne plus ultra cases, properties, directors, authors, you name it for each letter of the English alphabet, and we'll be dropping a letter each day throughout the month of May…and we hope you guys will contribute your own candidates as we go along!
Each letter will get a discrete post/thread, and anyone can read and comment/argue/scathe the edit board's choices. I can't wait to see what we all come up with. — SDB
*"Hey, wasn't there going to be an N Crime AA bracket thingie?" There was…but until I can hack an on-site polling solution, that will have to wait. In the meantime, tell a friend about this!
---
Coming up on Best Evidence: Heist-y longreads! Satanic-panic pod curation! James Baldwin!
---
What is this thing? This should help. Follow The Blotter @blotterpresents on Twitter and Instagram, and subscribe to The Blotter Presents via the podcast app of your choice. You can also call or text us any time at 919-75-CRIME.