The Blotter Presents 139: The Hart Family Tragedy and American Animals
Plus Netflix's latest, more prison-doc recs, and a crime-dingus round-up
This week's podcast with Jeb Lund covers the full range: a short doc we had no use for, and a docu-nactment (…? maybe that fetch shouldn't happen) we really liked. The Most Wanted topic is A Thread Of Deceit: The Hart Family Tragedy, which tries to be about Jen and Sarah Hart's fateful decision to annihilate themselves and their six children, but gets stuck on one explanation, and doesn't seem to know quite how to report out its story. Does this do anything the Broken Harts podcast didn't? Should the filmmakers have bailed? And why is there a musical instrument in the background of every talking-head?
Later, we're delighted to find that 2018's American Animals — about the Transylvania University book heist — finds a way to integrate interviews with the real heisters, and full-fledged docudrama "re-enactments" featuring actors. I was even more delighted to learn that Bart Layton, who directed The Imposter, also directed this…and hopefully will direct many other things, since he has a real ear for what a true story "wants" from its teller. Listen to Episode 139 here!
(Later this month: Alex Segura on The True Story of the Kelly Gang and Ronan Farrow's podcast, and Toby Ball on Bad Education.) — SDB
---
"Whither the true-crime butthole?" We're on it, friends. Today in felony fuckwits:
Ellen DeGeneres faces backlash for comparing her (by most standards, luxurious) quarantine to jail. Rumors of her workplace tyranny entirely aside, I don't know why ED still has this sweetheart reputation when she keeps stepping on her own nads this way. I DO know my other work wife Tara Ariano filled Ellen's ass with buckshot for this nonsense on last week's Extra Hot Great. [Us Magazine]

Lori Loughlin's motion to dismiss: denied! Obviously posed photos of the Loughlin/Giannulli spawn on rowing machines, in spanking-new/not-quite-right athleisure gear (I dated a crew dude in college; sleeves are not a thing), surfaced at the end of last week, to predictable hoots of derision from the entire world. And if House Giannulli thought the pandemic would see them getting a break from the courts, that isn't happening. The feds apologized, barely, for not turning over select evidence in the case sooner…before publicizing a whole raft of new evidence, including emails that give the lie to Loughlin and her husband's assertions that they didn't know what the money was for. [Deadline]

Nancy Grace has an online video "course" leveraging stranger-danger child-abduction fears for $34.99 a pop. Somehow, the fact that there's a workbook makes it even more repellent. [CrimeStopsHere.com]
---
In the event that you've already sped through our list of the top prison docs from Monday, Margaret is back with your best 7 bets for international prison documentaries.
*******
Some things about prisons don't change anywhere in the world: the food's bad, there's not enough of it, necessity is the mother of invention, and no one likes an informer. And every prisoner has a story to tell.
7. Jail Birds (1999)
Take one bouncy choirmaster with eyebrows perpetually raised in enthusiasm and throw him into a minimum-security women's prison with a camera crew, get a classic fish-out-of-water reality-TV scenario. But while the short Australian series Jail Birds doesn't do much to break the format, which hits all the beats of struggle, conflict, and emotional breakthroughs, it never holds its subjects in contempt. Watching the women grapple with their self-image and personal voices is uplifting in an honestly-earned way, while the backdrop of Tarrengower prison's "domestication" program shows a very different kind of reform than usually gets filmed.
Where to watch: The Victorian Department of Justice and Community Safety has all four episodes on YouTube.
6. A Jail in Colombia (2006)
Burdened with an overdone voiceover, this compact but hard-hitting documentary still manages to convey the upside-down power structure of "the model jail," La Modelo. Full of Medellín Cartel veterans, guerrilla fighters, and the paramilitary who hate the guerrillas, the guards operate mainly in self-defense. Gunfire constantly breaks out as the balance of power shifts from one side to another. While the filmmaking is not splashy, the level of access to the jail provides some stunning footage, including an impressive food hall in the revolutionary wing which features everything from hamburgers to shrimp cocktails.
Where to watch: Streaming on Hoopla, Fandor, and Kanopy, available to rent on Pantaflix.
5. No Burqas Behind Bars (2013)
In the opening scenes of No Burqas Behind Bars, a captive is handed off to the guards at a women's prison in Afghanistan. When the door opens, what we find inside is surprising — there's color, children running around, and no one has their face covered. Many women bring their children with them to prison, where there's a fragile economy supplying basics like clothes and food. There's not many safecrackers here — most of the charges are so-called "moral crimes," usually women fleeing their husbands or families trying to force them into marriage. While it's no summer camp, several say that it's "better than being at home"; if they have escaped abusive situations, here they have community and protection. The paternalistic warden doesn't blame the women but a society that's undereducated; still, he doesn't do much to persuade one husband not to call a hit on his wife's accused lover, who is imprisoned in the block next door.
The three women at the center of the film, Sara, Najibeh, and Sima, all have very distinct struggles, where leaving the prison means risking far more than being inside. The filmmakers returned to Afghanistan with Sara to make the follow up, Prison Sisters.
Where to watch: Available on Kanopy and to rent on Vimeo.
4. Caesar Must Die (2013)
Getting inmates together to perform theatre isn't a new concept (see John Brown's Body at San Quentin Prison or Shakespeare Behind Bars) but this attempt, set in a high-security Italian prison, mixes Julius Caesar with street dialect as well as fact with fiction. Staginess suits this project, as the prison performers swap existing personas for their roles.
Where to watch: Stream on Kanopy; rent on Google Play or iTunes.
3. Prison Arabic in 50 Days (2013)
Not even five minutes long and starring a series of index cards, this vocabulary lesson from filmmaker John Greyson tells the story of the fifty days he was detained in an Egpytian prison. After an international campaign to free Greyson and his companion, Canadian-Palestinian doctor Tarek Loubani, they returned to Canada, where Greyson made this short from the vocabulary notes he'd created during his incaceration.
Where to watch: YouTube.
2. Strangeways (1980)
The first time British prisons allowed cameras inside, documentary filmmaker Rex Bloomstein created the TV series Strangeways, which shocked the country when it was broadcast. One of the rare prison documentaries that focuses on the guards as people, it even shows struggle between management and the rank and file. It added to the prison's notoriety and probably helped name an album by The Smiths, but it also came out ten years before an infamous riot at the prison destroyed much of the Victorian institution and led to widespread reform. After the riot the series came back, with updates, and there's still considerable Strangeways-related content on British TV. Even though the prison is officially known as HM Prison Manchester, it's remained Strangeways in popular culture, in part due to this show.
Where to watch: Can be found on World in Action DVDs, and often pops up in bits on YouTube (likely by Smiths fans).
1. The Mark of Cain: On Russian Prison Tattoos (2000)
This documentary manages one of the most effective trade-offs I've seen between sensationalism and insight. From the outset, a feature on Russian prison tattoos screams Vice Mag-style clickbait, but the director uses the tattoos to frame a story that takes in many aspects of the Russian penal system, a comparatively less sexy topic but one with much more substance. While it does provide the basics in what not to get inked with before you get locked up in the former Soviet Union (no stars on your knees or eyelid tattoos), it also talks about the deprivation of prisoners, how they construct makeshift communication systems, and what effect social change has had on the populace. As one convicted killer sighs in resignation as she reflects on changes she's seen, there's no more murderers, only drug dealers — not like the good old days.
Where to watch: Available on YouTube. — Margaret Howie
---
Just a reminder that if you enjoy these reviews and listicles, 1) a paid subscription helps Best Evidence finance more content; and 2) Best Evidence pays for said content! Not a lot, but we do pay, and we'd love to hear your pitches (or just suggestions for stuff you'd like to read but can't be shagged to write) (…relatable!). Email me at bunting at the-blotter dot com; or call/text us at 919-75-CRIME.
We know times are tight, and weird, for everyone; if it's not a good time for you, we get it. We're just glad you're here.
And for all subscribers, an email-minimalism option's available if you'd rather read B.E. in a browser only. — SDB
---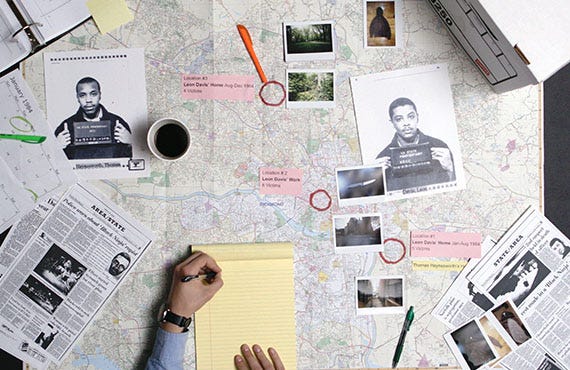 Netflix's latest (they hope) true-crime binge-able, The Innocence Files, drops today. I reviewed it for Primetimer, and while I liked it, I wanted to like it more; I'd hoped for a deeper dive into suspect "forensics" that "CSI culture" has trained us not to question. TIF goes in a more textural direction, and while it's watchable and has great access to Innocence Project founders and clients, it's not quite there as a great one:
It's literally impossible to talk about wrongful convictions and not mention structural racism, and I'm not suggesting The Innocence Files should try. I do think stricter attention to the titular evidence — how it's used, how experts are trained (or not) in their fields, how certification standards might work for some defendants and against others — would have resulted in a better-paced series.
If you're watching, let us know if you agree with my take — or if you too find it a little lacking, but for a different reason. — SDB
---
Coming up on Best Evidence: A Lady in the Dunes theory, Amanda Knox's COVID-in-jail series, and more.
---
What is this thing? This should help. Follow The Blotter @blotterpresents on Twitter and Instagram, and subscribe to The Blotter Presents via the podcast app of your choice. You can also call or text us any time at 919-75-CRIME.