The Blotter Presents 133: Unabomber In His Own Words and Strictly Stalking
Plus Vick, Dick, and free stuff!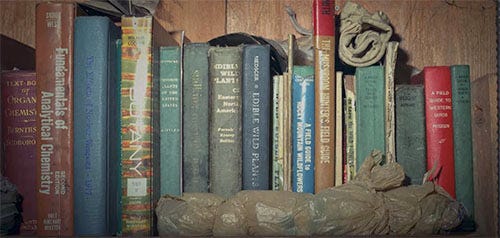 Episode 133 on Netflix's Unabomber limited series and podcast Strictly Stalking is now live. First-time guest (and MT native) Jessica Liese joined me to talk about Unabomber: In His Own Words, a limited series Netflix "adopted" from Reelz. It's better than we'd expected from a Reelz outing, but in its quest to explain Ted Kaczynski's murderous actions, it may have presented him more sympathetically than it ought to have. At the same time, it's hard not to sympathize with Kaczynski's brother, David, and the way he continues to struggle visibly with his role in Ted's capture. Overall, though, we recommend it, and you can watch here.
Later, we discussed recent podcast Strictly Stalking, an outstanding concept that suffers from strange, awkward construction problems, but is still a standout because it begins from a place of believing women. Why can't the hosts, who are actually pretty natural within interviews, get out of their own way? How long can this premise sustain a podcast? We had questions; if you've listened, we'd love to hear your answers/comments. — SDB
---
Is 30 For 30 at its best with crime stories? In my latest for Primetimer, I talked about the two-part Vick installment from last month, and why 30 For 30 sports documentaries work so well, even for viewers who wouldn't describe themselves as liking either of those things:
I would argue that the series' real gift is its understanding of the way any given sport is, for its fans and for the series' audience, very seldom "just" a sport. The narrative of a season, a championship series, a team or athlete's climb to glory is just that: a narrative, clear-cut, straightforward. It lets the world feel more orderly and organized. But at the same time, dominant sports stories like those of Vick, Pete Rose, Tonya Harding and Kobe can give us a way into other big subjects that we might otherwise struggle to talk about: racism, sexism, mental illness, injustice, grief, loss, and yes, crime.
There's also a short list of the best 30 For 30s that touch on crime; let me know if I missed any. — SDB
---
Do you live in the New York tri-state area and want to see Liz Garbus's Lost Girls before it premieres on Netflix? I've got two tickets to the screening this Saturday February 29 at the Athena Film Festival at Barnard College, but I can't use them after all. Interested? Ping me at bunting at the-blotter dot com and I'll forward them, no charge. First come is first served, etc. etc. — SDB
---
The only programming topic I'm more prone to bang on about than OJ: Made In America is American Experience. Okay, also Bosch but let's try to stay focused on crime here. Anyway, here's a Previously.TV piece from early 2016 about the then-upcoming season of American Experience.
*******
The producers of American Experience probably won't care for the idea that their show works just as well as a video podcast of sorts -- after all, editors and directors took time to assemble visuals in a certain order and would probably prefer that I pay attention to them, versus knitting and listening to series narrator Michael Murphy inform me via VO about the Triangle fire. But I hope they'll take it as a compliment, and know that I've long had my DVRs set to catch the random reruns that air at 3:35 AM on the lesser PBS satellites in the metro area, because I love listening about Mount Rushmore, The Carter Family, or Tupperware and learning things about well-trodden subjects that I'd never known before.
American Experience turns its attention to crime stories early in Season 28, and if you avoid most true-crime programming because it's lurid, banal, luridly banal, or prone to making you wonder aloud what the hell is wrong with 1) just getting a goddamn divorce that all these couples try to off each other and/or 2) Florida, it's time to get on board with public television's take on the genre. As I mentioned, it's solidly constructed documentary fare that you can either watch, or just listen to while you craft or fix dinner. As I also mentioned, the narration is extremely well done, and the filmmakers -- experienced directors like Ric Burns, who tend to return to the show -- get good voice-over work from actors like Andre Braugher, Harris Yulin, Josh Hamilton, Courtney B. Vance, Richard Brooks, and Denis O'Hare. (James Cromwell will voice Clarence Darrow in the upcoming Leopold/Loeb episode.)
And it doesn't do the expected thing, repeat wiki-lore you've heard umpteen times before, or shy away from ugly graphics and details. The AE treatment of Jonestown was both broadly informative and lingeringly disturbing, one of those docus you admire while feeling afraid to recommend it in so many words -- but it's the best treatment of that tragedy I've yet come across. The recent "Bonnie & Clyde" episode wasn't one I particularly looked forward to, forgetting that AE knows how to freshen up tired topics, and sure enough, I learned a lot, like
that Bonnie was teeny, not quite five feet tall

that she hated that famous picture of herself with the cigar and the foot on the bumper; nobody else was supposed to see it

that she was married, at 15

that a car wreck crippled her with burns

that sexual assault Clyde serially suffered in prison made him fatally determined never to return

that Mrs. Barrow told Clyde they hadn't bought his late brother Buck -- a member of the Barrow gang -- a headstone yet because they knew they'd have to bury Clyde soon too, and couldn't afford two stones

the way crime and gangsters took on an aspirational glamor during the Depression, when bank robbery and kidnapping were considered, if not legitimate, then businesslike pursuits for those with few other choices -- and that the popular culture cosigned this idea with enthusiasm
From the talking-head interview with a retired sheriff named Boots Hinton to the sad photo of Clyde, post-final shootout, slumped like a perforated ragdoll in the driver's seat amidst a surging crowd, "Bonnie & Clyde" held my interest every minute. I've liked the show's take on Billy The Kid, Jim Jones, and Lee Harvey Oswald; I can't wait to see what they do with the upcoming assassinations and thrill-kills this season has in store. — SDB, 1/27/16
---
Also from the archives: a PTV write-up of an episode of Brooklyn DA. Remember that show? …Why would you; it was on for like five minutes in the summer of 2013. But it was a Dick Wolf joint, so maybe you watched it too. I am mostly surfacing this review because I know Eve hates her some Dr. Oz (hee), but as it happens, Dick Wolf non-fiction programming is in the news this week: his unscripted shows Criminal Confessions and Cold Justice are planning a "crossover event" on the Criminal Confessions finale airing March 7. This kind of thing feels like a tackier stunt than it would with Wolf's scripted properties (which do it frequently; SVU and Chicago PD did one that ripped the Dannemora escape from the headlines, and featured a stunningly icky and on-point turn from Dallas Roberts), but maybe I'm overreacting.
Cold Justice is back March 14, if anyone's still watching that one. And now, here's that Brooklyn DA piece.
*******
The second installation of Brooklyn DA followed two cases from last week -- the murder of a police officer, and the set-up of a sting operation to catch an art thief -- and introduced a third involving the death of a 51-year-old former model following a liposuction procedure. So you can probably see how I would have a few questions, and how this is in fact an excellent opportunity for the show to answer questions scripted law-and-order shows have raised for years now.
Starting with…
Can we get a short, plain explanation of the legal difference between murder and manslaughter?
I only need the explanation for New York State, but I'd also like to know whether the jury can drop, say, murder two down to first-degree manslaughter of their own volition, if they feel the burden isn't met for the greater charge. (I don't think they can. I wouldn't know; I get picked for frumpy cases like podiatry malpractice.)
I ask this because the average American has probably seen two hundred plea discussions on scripted shows by the time s/he turns 12 years old.
And what's going on with the state's death penalty?
My impression was that killing a cop is murder one and murder one is the needle. My impression also is that New York has informally suspended executions. If your impression is that I could just Google that, I see your point, but without taking anything away from the family's emotions, obviously, the show might spend less time on somberly angled close-ups of Figoski's daughters crying, and more explaining the special circumstances pertaining when a cop is killed in New York City.
How does a show get a subject's permission to use a surveillance photo/footage?
It's probably a spoiler of sorts, now that I think about it; I imagine that they did end up pinching this Vega character for art theft, and then he signed the release. But the DA's investigator is tailing Vega, so isn't that evidence? The surveillance sequence is really interesting, and this isn't a complaint. I get curious about this inside-baseball kind of thing.
What is a woman who's 5' 9" and 130 pounds doing getting liposuction after a heart transplant?
There's no question the doctor, Oleg Davie, is guilty of at least falsifying documents. There's no question Isel should not have died. And the first part of the equation I can understand, even if I don't relate to it; I'm a bit taller than Isel was and at 130, I would look like a consumptive broom, but body dysmorphia is complicated, who knows.
But the crux of the case is apparently that, on the copies of Isel's medical intake form in the doctor's possession, the references to her heart transplant (performed by Dr. Oz, weirdly) and the related medications and so on had been deleted or otherwise altered, to imply that Davie didn't know Isel had had the transplant and he shouldn't proceed. She kept her own copies, and on hers, that information is there. (True-crime nerds will like that sequence; the document examiner who busts Davie on this is the grandson of the handwriting expert from the Lindbergh-baby case.)
But she knew about it. I'm not saying it's not still the doctor's responsibility to refuse to perform liposuction on someone with such serious risk factors, and further to understand that, if the patient weighs 130 and almost died of congestive heart failure but is still insisting that fat you'll have a hell of a time even finding be sucked out of her, it's then that physician's job to refer her to a counselor. It is. Davie's a scumbag and Isel's family is legitimately furious.
What I'm really asking is how the prosecutor would get out in front of that…bafflement, or move the jury past the "Wait, her?" reaction and on to the facts of the case...and what case, then, you file against Davie if it's clear that Isel understood her condition but may not have been troubled by the dangers involved.
It's still called "Rackets"?
I love that. Everything else in law-enforcement seems to have gotten renamed something more sterile; "organized-crime activity" doesn't have quite the same ring. — SDB, 6/5/13
---
If you didn't give up newsletters for Lent, why not subscribe to Best Evidence? All the archival materials, subscribers-only Briefs (snerk, "briefs") and book reviews, and podcast-to-TV casting labs — but EVERY weekday, for just $5 a month! Or save a few bucks and go annual at $55 a year.
---
Thursday on Best Evidence: Judge Judy dries her tears with hundos, True Crime 101, and more.
---
What is this thing? This should help. Follow The Blotter @blotterpresents on Twitter and Instagram, and subscribe to The Blotter Presents via the podcast app of your choice. You can also call or text us any time at 919-75-CRIME.