Discover more from Best Evidence
The true crime that's worth your time.
Over 1,000 subscribers
The Blotter Presents 128: True Life Crime and Love After Lockup
Plus Unlocking The Truth, and the predatory '90s Mets.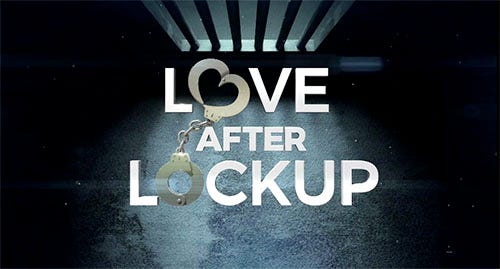 Piper Weiss and I head to basic cable for our two Most Wanted discussion topics in Episode 128, starting with MTV's True Life Crime. MTV is uniquely positioned to do something new in the true-crime space, but we weren't sure the first episode of TLC (the second airs tonight) took advantage of the opportunity to get away from network-newsmag tropes like the useless "expert" and the overwritten v.o. that adds no intel. That said, it's promising, and will probably surface cases we haven't heard about, so we'll keep watching.
We'll also keep watching Life After Lockup (and its parent show, Love After Lockup), and not just for the car-crash aspects. WEtv is probably most focused on said rubbernecking in order to grow the shows' audience — but there's an almost accidental commentary on the difficulties of life on parole, what happens when you sentence teenagers and parole them decades later with no life skills, the growing population of parolees who can't get jobs or move around, etc. and so on. There's also Angela, a whiskey-voiced tragedy who should really ditch Tony and become an audiobook narrator. We recommend both; we hope you'll share YOUR thoughts. — SDB
---
I thought I'd written more on Unlocking The Truth, the Ryan-Ferguson-led wrongful-conviction show on MTV back in 2016. At least, I thought I'd written more generally on it. This is all I could dig up from my files, but it did make me remember why I thought this show had a shot at doing something different. — SDB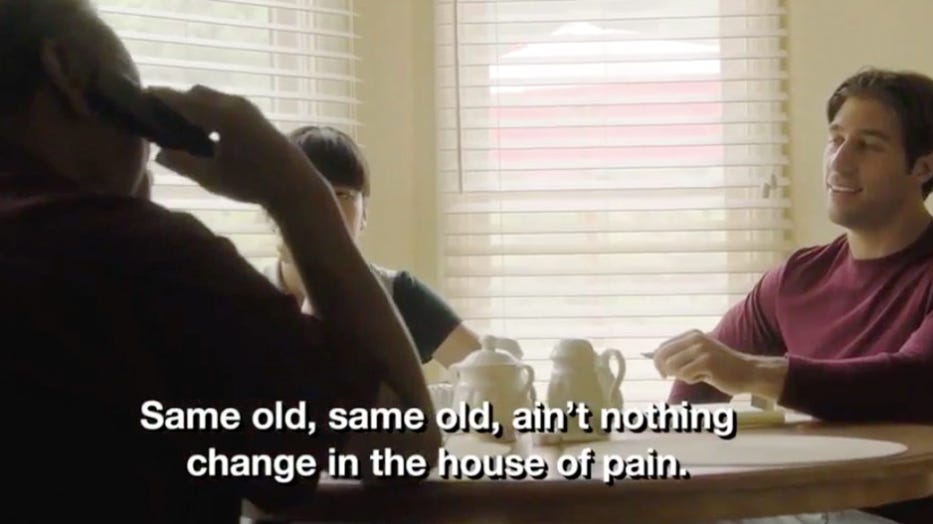 My notes for the second episode of Unlocking The Truth contain the following impatient scribble: "free Kalvin protest. zz. get to investigation pls." That response is to footage of one of the show's imprisoned subjects' fathers, Gus Dark, leading a small rally in support of his son, Kalvin Michael Smith, and it's uncharitable for sure, but my interest in the titular truth of the cases Ryan Ferguson and Eva Nagao are re-investigating is primarily in the facts of said cases. The emotional truths at each case's core, about the families...it's not that it's per se less compelling. It's that I've watched thousands of hours of 20/20 and 48 Hrs and Disappeared and and and, and it's almost not possible at this point to present a family member's pain and conflict in a way that tells us anything about, well, anything. You see enough bereaved and/or avenging sisters staring into the middle distance as a marker for a Keith Morrison voice-over, they all stop registering.
I think Unlocking The Truth knows that, though, and I think Episode 2 is constructed to lean into that human-interest fatigue; the end result is to point up the contrast between the reactions of the subjects' fathers. The first dad we meet is actually Michael Politte's, Ed, whom we left off the premiere wondering about as a suspect. We're told that he has an alibi, of sorts, but that it wasn't checked, and we meet his next (now ex-) wife, who informs Ryan and Eva that, among other things, Ed and Michael are now estranged thanks to a court filing Ed "forgot" to take care of" -- and that Michael vowed to get Ed for setting him up. Then it's off to meet with Ed, whose timeline of the estrangement seems to differ from his ex's version, and the estrangement itself doesn't sit right with the team, particularly when Ed claims that it's he who decided he "couldn't handle" Michael's anger and cut him off. His son. Who is in jail, according to Ed, because the cops weren't able to pin it on Ed. Ed, by the way, has just claimed that a cop told him this in so many words, and has underlined it with a teary, rambling account of trying to provoke that cop into hitting him. Ryan and Eva: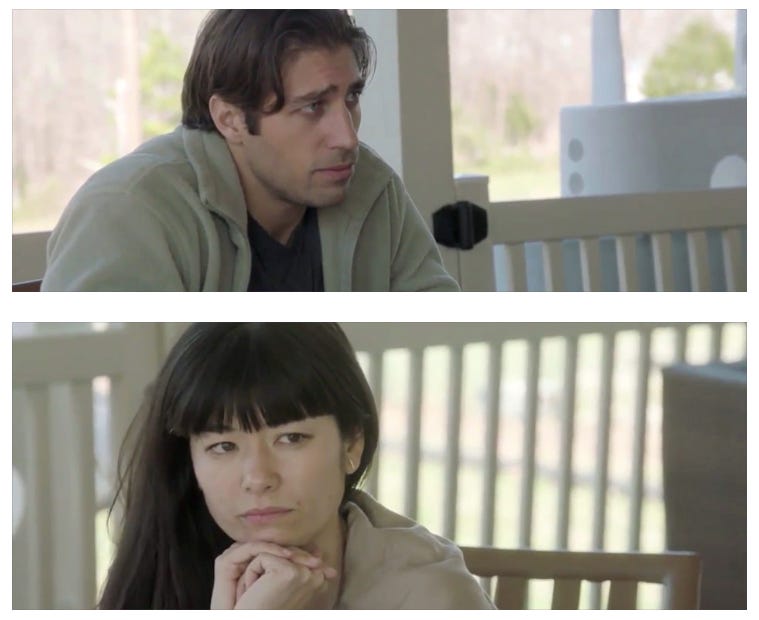 Apparently Ed's righteous rage on his son's behalf is supposed to prove that he loves Michael, would never set him up in that manner, and wants to see justice done. All Eva gets from it is that Ed has difficulty controlling his anger, which, word. All I got from it is how much Ed evidently wants others to admire his fortitude in bearing up under this burden, and his willingness to fight the law. It's all about him, his emotions, his struggle with this injustice, one which he compounded -- possibly purposefully -- by biffing a filing deadline and then huffily refusing to turn the other cheek to his son's understandable frustration.
Compare this hinky-at-best, guilty-at-worst narcissism to Gus Dark, whose son has done even more time than Ed's, based primarily on a racist detective's championing irrelevant Crimestoppers tips over eyewitness testimony and an existing restraining order that strongly suggested another, paler suspect. We step away from the rundown of Kalvin Michael Smith's case to meet Gus, but despite my initial irritation, it pays off, not least with Ryan struggling with his own emotions and gratitude for his own family's support. Then Michael (as Smith's family and friends call him) phones from prison, and Gus's reaction is everything -- and about everything -- Ed Politte's isn't: joy in his son's friendship; pride in Michael's embrace of the Lord; pain at Michael's pain. Note the difference in the team's reaction, too.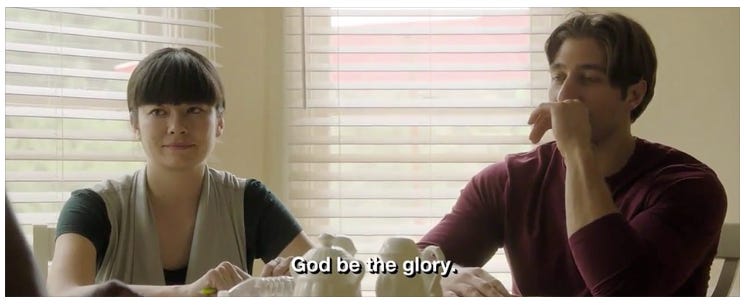 You see some discomfort there, at Gus's vulnerability, or possibly at the hand-in-hand casual relationship both men have with God. It pings something in Ryan, for sure. But there is no trace of the "uh...huh?" response we saw in their conversation with Ed. Gus's breakdown, and struggle to conceal it from Michael over the phone, is awkward because it's genuine. Ed's is awkward because it's a performance, of a story about Ed. And it took seeing both, and spending time with both, in the lane usually driven by self-important B-roll of dead cornstalks in most true-crime shows; each father's experience informed the other's for the viewer.
Well played, UTT. Well played. — 8/25/16
---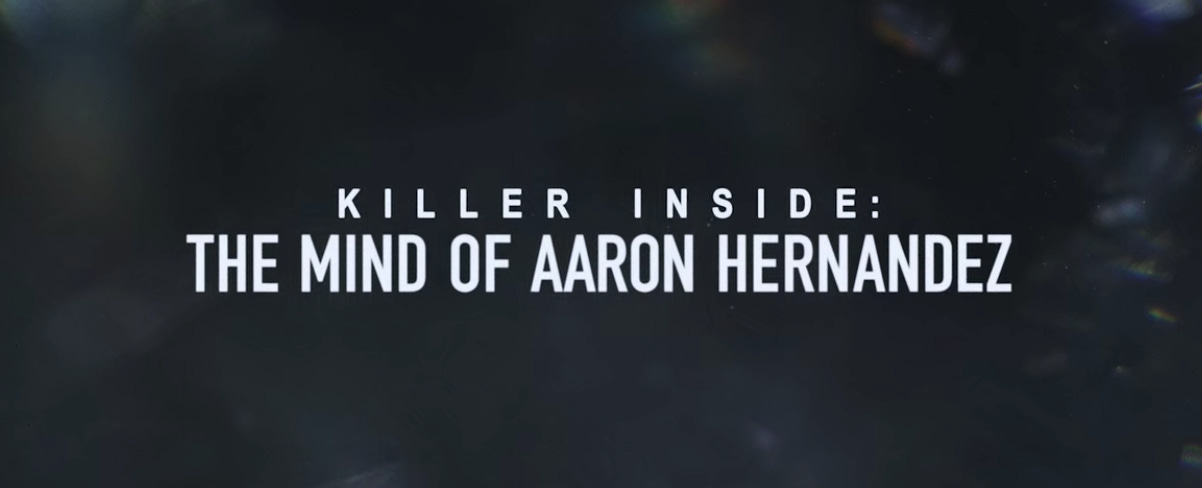 Netflix's The Killer Inside: The Mind Of Aaron Hernandez drops today. I'll cover the three-parter in Episode 129 in a couple weeks, and I look forward to seeing what TKI can cover that the myriad other properties on Hernandez and his crimes/death wouldn't have — this is some of the best-trodden ground in major-case coverage. (TKI itself is an expansion of a previous documentary by the same director.) I covered the Boston Globe podcast on the case, Gladiator, back in Brief 2, and I read James Patterson's predictably sweaty take on Hernandez's dizzying fall, so I am certainly not immune to the story, because it implicates not just Hernandez but the culture of protecting college athletes; the plantation system in which these athletes have to try to function; and the industrial complex that only pretends to care about concussions and CTE when it threatens the bottom line with a "scandal," and that is perhaps liable for the deaths Hernandez caused and the deaths by suicide of other former players.
But it's interesting that Netflix chose to drop the series mid-week, and cynical viewers might wonder what NFL-playoffs algebra was used to arrive at this release date. And while the trailer touts the series as from the same "minds" that brought us Making A Murderer and Evil Genius, the production company, Blackfin, doesn't mention those projects on its IMDb page (Blackfin is behind Homicide City and Finding Escobar's Millions), so I guess that's just Netflix reminding us of other buzzy stuff we streamed in the past? I haven't read reviews yet — I try to avoid them until I've watched something for myself — but I'll be watching later today. Are you planning to try this one? — SDB
---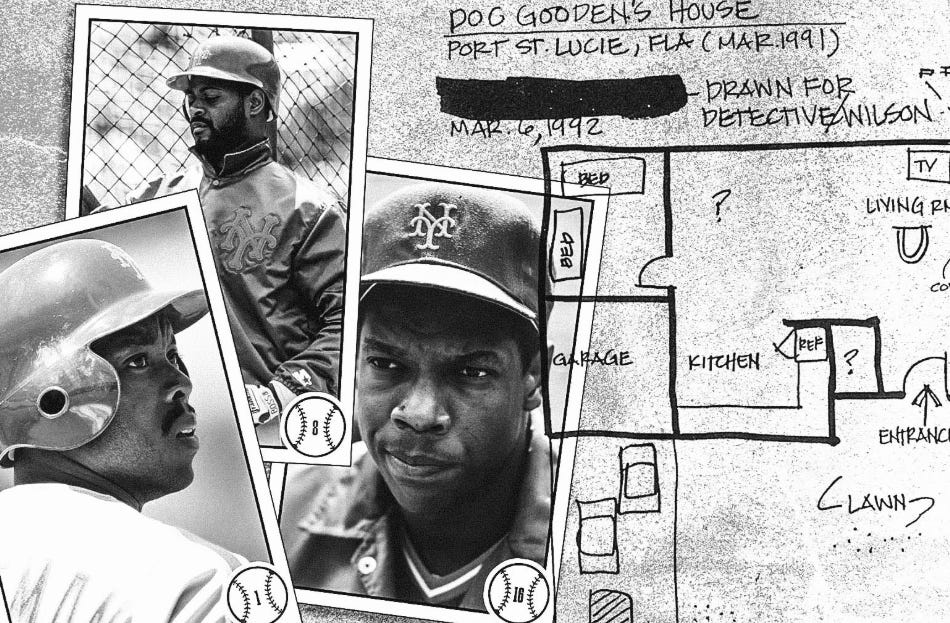 I'd planned to drop a couple links or archival stories here related to the cheating scandal currently unfolding in Major League Baseball. (Here's an explainer if you need it.) Then Eve tipped me to this Slate story on a long-ago sexual-assault allegation out of Mets spring training. Daniel Engber digs into the 1991 accusations against Dwight Gooden, Vince Coleman, and Daryl Boston by the pseudonymous Cindy Powell, who claimed the three confined her to a bedroom in Gooden's Port St. Lucie home, and gang-raped her; the prosecutor's decision not to file charges, saying the case was too hard to prove; and Engber's own contemporary experience of the story as a young Mets fan, vs. today. (He makes a passing mention of Keith Hernandez's proud nudity hazing of female reporters in the locker room; Engber didn't really understand the implications of that shitty behavior at the time, and I, a huge fan of Mex and his memoir If At First, didn't either.)
Like Unbelievable, Missoula, and other accounts of apathetic prosecution (and coverage) of sexual-assault cases, Engber's longread is difficult going, and infuriating as well, not least in the the-more-things-change spaces: "In 1992, America was going through a reckoning: a moment when it seemed that rich, powerful, and well-connected men might, at last, be made to answer for abuse. And then, very quickly, it seemed that rich, powerful, and well-connected men might not be held to account at all." But it's well done, and a powerful reminder (particularly for Mets fans) that what was depicted as "rowdy" back then was actually very different. That a good one-third of the guys on a team I revered as a kid should probably have gotten locked up for sexual assault (and that two-thirds of the current Mets TV booth did nothing, at best, to hold teammates to account) is depressing, but unsurprising. — SDB
---
"Depressing, but unsurprising" could headline so much of our coverage, no? Make sure you're getting ALL the coverage Best Evidence offers — including a subscribers-only Brief later this week on whether Nev Schulman can hold Robert Stack's jock** — by signing up today! Just $5 a week, and Eve and I will Marie Kondo that forbidding pile/queue of true-crime material for you.
** reader, he cannot
---
Thursday on Best Evidence: Michelle Carter's appeal, true crime on Food TV, and longreads in peril!
---
What is this thing? This should help.
Follow The Blotter @blotterpresents on Twitter and Instagram, and subscribe to The Blotter Presents via the podcast app of your choice. You can also call (or text!) us any time at 919-75-CRIME.