The Blotter 153: Ann Rule's Sleeping With Danger and The Last Narc
Plus case explainers, Unspeakable Acts, and upcoming premieres
There's a "with two you get mid-roll" joke about The Blotter Presents 153 here, but I can't get at it. Let's move on: my first guest, Kevin Flynn of Crime Writers On and These Are Their Stories, had to be the one I talked to about Ann Rule's Sleeping With Danger, starring Elisabeth "Serena Southerlyn" Röhm and Leslie "ME Rodgers" Hendrix. The Lifetime pic, which aired last Sunday, is not quite good, but not all that bad, although the Murder Smoothie bits had us giggling inappropriately.

Not too many giggles to be had during Amazon's The Last Narc, a series Jessica Liese and I meant to talk about before Amazon yanked it unceremoniously. But it's back, and it was worth the wait, especially for pretty shots like the one screengrabbed above, and for one Jorge Godoy, who has a miniseries of his own in him in our opinions. The case of what really happened to murdered DEA agent Kiki Camarena is an infuriating one, but director Tiller Russell (The Seven Five) is good at his job, AND there's some incidental Robert Stack!

SHOW NOTES
Listen now, and let us know what you thought of either of these VERY different properties! — SDB
---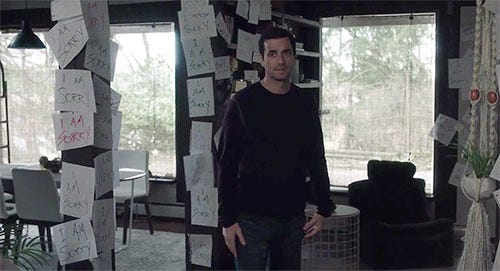 Sleeping With Danger really is a true story from Ann Rule's Mortal Danger collection. I mention the real-life case figures briefly during the podcast, but to learn more about the actual story, here's a couple of backgrounders. Hat tip to Oxygen's subhed, which does the work for me: "After Kathy Ann Jewell's boyfriend John William Branden raped her and attempted to kill her, they both went into hiding and Jewell spent years trying to track him down so she could prevent him from hurting another." (Oxygen also has an explainer on another recent Lifetime movie about a real-life case, which also stars Leslie Hendrix — A Murder To Remember.)
A&E's piece on Kate Jewell's ordeal is more detailed as to the lengths she had to go to to hide herself from Branden — and the lengths HE went to to avoid prosecution for what he'd done to her. Either one is solid, but if you're planning to catch up with Sleeping With Danger, I'd recommend doing that first; then read one of these and see if you agree with me that that "act" of Jewell's story felt more elliptical, to the movie's detriment. — SDB
---
Speaking of reading, the August book-review subject is Haruki Murakami's Underground: The Tokyo Gas Attack and the Japanese Psyche. I am thrilled you guys picked this one for me! You've really had quite a good run this year. (Want to read past bonus reviews? Become a paid subscriber and get alllll that bonus content.)
---
I still haven't gotten to start Sarah Weinman's Unspeakable Acts yet. Yes, I feel confident that I've already read at least a few of the pieces therein, but based on the authors she included, I WILL end up rereading those and not saving myself any time, heh. (This review by NPR's Gabino Iglesias suggests I'm right in this prediction.)
If you haven't had the time to kick back with the book yet either, here's an interview with Weinman by Hazel Cills at Jezebel that should hold us both: "Jezebel spoke to Weinman about how she chose the stories in Unspeakable Acts, the importance of messy crime narratives, and reimagining what makes a true crime story." Cills also notes that the book "moves the needle closer to a version of the genre where crime is systemic abuse, baked into the work of institutions designed to protect us," which IMO should be a, if not the, key focus in reviewing the genre as well.
I also attended an authors' talk on the book "at" Politics & Prose last week, and while I can't seem to find it on P&P's YouTube channel, they do have a True Crime playlist that features Weinman talking about The Real Lolita, as well as Casey Cep, Ronan Farrow, David Grann, and others. Adios, rest of your morning… — SDB
---
August looked kind of quiet for a minute there, true-crime-wise; not so! In addition to Surviving Jeffrey Epstein (Sunday on Lifetime) and The Con (Friday in virtual cinemas), which I'll be talking about on next week's podcast with Omar Gallaga, there's a crap-ton of other premieres to look forward to, including (but not limited to):
---
Thursday on Best Evidence: Eve will surprise us all. In a good way!
---
What is this thing? This should help. Follow The Blotter @blotterpresents on Twitter and Instagram, and subscribe to The Blotter Presents via the podcast app of your choice. You can also call or text us any time at 919-75-CRIME.