Pregnancy Tests · Twin Peaks · The Staircase
Plus: A true-crime job!
How did I miss that Theranos allegedly screwed up pregnancy tests, too? From the San Jose Mercury News, which continues to rock out on the ongoing case against Holmes:
After a fertility clinic used Theranos for a patient's pregnancy test, the result came back negative so her doctor adjusted her medications accordingly. But, according to an email introduced as potential evidence in Theranos founder Elizabeth Holmes' criminal fraud trial, a subsequent test a few weeks later showed a different result.

"We brought her in and I scanned her, and there was in fact a baby, and a heartbeat," a representative from the Phoenix clinic wrote in the email to Theranos, the defunct Palo Alto blood-testing startup launched by Stanford University dropout Holmes in 2003.

The email was passed to Theranos president Sunny Balwani, according to a federal court filing by prosecutors this week. Balwani sent it to Holmes, who responded, "How did that happen?" Balwani replied, "finding out."
The story comes from a 2014 memo from the fertility clinic that was introduced by federal prosecutors last week, part of the ramp up to a trial against Holmes and Balwani scheduled for this fall. According to the memo, the Theranos test indicated that the patient had suffered a miscarriage, prompting "a 'difficult' conversation" and a tentative plan to terminate the failed pregnancy. Instead, the doctor ordered an additional test from another lab, which showed a positive result. According to prosecutors, the patient eventually gave birth to a healthy child. — EB
---
A new film on the death of FBI informant Susan Smith has garnered some pretty salty reviews. Above Suspicion's been on the shelf for a minute: Shot in 2017, the movie made the festival rounds last year, but hasn't seen a theatrical release. It dropped on VOD in the UK Monday, and "a similar unveiling Stateside likely awaits," Variety reviewer Guy Lodge writes.
It's based on a book of the same name by true-crime writer Joe Sharkey, about Smith, who was killed by Mark Steven Putnam, an FBI agent for whom Smith had informed. Over the course of their "working" relationship, the pair began an affair. Putnam admitted to killing Smith ″in an act of extreme rage," the AP reported at the time. He spent ten years in prison as a "model inmate" and was released in 2000.
The movie, by director Phillip Noyce (of the upcoming Peggy Jo), stars British person Emilia Clarke as Smith, and the cornpone accent Clarke adopts in the trailer to play the Kentucky-born-and-bred Smith is…a lot. According to Lodge, there's more to dislike: the film is "a steady, unsparing march into the abyss," aka exactly what we're all looking forward in These Troubled Times. Johnny Knoxville, who continues to act, is also in the film as Smith's husband (Lodge says he's "effectively stunt-cast," ouch). In the end, says Lodge, "it's not dull" but "it's never emotionally involving either." — EB
---
A new documentary will break down the murder that inspired Twin Peaks. Diehard fans of David Lynch's seminal series likely know that Laura Palmer's demise was inspired by the 1908 death of Hazel Drew, an unsolved homicide in upstate New York. The case famously obsessed Mark Frost, Lynch's Twin Peaks co-creator, who says his grandmother used Drew's death as "a cautionary ghost story."
An upcoming book by Twin Peaks chroniclers David Bushman and Mark Givens, called Blonde, Beautiful, and Dead: The Murder Mystery That Inspired Twin Peaks (current publication date is winter, 2021) will also be adapted into a documentary of the same name, Movie Maker reports. The project's actually been in the works for a couple years (here's a 2018 story from The Wrap on the book/movie deal), and it looks like it returned to the news after the release of an extremely text-heavy teaser (that's it, above) last week.
There's no public release plan for the film, which will be directed by relative novice Benjamin Alfonsi. Amazon Studios reportedly has a first-look deal for the movie, though, so if and when it's completed, so that platform is most likely where the doc will land. — EB
---
Live in the U.S.? Want a true-crime gig? Behold this job listing from everyone's favorite place to get a free couch, Craigslist:
Los Angeles media company is looking to contract a True Crime journalist, podcaster or television producer who loves the True Crime genre. Candidate will work remotely and can be located anywhere in the U.S.
Experience required: Minimum 3 years experience in True Crime writing & researching for professional media outlets
Rate: $15 per hour
Language: Fluent English
Location: Must be a current U.S. resident
I'm so curious about this gig! If you apply, tell us everything. — EB
---
Before you scoff at the pay of that mysterious true-crime job (which, as of July 1, was the legally required minimum wage for employers with 26 or more workers — fewer than 26, and companies must pay $14.25), you should know that that may or may not be less than Sarah and I make to write Best Evidence and record The Blotter Presents. It's true! But you can change all that with the click of a button and for just $5/month or $55 a year. You've got the power!
---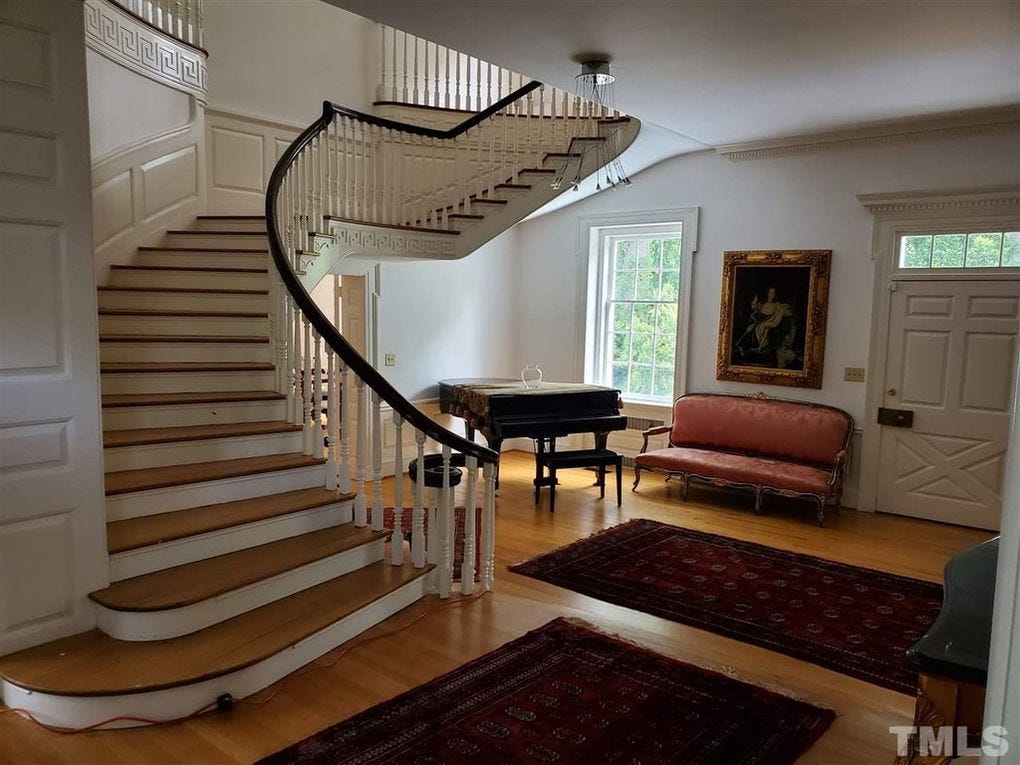 Not *the* The Staircase. This is the other one.
You know how I am about true-crime real estate. So I genuinely squealed when I heard that Michael Peterson's former home — yes, of The Staircase fame — is on the market.
For $1.9 million, you can get the building that contains the titular staircase, as well as five bedrooms and six baths, Realtor.com says. The 1940 Colonial was purchased by cable TV psychic Biond Fury in 2008 for $1.3 million…which means that either Fury way overpaid for the property at the bottom of the real-estate market, or prices are depressed because: 2020.
Fury reportedly claimed that he'd "never heard of the Peterson case and knew nothing of the home's history," an assertion that sent me down a hole on the disclosure laws of North Carolina (the house is in Durham). Sure enough, North Carolina law does not require that the seller reveal a place's unsavory history. Here's the full statute:
Article 9.
Disclosure.
§ 39-50. Death, illness, or conviction of certain crimes not a material fact.
In offering real property for sale it shall not be deemed a material fact that the real property was occupied previously by a person who died or had a serious illness while occupying the property or that a person convicted of any crime for which registration is required by Article 27A of Chapter 14 of the General Statutes occupies, occupied, or resides near the property; provided, however, that no seller may knowingly make a false statement regarding any such fact. (1989, c. 592, s. 1; 1998-212, s. 17.16A(a).)
The law, Representative Judy Hunt said at the time of its introduction, was intended to "destigmatize" places in which a death has occurred. This feels like the premise of a very pedantic horror movie only I would enjoy!
The listing, via Zillow, chooses to look on the bright side of the property's notoriety: "This home has been featured in Netflix documentary as well as a major feature film." There's also a pretty clearly identifiable photo of Yes, THAT Staircase. Is this the selling broker leaning into the house's potential as a museum/B&B a la the Borden property in Fall River?
The full listing is here. If you buy this house and move in, you'd better invite us over for a slumber party. — EB & SDB
---
Wednesday on Best Evidence: It's The Blotter Presents Episode 150, with guest Stephanie Early Green. Sarah and Stephanie will discuss Netflix's Athlete A and American Greed's "The House Flipping Reality Star Fraudster"
---
What is this thing? This should help. Follow The Blotter @blotterpresents on Twitter and Instagram, and subscribe to The Blotter Presents via the podcast app of your choice. You can also call or text us any time at 919-75-CRIME.