Podcast Voting · Keith Morrison · The Irishman
Plus: Link grab bag!
Your on-demand podcast review poll is here. As you of course know, on Monday I trolled all of you for the titles of true-crime podcasts you'd like to have me binge and review. Now it's time to vote on which ones you'd most like me to cover! The system is pretty simple: after the poll closes on Sunday morning, I'll start my binge with the most popular one when I hit the road on Monday. That review will go out Tuesday, the same day I'll start listening to the second-most-popular one…and so on and so on. You know how voting and time works. (Paid subscribers will get every review, while free readers will get one per week.)
Since the poll won't let me link to the podcasts and some of them are vaguely named, I've listed them here so you know what you're voting on (or not). Here's the poll, get to it! -- EB
Note: I know that that lead image is dumb, but I didn't want to give any of the pods an advantage and when I Google-image searched "vote," pretty much everything I saw reminded me that the country is in the dumpster so here we are.
---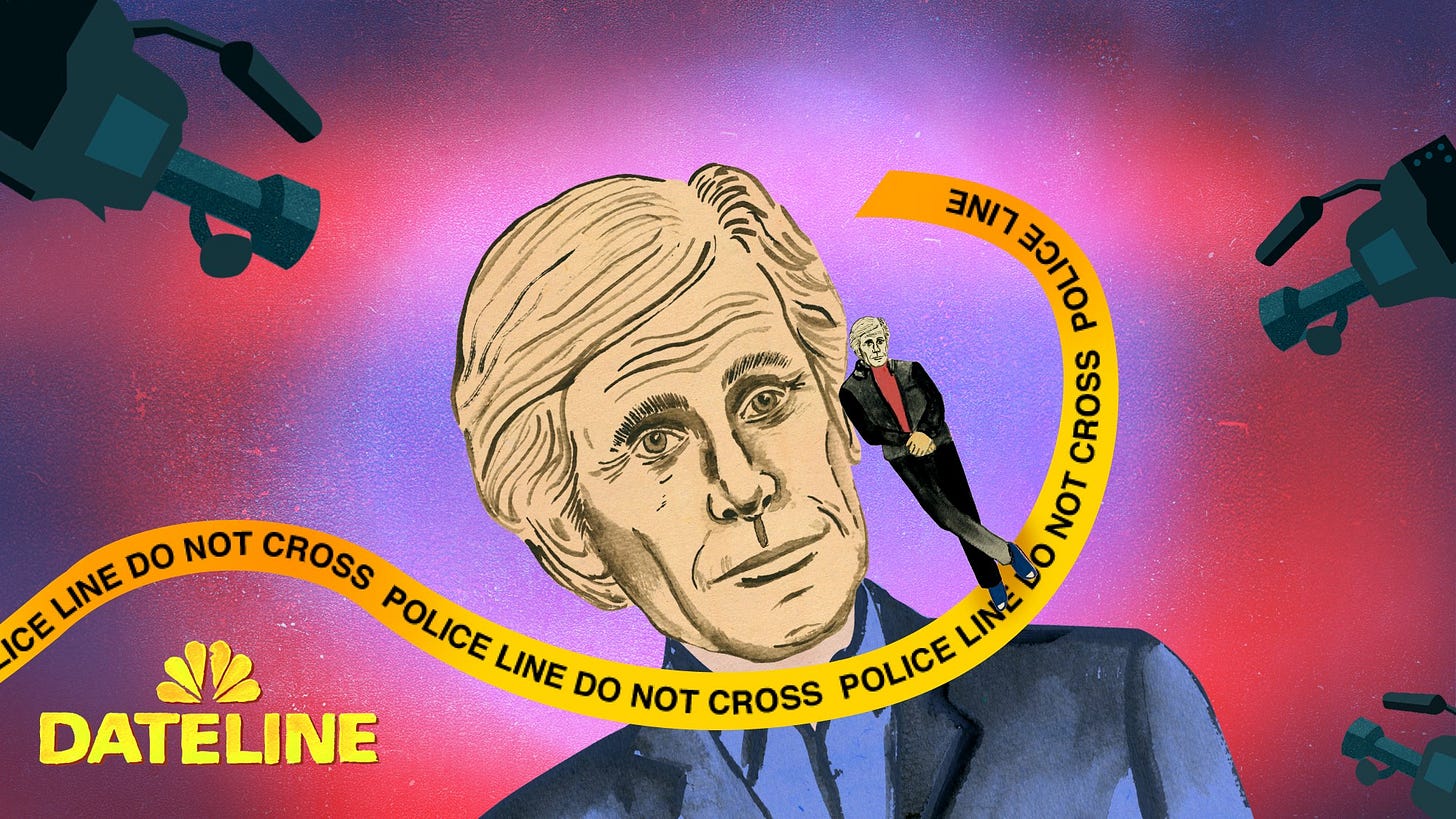 Keith Morrison is the subject of a juicy GQ profile. Culture writer Gabriella Paiella characterizes the voice of the Dateline correspondent turned podcaster as "how it feels to be tucked in under a weighted blanket and dosed with unregulated CBD oil," which sounds horrible to me but I'm bad with drugs. I think she's trying to say that he has a soothing effect, which is interesting given his co-brandedness with homicide.
Perhaps the most interesting note (in a very interesting piece) is Morrison's overall ambivalence about the subject of true crime. "I thought it was kind of tabloid-y," he tells Paiella. "I felt it took advantage of people's pain." He also discusses his overall discomfort with the TV news game, saying that he "went through a time for a few years where I just felt pretty negatively. I didn't know whether I was doing a good thing or a bad thing or what." You can read the full report here. -- EB
---
Speaking of Dateline, did you see the way they just peed on their territory?* At a media event Wednesday, NBC rolled out new branding -- including a fresh tagline -- for the 27-year-old show. (It debuted in 1992, look it up.) While the show was once a typical newsmagazine, it's definitely leaned in to true crime as the genre has increased in popularity, spurring it to the tagline "Don't Watch Alone."
Perhaps realizing that many of its audience members don't mind being alone -- or, in fact, relish it -- on Wednesday they announced a new tagline: "The True Crime Original." That's a pretty big-dog move, but not unwarranted. -- EB
*Sarah and I both have dogs now, so expect more where that came from.
There's a new trailer for The Irishman. Is the whole story fake? Maybe. Or maybe not? Will it come to a theater near you? Unlikely (but it'll drop on Netflix on November 27). Does the de-aging tech work for you, or does it feel too uncanny valley? You'll have to watch the trailer to see if you can stomach it -- as well as to see Ray Romano as Bill Buffalino and Harvey Keitel (of course) as Angelo Bruno. -- EB
---
It's grab bag time! I always keep a stash of evergreen(ish) links in case an item I'm planning for the day doesn't pan out. Knowing that next week will consist mainly of reviews and that week's The Blotter Presents (also podcasty, as the topics will be Snowball and Motive), I wanted to clear the link decks for you. So here's what I've been keeping up my sleeve:
---
Monday on Best Evidence: Should the wisdom of the crowd be used to solve crimes?
---
What is this thing? This should help.
Follow The Blotter @blotterpresents on Twitter, Facebook, and Instagram, and subscribe to The Blotter Presents via the podcast app of your choice. You can also call us any time at 919-75-CRIME.