Pam Hupp · OJ · Pharma Bro
Plus: What were we talking about a year ago?
Blumhouse and NBC are hoping you can't get enough of Pam Hupp. Hupp stepped onto the true-crime podcast stage with Dateline's first-ever outing in the medium, a show called The Thing About Pam. The podcast about the 2011 slaying of Betsy Faria (the titular Pam is the prime suspect in the case) was a huge hit when it dropped last fall, and was one of the most-downloaded podcasts of the year. Now horror studio Blumhouse Television and NBC have struck a deal for a dramatic adaptation of the yarn, the Hollywood Reporter, uh, reports.
Blumhouse TV co-presidents Marci Wiseman and Jeremy Gold nodded to the company's roots in the spooky, saying via statement that "We're not just looking for monsters under the bed, but also the things that keep us up at night, so the chance to mine the incredibly rich trove of material from the Dateline archives to develop is a really unique and exciting opportunity for us. When we first came across The Thing About Pam, like thousands of others who've seen the Dateline episode and listened to the podcast, we were riveted. So when NBC presented this to us we jumped at making this our first scripted project with them."
Hmm, that certainly sounds like there are more to come from this collab, doesn't it? OK, OK, don't let me get ahead of myself. For now, let's just worry about Pam — and your casting suggestions, which are welcomed in the comments. — EB
---
Is there anything left to say about OJ Simpson? I mean, I had completely forgotten about his weird Twitter presence until Saturday Night Live brought it up a couple weeks ago.
The memories of former FBI Special Agent Gina Osborn and Senior Prosecutor Tracy Miller are longer than mine, I guess, as the duo have released a new podcast called Behind The Crime Scene. According to a press release for the show, its goal is to explore "the most notorious cases of our time, focusing on those high-profile cases that remain with crime fighters long after they are over."
In addition to their May 12 OJ episode, in which Osborn and Miller interview Retired Assistant District Attorney Bill Hodgman, the lead prosecutor on Simpson's double-murder trial (whoopsie!), this week they cover the 2015 San Bernardino terrorist attack.
Little did they know that that latter case would be back in the news this week, but here we are. Attorney General William Barr and FBI director Christopher Wray have repeatedly brought the mass slaying up in the same breath as a December 2019 shooting at Pensacola Naval Air Station — they say that Apple's strict encryption strategies kept them from fully investigating either case, but, oddly, failed to bring up the role stricter gun control could have played to prevent either crime!
Apple CEO Tim Cook fired back at the officials Monday, defending its privacy policies, and saying "no such thing as a backdoor only for the good guys." On the BTCS episode on the case, Osborn and Miller interview former Assistant United States Attorney Eileen Decker. It's her office that litigated against Apple when the attack went down, so it'll be fun to hear how she approaches the case these days. You can catch up with all of the show (and see some very charming photos of the podcast hosts) here. — EB
---
Eve and Sarah in 2019 (R), us today (L)
Welcome to Best Evidence Time Machine! As of May, this here thing has been here a year, can you believe it? It's all because of you guys and your ceaseless support, gratitude for which I will now crap all over by encouraging you to give a gift subscription to someone else who might enjoy this thing…
Or encourage you, if you read now for free and can afford a few bucks a month, to upgrade…
OK, so, want to see what was in Best Evidence on May 21 of 2019? Here we go!
The subject line that day was "The Impostor · Herb Baumeister · The Yorkshire Ripper," which sure sounds promising! Sarah penned a bit on her dislike of The Impostor, "a 2014 book by Spanish novelist Javier Cercas [that] tries to get to the heart of the story of Enric Marco, who claimed for many years to have survived the concentration camps at Flossenbürg and Mauthausen until his fabulism was uncovered by researcher Benito Bermejo." The property of Herb Baumeister, an allegedly prolific serial killer from my home state of Indiana, went on the market! Netflix announced a docuseries about Peter "Yorkshire Ripper" Sutcliffe (doesn't look like there's any public movement on that project since then)! People Magazine Investigates: Cults returned for a second season! And more!
You can check out the back issue here, and thank you, again, for taking this ride with us. — EB
---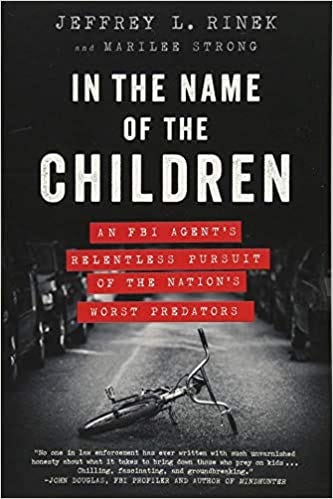 A true-crime book helped solve a cold case, but not how you might think. In the Name of the Children: An FBI Agent's Relentless Pursuit of the Nation's Worst Predators was published almost two years ago, but it's in the news this week for its role in the arrest of Clark Perry Baldwin, an alleged serial killer who officials say is behind the death of at least five people, many of whom were killed along Interstate 80 in the 1990s.
The Tennessean reports that Ty Hadley, a police patrol officer in Spring Hill, Iowa, saw a copy of the book on the deal of Melissa Wilson, an evidence technician manager in the department. "I don't like true crime, but it would be really cool to solve a cold case," Hadley told Wilson. "We have one," Wilson reportedly responded. "And we have a lot of good evidence on it."
What followed was an excavation of DNA evidence and a joint operation between law enforcement on Tennessee, Iowa, and Wyoming that was so all-consuming that the book that started it all hasn't stirred from Wilson's desk. "It's been a year yet I actually haven't had time to finish it," she says. You can read the whole story, and it's a great one, here. — EB
---
All I'll say on this is that Matt Lauer is just wrong. Catch and Kill was thoroughly reported and fact-checked, including with Matt Lauer himself.
Today In True-Crime Buttholes: It's time for Best Evidence's intermittent feature on true crime figures that display the tendencies of humanity's most mockable orifice. Here we go!
Oh, Elon Musk. The top dog at Tesla taunted officials when he illegally reopened his auto factory, begging them to arrest him. But these recent shenanigans were only the latest time the car company has allegedly broken the law, seemingly without consequence. If you want to get mad at something that isn't a disease or your unmasked neighbor, Reveal's work on Tesla's alleged law-breaking is here for you, and as there's lots of it, it'll kill a bunch of time.

Oh, Matt Lauer. That media trash-talking the artist formerly known as Buzzfeed Ben dropped in the NYT has awoken the sleepiest, I mean, creepiest of giants: Matt Lauer, whose alleged history of sexual assault was included in Ronan Farrow's now-under-attack book Catch And Kill. The former NBC host took to the pages of Dan Abrams-founded Mediaite this week to say that he thinks Farrow was wrong about him, too. I'm not going to link to it, it's too gross, but I will link to this graceful Poynter dismantling that calls Lauer's item "a take nobody wanted." Ugh, just, yuck.

Oh, Martin Shkreli. The infamous "Pharma Bro" told a judge that he needed to be released from prison so he could find a cure for the new coronavirus. The judge said no, and called the claim "delusional self-aggrandizing behavior." The order is worth reading in full, as it is a fucking laugh riot.
---
Friday on Best Evidence: Great question! It's the Friday before a long weekend (not that I'm going anywhere) and the last work day before I turn 49. So I'm gonna play it fast and loose and we'll see how it goes.
---
What is this thing? This should help. Follow The Blotter @blotterpresents on Twitter and Instagram, and subscribe to The Blotter Presents via the podcast app of your choice. You can also call or text us any time at 919-75-CRIME.