On-Demand Reviews · NXIVM
Plus: Various parole denials
Your wish is my command. So, here's the deal: I'm driving from San Francisco to Indiana next week, a drive that takes three days for a normal adult and will take me four days because my husband is coming and he's a city slicker who can't withstand long days in the car (hi, honey!).
ANYWAY, I had the idea that each day I'd binge a true-crime podcast chosen by Best Evidence readers (and The Blotter Presents listeners, as many of you are one and the same), and that night I'd write a review of what I heard for the next day's issue. So I'm officially opening up every channel for requests (email is editorial@theblotter.com, Twitter is @blotterpresents, and paid subscribers can comment on this and every newsletter).
I'll collect all your recommendations, pull out every show I've already listened to, and will post a poll on Friday to pick the top six. Then starting on October 1 and again on October 15, paid subscribers will get three original reviews of their choosing. Free subscribers will also get one each those weeks -- but it's not too late to sign up for a subscription to ensure you get them all! Send over your requests today! -- EB
---
Lifetime dropped its true crime adaptation of the NXIVM case this past weekend. Called Escaping the NXIVM Cult: A Mother's Fight to Save Her Daughter, the film is based on actress Catherine Oxenberg's real-life experiences with the so-called sex cult, which ensnared her daughter.
Oxenberg literally wrote the book on the cult -- it's called Captive: A Mother's Crusade to Save Her Daughter from a Terrifying Cult, and was published last year, before its leader was convicted of seven counts including sex trafficking -- and even introduces the feature, before Andrea Ross takes over as a fictional version of the actor. Reviews for the show have been neutral to negative, with The Daily Beast's Jordan Julian writing that "Lifetime's stab at telling Catherine and India Oxenberg's story does not offer anything new to the narrative surrounding the highly-publicized criminal case. In a few years' time, it will probably be adapted into an HBO miniseries with the budget, talent, and unflinching gaze required to do the terrifying story justice." If you're still curious but still aren't sold, EW's Sydney Bucksbaum has a thorough recap here, or you can throw caution to the winds and stream it here. -- EB
---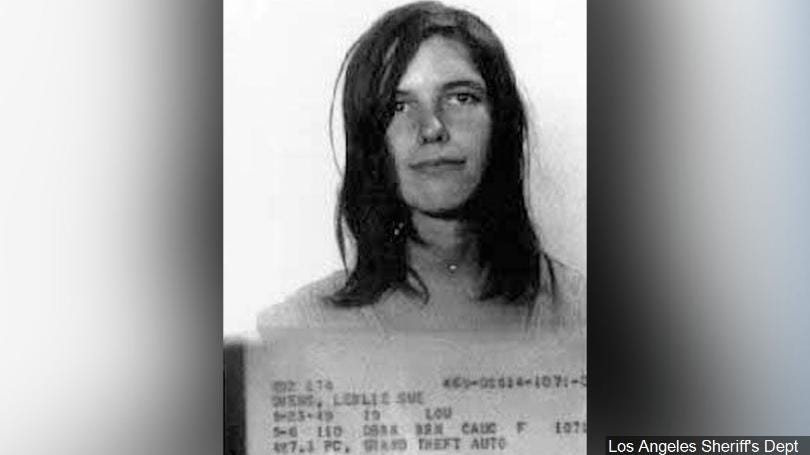 Two high-profile female prison inmates have been denied parole. The Associated Press reported over the weekend that Manson Family member Leslie Van Houten has lost her latest bid for release, after two judges from a three-judge panel agreed to uphold former California Governor Jerry Brown's 2018 decision to block her parole. "The Governor's determination that Van Houten has not taken full responsibility for her role in the crimes, and continues to pose a risk to the public, is supported by some evidence in the record," the decision read. Current Governor Gavin Newsom also denied Van Houten parole in June, saying then that he believed that the 70-year-old still posed a threat. An appeal on that decision is also underway.
CNN reports that Michelle Carter (the subject of I Love You, Now Die, which we covered on The Blotter Presents in July) was also denied parole on Friday, but she'll still be leaving prison early. Carter was convicted of involuntary manslaughter and sentenced to 15 months following the suicide of Conrad Roy, and her parole bid was an effort to halve that prison stint. However, she's also earned "good time," Bristol County Sheriff's Office spokesman Jonathan Darling says, and her release date will move up from May 5, 2020, to March 13. -- EB
---
Michael Jackson's estate is mad at Leaving Neverland's Emmy triumph. The HBO documentary on the sexual abuse allegations against the singer (which Sarah discussed with Piper Weiss on this episode of The Blotter Presents) beat out other Best Evidence and The Blotter Presents faves like FYRE: The Greatest Party That Never Happened and The Inventor: Out For Blood In Silicon Valley (listen to Sarah's discussion with Stephanie Early Green here) to take the best documentary or nonfiction special trophy.
In a statement to The Hollywood Reporter, Jackson's estate (which since February has been engaged in a $100 million legal battle with HBO over the film) said, "For a film that is a complete fiction to be honored in a nonfiction Emmy category is a complete farce." As of send time, Leaving Neverland's producers had not responded to the estate's remarks. --EB
---
Speaking of The Emmys, The Act and When They See Us also got nods last night. Patricia Arquette's portrayal of Dee Dee Blanchard nabbed her the outstanding supporting actress in a limited series or movie crown, while When They See Us (which had a slew of nominations) took home trophies for outstanding lead actor in a limited series or movie (Jharrel Jerome as Korey Wise) and outstanding casting for a limited series, movie or special. -- EB
---
Tuesday on Best Evidence: Podcasts that take you to prison, Kentucky, and Canada.
---
What is this thing? This should help.
Follow The Blotter @blotterpresents on Twitter, Facebook, and Instagram, and subscribe to The Blotter Presents via the podcast app of your choice. You can also call us any time at 919-75-CRIME.