John Berendt · Dan Abrams · Jussie Smollett
Plus, upcoming online film fests, and Roy Cohn is still the worst
Good morning; nice to see you all again, virtually, as we do most things in these panicky times. That includes film festivals, and two key ones for crime docs — the AFI DOCS fest, and the Human Rights Watch Film Festival — are gearing up in coming days. The HRW fest is on now and runs the rest of the week; I'll be talking about three from that line-up in this week's The Blotter Presents: Belly Of The Beast; Coded Bias; and Down A Dark Stairwell.
On the AFI tip, I'm looking forward to Freedia Got A Gun, Stockton On My Mind, and Women In Blue. HBO's Roy Cohn docu, Bully. Coward. Victim., is part of the AFI line-up as well; that drops 6/18 on HBO. My review should go up at Primetimer in a day or two, but if you can engage with rise-of-Trump content without vomiting these days, Bully is a solid sit. — SDB
---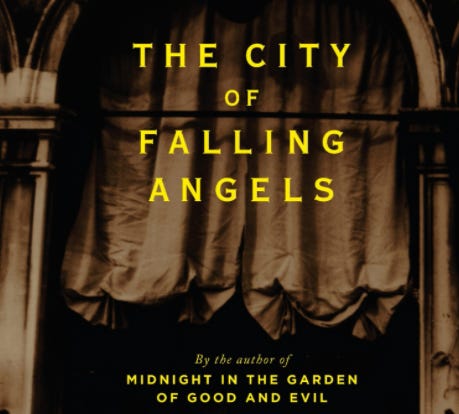 The crime
In theory, to start out with, the "sensational fire" that "destroyed the historic Fenice opera house" in Venice, Italy in 1996…but also the fate of Ezra Pound's papers; the suicide (or was it?) of a local poet; and other disputed events, carefully detailed by Midnight In The Garden Of Good And Evil author John Berendt.
The story
Towards the end of The City Of Falling Angels, a painter named Ludovico De Luigi who is one of Berendt's local Virgils during his time there notes that the unsatisfying convictions of two electricians of arson — the men were widely thought to have been deployed by the Mafia to burn the Fenice down, but the most promising connection to the alleged brains behind the crime died shortly after their cases concluded — was actually a "perfect ending, for Venice."
"Why a perfect ending?" I asked. "Things are left hanging."

"Yes, but this is the sort of ending Venice can live with, happily and forever. … Look what the story offers: a great fire, a cultural calamity, the spectacle of public officials blaming each other, an unseemly rush for the money to rebuild the theater, the satisfaction of a trial with guilty verdicts and jail sentences, the pride of the Fenice's rebirth and" — he lifted his brush and looked up — "an unsolved mystery. Money secretly changing hands. Unnamed culprits hiding in the shadows. It stimulates the imagination, gives people the freedom to make up any scenario they want. What more could anyone ask?" (378)
From an explication of the general appeal of true crime? Literally nothing!
Although I suspect Berendt juiced the "scenario" that is this dialogue, Falling Angels is very readable, for just the reasons "De Luigi" lists — and there's a fair amount of charity-board infighting amongst the rich and (en)titled, if you like that sort of Vanity Fair thing, which, who doesn't. ...Okay, some of you may not, or may have put it aside for now to focus on more timely reading, but this is exactly the sort of decades-old literary-conservatorship battling and unseemly hoarder-centric conspiracy-theorizing this correspondent subscribes to Vanity Fair for at all, so if you like that, you will like Falling Angels, not least because Berendt is a gifted chronicler who gives you a nearly palpable sense of the sights, sounds, and smells of Venice. And despite my clocking him for massaging quotes a couple sentences back, 1) it happens, 2) at least he's good at it — that's pretty much the only time I noticed it; and 3) most of the time he really gives you a sense of the speaker. Here he is rendering the wifely half of an ex-pat couple who give him the lay of the Venetian land early in the narrative:
"… No woodwork, no carvings, no frescoes, no gilt, no anything! I suppose we should have known we had to get permission, but if we had known, we'd probably have dropped the whole idea, because it would have meant having to deal with the Venetian bureaucracy, which is an absolute nightmare, nightmare, niiiightmare!" (52)
Reader Sarah absolutely knows the person Berendt is quoting. Writer Sarah absolutely knows how purposeful Berendt is here with the unhyphenated italics in that last bit. Deft work.
Good writing advice from Pound's papers, tantalizing mentions of the death of Pasolini, the almost audible canal waters lapping against the buildings Berendt moves through…like I said, it isn't essential, but the book is like going to Venice for a mental weekend. A used-bookstore pick-up it took me a couple years to get around to, but if it's on your shelves and you need a wind-down at the end of one of 2020's endless days, this is a gooder. — SDB
---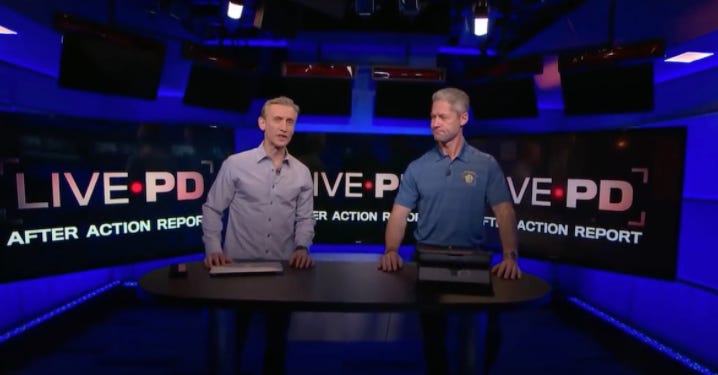 Friend Of Best Evidence Tara Ariano wrote us on Friday to rec some further listening on the topic of copaganda. The Citations Needed podcast did a mini-episode on copaganda and the growing backlash against it last week — not long before Live PD got sacked, as it turns out. I gave the ep a listen over the weekend, and it sounded like one of the hosts used the word "glibertarian," which I no doubt misheard — but if I didn't, that's a fantastic term for the kind of extremely online "devil's advocate" who's always emptily threatening to go on tax strike. (If I did mishear it, don't correct me.)
More to the point, the episode's packed with (infuriating) intel, like the fact that a The First 48 episode led to death; that the backdoor COPS pilot featured Geraldo Rivera (who seems to have been trying to reverse-atone for the Willowbrook exposé in every single other thing he's ever done, and speaking for everyone else who lost three pounds after seeing him shirtless on The Apprentice, dude needs to go away and stay there); and that I'm not the only one who's almost positive Live PD is waiting a decorous amount of time, then repackaging itself as Eye On City Workers or some shit and coming back.
Another figure in all this who could stand to take a "decorous" (by which I mean lengthy) time out: Dan Abrams, who isn't availing himself of his right to remain silent. Instead, he's getting defensive with CNN anchors about the Javier Ambler footage, then re-litigating that appearance on Mediaite to make it look like Brianna Keilar is the unprofessional one. Not sure how many shitty looks this guy's got left in his toolkit, but I have no doubt we'll find out. — SDB
---
Speaking of toolkits, Best Evidence is a great tool to have in yours if you 1) need a last-minute, socially distanced gift for a dad or grad, or 2) know someone who's looking for Live PD alternatives. Paid subscriptions help us keep the lights on around here (and pay for rentals of Capone) (is a thing I just typed, publicly), and for just $5 a month you'll get recs, updates, and bonus book reviews straight to your inbox. Or read it on the web only, we support you. (As it were.)
---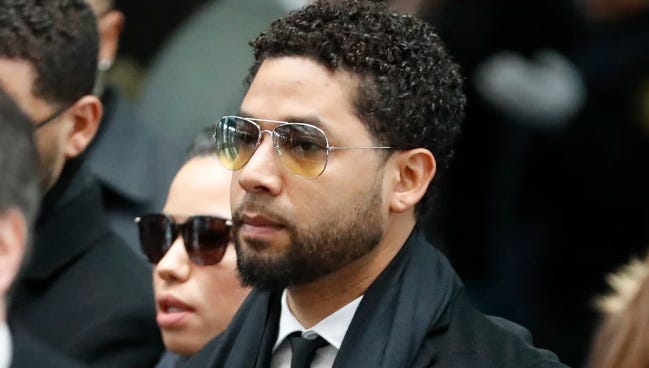 The new charges against Jussie Smollett don't violate double-jeopardy protections, a judge ruled last Friday. The AP reported Friday that Judge James Linn said the case against the former Empire star could continue. Just a reminder for those of you who, like me, feel like this incident happened in another dimension: at the end of January 2019, Smollett claimed to have been jumped by two men who put a noose around his neck, uttered racial slurs, and told him, "This is MAGA country."
But investigators later discovered Smollett knew his attackers. The ensuing kerfuffle lost Smollett his job on Empire, and he's been laying low for the most part.
Here's where the double-jeopardy part comes in. Per the AP piece, "Smollett previously agreed to forfeit his $10,000 bond and made no admission of wrongdoing in exchange for having 16 charges against him on the phony assault case dropped." It seems that Smollett and his reps felt that this was equivalent to a trial proceeding as far as Smollett avoiding a second prosecution for the same incident, but Linn feels that double jeopardy can't apply to "the innocent or presumed innocent or the unadjudicated."
I mean…okay? I didn't go to law school. I do know that it's not the ideal time for Chicago's law-enforcement power structure to do a bunch of "boo hoo, we had to do our jobs investigating a hate crime" poor-mouthing:
Today's ruling means Smollett must continue along the legal path, which includes a lawsuit by the City of Chicago, which is seeking to recoup its costs on the investigation of Smollett's false claims.
I'm going to resist doing my best Dorothy "NOT NOW, MA!" in favor of suggesting gently that everyone involved agree on a fine and a sincere apology, and reflect on what might have led Smollett to this misguided juncture…because we have bigger issues to address, but at the same time, I can't imagine Smollett's desperation wasn't tied directly to those very issues. — SDB
---
Tuesday on Best Evidence: It's unclear…but in Eve we trust!
---
What is this thing? This should help. Follow The Blotter @blotterpresents on Twitter and Instagram, and subscribe to The Blotter Presents via the podcast app of your choice. You can also call or text us any time at 919-75-CRIME.