How To Fix A Drug Scandal · Susan Mustafa · Ann Rule
How you doing?
Hello from San Francisco, where since midnight I have been legally prohibited from leaving my home for any non-essential activity! This is a real thing! If you missed yesterday's issue, here's what's up:
Best Evidence is going out to all subscribers all week. You'd do the same for us at a time like this!

Now's a great time to request/recommend coverage! If you want a new series or old doc added to our coverage list, reach out! editorial at bestevidence dot fyi, OR call/text us, 919-75-CRIME.

Now's also a great time to pitch! I will not act like we pay well; we do not. But we do pay, and we'd love to hear your ideas for reviews, rankings, and more. Tell a friend (or articulate rival)!

We're going to be doing some extra open threads this week, because self-isolation sucks. This is an important time to retain human connection, and unlike some places on the internet BE isn't a toxic hellhole. If you have a question you'd like us to pose to the class, email or call us and we'll get it up there in a thread.
---
Erin Lee Carr's newest docu-series has a Netflix release date. Sonja Farak, a Massachusetts drug lab tech who was arrested in 2013 for evidence tampering (and was later accused of sampling the drugs she was accused of testing), was the subject of a great 2018 Rolling Stone report that you should probably read. Here's what Netflix has to say about the four-part series
In 2013, Massachusetts State Police arrest 35-year-old crime drug lab lab chemist Sonja Farak for tampering with evidence: and that was only the beginning. Over time, details emerged that Farak had been in fact using the drugs that she was tasked with testing. Did anyone know what had been going on? And when did they find out? The scope of Farak's addiction — and the number of people convicted as a result of her drug-testing — comes to light, despite repeated efforts to suppress evidence in the case.
This is the first Netflix project for Carr, who also directed HBO's I Love You, Now Die, which Sarah and I discussed last July. It's slated for release on April 1, which sounds like a prank — but given the well-documented subject matter, is likely truth that's indeed stranger than fiction. — EB
---
Journalist Susan Mustafa, my favorite person from The Most Dangerous Animal Of All, has a good interview in Vulture. I'm on record as a Mustafa fan, as you know if you listened to Sarah's and my discussion of the FX mini-series on Gary Stewart's claims that his dad is the Zodiac.
At the end of the four-episode show, a disillusioned Mustafa says that she's going to "get drunk as shit" and "burn the fuck out of [Stewart's] book" on the subject, which she co-authored. "I'm actually rather relieved now that the documentary is out there, because I spent months dreading what was gonna happen when it came out, " she tells reporter Maria Elena Fernandez. "I should've gone behind [Stewart] and interviewed everybody he interviewed. But the fact is he hired me to write this book based on his life story as part memoir and part true crime. So I didn't question him."
You can read Fernandez's full interview with Mustafa here. — EB
---
Tomorrow's podcast episode doesn't JUST feature the usual aggravating aural intrusions from my dog and the neighbors' construction team! It also features guest Kevin Smokler, and some of these fine notes and links.
And our sponsors are Best Fiends and Feals! — SDB
---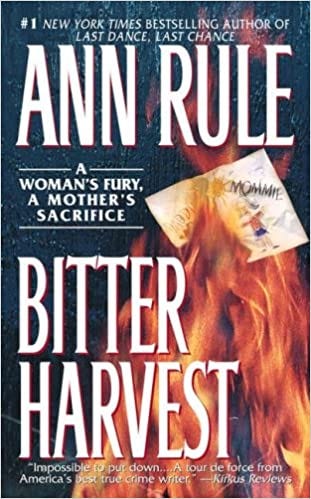 Lifetime is betting big on Ann Rule. Rule, a prolific true crime author who died in 2015, is perhaps best known for The Stranger Beside Me, her book about her relationship with Ted Bundy. Over the course of her career, Lifetime's adapted a number of her books: Too Late to Say Goodbye, Hunt for the I-5 Killer, Everything She Ever Wanted, and Capture of the Green River Killer were all made into dramatic adaptations by the network. Now, reports Variety, Lifetime has optioned five more of Rule's books:
Danger In The Dorm ("a quiet college campus [is] terrorized by the threat of a serial killer after an honor student is murdered in her dorm")

Mortal Danger ("a seemingly perfect romance that turns violent and sends the woman in the relationship into hiding")

Practice to Deceive ("a small island community turned upside down when a local businessman is found dead the day after Christmas")

Bitter Harvest ("a brilliant doctor and mother who had the epitome of a picture perfect life with three children, an adoring husband and a beautiful house in an opulent neighborhood — but behind the curtain was a rocky marriage that takes a terrible turn and leaves her family in ruin")

Empty Promises (the movie will be called A Murder to Remember, and "centers on a couple whose one-year anniversary camping trip turns deadly for the husband, leaving the wife alone in the wilderness")
As goofy as all these sound, they are apparently the ripped-from-the-headlines style true crime Rule was known for, so there's at least a kernel of truth in all of them. Allegedly. — EB
---
Oh, R. Kelly. What's the latest from the Surviving R. Kelly, uh, star? According to CNN, a federal indictment updated in New York last week tacks five acts of racketeering as well as "four more counts of violating the Mann Act for allegedly coercing and transporting women and girls across state lines to engage in illegal sexual activity."
NPR reports that according to court docs, "prosecutors newly allege that in 2015, Kelly had sex with a girl under the age of 18, and that he gave her herpes without disclosing that he had the disease." This brings the count of Kelly's alleged victims up to six in this case alone, three of which were underaged girls. There's also an Illinois case against Kelly that's ongoing, which means that in total, Kelly "faces 22 federal criminal charges that involve allegedly abusing 11 girls and women over the course of more than two decades, from 1994 to 2018." — EB
---
ID has launched a book club. In a partnership with Random House, the network will adopt two new books per quarter, Monsters and Critics reports, with the expectation that members will read and discuss the pubs online. The first two books, as you can see above, are Natalie Wood: The Complete Biography and The Holdout, which is a fictional tale of a high-profile case's jury that's reunited by a true-crime documentary. To join ID's party, go here. — EB
---
As mentioned above, Best Evidence is free all this week. That said, our hustle to write this is funded by subscribers, so if you want to join that club, now's the time.
---
What is this thing? This should help. Follow The Blotter @blotterpresents on Twitter and Instagram, and subscribe to The Blotter Presents via the podcast app of your choice. You can also call or text us any time at 919-75-CRIME.