Helter Skelter · The Lost Kids · William Desmond Taylor
Plus good story 1, bad writing 0 (?), Jinx swag, and more.
The dog days of summer have arrived. Not the anniversary of the Chase-Manhattan bank robbery that inspired Dog Day Afternoon — that's not until next month — but New York City is smack in the middle of a second heat wave rn. Wherever you are, we're glad you're here, virtually; put your feet in a tub of ice and cool off with some true-crime recs. (Or call us with your own at 919 75-CRIME; a tipster's suggestion is our Cold Case section in Episode 152 of the podcast this week!) — SDB
---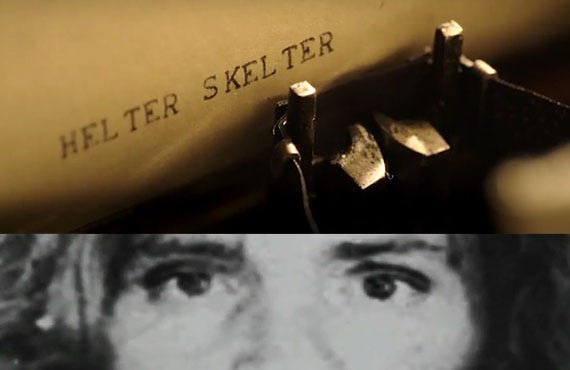 Speaking of crimes we associate with sweltering weather, Helter Skelter has finally premiered on Epix. The six-parter devoted to Charles Manson, his Family, and the times in which they lived and took lives started last night, after its original June 14 drop date got postponed (Manson's doomy predictions of a race war may have been cynical manipulations, but they factor heavily enough into the story of August 1969 that Epix wisely decided that the immediate aftermath of George Floyd's death was not the best time for…that). Critics got all six episodes; this is generally a "please please talk about it" move, either because the property in question is not good or because the publicity team's afraid it's going to get lost. Happily, since I watched the whole set for Primetimer, it's not the former, but that's not to say Helter Skelter doesn't have some issues:
Rosemary and Leno LaBianca in particular tend to get overlooked in discussions about Manson, because they weren't Hollywood people or coffee heiresses. In one episode, it seems like Helter Skelter is about to focus on them — but instead turns its attention back to the sad, delusional Family situation in the desert. Sharon Tate and Roman Polanski don't get a ton of screen time either, and the idea that Manson's most loyal followers were also victims of a sort is discussed. But far more time is devoted to Manson himself. Which, as Guinn bitterly notes, is exactly how Manson wanted it. "He didn't just play us once," Guinn adds; Manson always gets us to talk about him in the end …
tl;dr — it's well assembled and ambitious, but Helter Skelter's big swings don't always connect. Partly that's a function of advanced case fatigue, but on the other hand, the episodes did largely hold my attention despite my never needing to consume another minute/page of Mansoniana again. If this is Epix's bid to join the prestige-true-crime conversation, I think it succeeds.
Whether you'll succeed in finding Epix on your cable dial is another question, but maybe this too is a case Epix is hoping to "solve"? It airs Sundays at 10:15 (?) PM, or you can see how their app works for you. — SDB
---
CEDU, The Lost Kids, and the Medium Anonymous author. Back in May when Josh Bloch's The Lost Kids podcast was about to debut, Eve noted that there were a few exposes of its subject, the shadowy CEDU organisation, online from former attendees.
One of these, a 20,000 word essay by an amateur investigator who survived abuse at CEDU, features prominently in the fourth episode of The Lost Kids. Going under the alias Medium Anonymous, the writer of "Running My Anger: The Legacy of the CEDU Cult" talks about his efforts to FOIA his way to the truth of what happened to him and others in this "troubled teen" camp. The essay, written two years before the podcast series, is a dense combination of affidavit, data dump, and personal memoir.
If you've listened to The Lost Kids, there is a lot of common ground between the two works, though one is a podcast created by NBCUniversal and the other is an exhaustive screed written as an act of catharsis. That's because Medium Anonymous is one of The Lost Kids producers, something that the series only brings up halfway through. I'd be interested in hearing from any other Lost Kids listeners who raised an eyebrow at having a former CEDU attendee — one who publicly called the organisation a cult in an anonymous online post — so involved in the series, but not being upfront about it from the start. There's no doubt that CEDU was super-suspect, and it looks that the whole related industry is going to get a true-crime reckoning soon, but could the personal involvement have been disclosed earlier without losing the impact of the story? — Margaret Howie
---
Bad True-Crime Writing, No Biscuit!: Or, When A Timely And Informative True-Crime Story Is Overcome By Its Own Strained Prose. "Uh, could you narrow that down at all there, Buntsy?" …Heh, I know. Plus I don't want to hammer the author of "The Police Tried to Make Me Medically Examine a Man Against His Will," Dr. Michele Harper, because her column has solid, bracing information in it — and because it's not her job to get her writing out of its own way. It's her editor's job.
But I have my own job to do, and if Longreads is going to include the excerpt from Harper's memoir in its weekly top five, I'm going to note that Cornwellian bungling of transitive verbs — "'Someone, please get the doctor,' an exasperated charge nurse entreated," such-and-so "commanded" — and bitchily overdetermined descriptions undercut what Dr. Harper is trying to do:
Lauren's steps were always hurried and overconfident. She was pale white, of average height, with a narrow nose and a frame as slender as her fine mousy blond hair, which fell limply in a taut ponytail at the nape of her neck. She would have been entirely nondescript if not for the salience of her habitual condescension.
I'm not "Lauren"'s lawyer over here, and I've got zero issue with going hard at a colleague's white privilege, but this could have stopped after the first sentence, which says a ton…and doesn't misuse "salience."
Still, I'm going to recommend the piece, because if you know you'll have to read "around" some garbagio straining, there's striking bits to be found: Harper's description of her white coat as a uniform that cloaks her in authority (and holds snacks and writing implements); the legality of forcing medical attention on a prisoner; de-escalation techniques that actually work if they're actually used; Lauren's inability to synthesize her own incorrect and biased assumptions.
The prose is forced, the structure is term-paper-y…this isn't good writing, but get it in your eyeholes anyway, because the health care prisoners of color are forced, illegally, to receive so cops can make cases stands in stark contrast to the health care prisoners of color are not apparently entitled to during COVID outbreaks. And I think Harper probably has a really good book in her if someone would just tell her to leave it out with all the sinking into leather furniture and just say what happened…which, to be fair, I could say about 82% of true-crime writing. — SDB
---
The true crime that's worth your time. It's what we do, as you've just read, and if you've found it helpful at all and you have a bit of extra money (which, who does these days BUT maybe I prevented you from buying American CSI and you've got a book-budget overage?), we'd love to have you on as a paid subscriber.
Paid or not, thanks for reading — and most of our content is free, so if you've got a friend or loved one suffering from longform-content choice paralysis, forward this newsletter! We're here to help. …Unless it's Elizabeth Holmes; then we're just here to make turtleneck jokes. — SDB
---
And now some content heads-ups to send you into a new week, starting with our topics for The Blotter Presents 153…
---
Tuesday on Best Evidence: A paternity-court pod, restorative justice Hamptons-style, a DNA-site security breach, love and lies in the Flickertail State…Eve's got her work cut out.
---
What is this thing? This should help. Follow The Blotter @blotterpresents on Twitter and Instagram, and subscribe to The Blotter Presents via the podcast app of your choice. You can also call or text us any time at 919-75-CRIME.