Fyre Fest · Steven Avery · Nancy Grace
Plus: An open thread on I Love You, Now Die.
A federal judge has tossed fraud claims against Ja Rule for his role in the abortive Fyre Festival. Festival attendees had filed a civil suit against the rapper (real name: Jeffrey Atkins) and Fyre CMO Grant Margolin, alleging that both made false claims about the event via social media -- for example, claiming that there would be food, lodging, and an actual festival.
In a 32-page decision handed down in Manhattan Federal Court, Judge Kevin Castel said that the pair didn't know that the fest was a bust when, for example, Atkins said via Instagram that [sic throughout] "Fyre Festival looks set to be the biggest FOMO-inducing event of 2017...The Debrief: Think Coachella x1000 and You're Still Not Even Close."
"The Court agrees that the subjective qualifiers of 'FOMO-inducing' and 'Coachella x1000' are too 'exaggerated, blustering, and boasting' for a reasonable consumer to rely on," Castel wrote in his decision, but said that "there is no assertion that the Festival when first conceived or introduced to the public was intended not to go forward."
It's not over yet, however: Fortune reports that Castel also "gave plaintiffs three weeks to put forth additional evidence that could undergird a new fraud claim against the rapper," so if attorneys for the disgruntled attendees are able to dig up something stronger than tweets, Atkins might find himself back in court.
Meanwhile, Fyre founder Billy McFarland is currently serving a six year sentence at Otisville Federal Correctional Institution for his role in the caper, and, if Jersey Shore's Pauly D is to be believed, he's enjoying regular visits with his family and is penning a memoir.
Also, if you have $11.8 million to spare and were taken with the island used in promos for the Fyre Fest (viewers of docs Fyre Fraud and FYRE know that a different location was used for the actual "event"), it's on the market and available to buy. Here's the realtor's listing for Saddleback Cay, which describes the spot as an "iconic private island" with "compelling views over one of the best seascapes in the world." -- EB
---
As you know from watching Making A Murderer, before his conviction in the death of Teresa Halbach, Avery was convicted -- and exonerated -- in the rape of a woman named Penny Beernsten. In a 13-minute short film by filmmaker and Northwestern prof Debra Tolchinsky, Beernsten explains why she identified Avery in her attack.
Says Beernsten, police ensured that Avery "was the only suspect who was in both the photo array and the live line-up. Once I made that identification, he, in fact, became my assailant…You can't go back and decontaminate."
On the basis of Beernsten's identification, Avery was sentenced to 32 years in prison. He served 18, before DNA evidence linked a man named Gregory Allen to the crime.
"I get a phone call. I had identified the wrong person," Beernsten says. "Steven Avery was not my assailant. It's still pretty fresh, remembering what that felt like." According to Tolchinsky, "factoring in trauma, as well as the suggestive tactics investigators are sometimes incentivized to employ to close their cases, memory contamination becomes very plausible." You can watch the film, which is called "Contaminated Memories" and is part of the New York Times's Op-Docs series, here. -- EB
---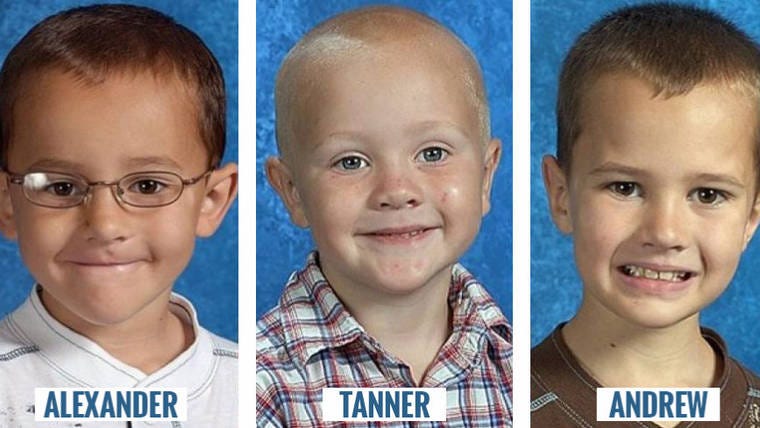 A year after it concluded, Shattered: Black Friday has posted an update. The podcast, which detailed the 2010 disappearance of brothers Andrew, Alexander and Tanner Skelton, ended in April 2018 on a tense and confrontational interview with the boys' father. John Skelton has long claimed that he passed the kids off an "underground sanctuary" in an effort to protect them from their allegedly abusive mother, but investigators have been unable to find evidence to support his claims that two women and a man in his 60s were caring for the kids in a home on the Ohio/Indiana border.
The disappearance was also the subject of a book published last February by Bryan Times reporter Lynn Thompson, who "has covered the story since the day the boys disappeared." The book's called 76 Minutes: My Search for Andrew, Alexander and Tanner Skelton, and Thompson makes no pretense of both sidesism in the tome, saying in an interview that "this wasn't just a crime. It is one man's act of war, his own personal brand of terrorism with three innocent victims, and the kids are still out there because he refuses to surrender.
While neither the book nor the Shattered podcast conclusively "solved" the case, an update episode released this week provided the latest in the case, specifically a thus-far-unsuccessful search of an Ohio pond on the basis of a significantly belated tip, as well as an age progression photo that proposes what the three boys might look like today. You can listen to the pod, including its latest ep, here. -- EB
---
How do we feel about Injustice With Nancy Grace? The longstanding pundit's newest show debuts on Oxygen on Sunday and purports to "expose wrongful accusations, botched investigations, suppressed evidence, unclear motives and unjust sentences," Oxygen says. This is a tough sell for anyone familiar with Grace's work, which tends toward the guilty until proven innocent school of thought. Or, as Deadline puts it, Grace has "frequently faced criticism for her bombastic style, with some even accusing her of profiting from other people's pain."
The show will be one of the topics of next week's The Blotter Presents (Sarah and guest Lani Diane Rich will also cover Who Killed Garrett Phillips?), so if you want to bone up on what they'll be discussing, IWNG drops at 6 PM on July 14, and the TPB on the subject will appear here on Wednesday. -- EB
---
Open Thread: I Love You, Now Die. The HBO documentary on the "texting suicide" case dropped earlier this week, and we covered it on The Blotter Presents this Wednesday. Now that you've had time to watch both episodes, has your opinion on the case changed? What did you think of Erin Lee Carr's approach to the subject matter? Let's hear your thoughts in this open thread, because it's Friday and that's open thread day, right? -- EB
---
Monday on Best Evidence: Keith Morrison, another podcast to TV adaptation, and Brendan Dassey-related trouble.
---
What is this thing? This should help.
Follow The Blotter @blotterpresents onTwitter, Facebook, and Instagram, and subscribe to The Blotter Presents via the podcast app of your choice.