Fake Priest · R Kelly · Masked Victorians
Plus: a nascent true crime company curiosity
New podcast Smokescreen: Fake Priest might be in the running for one of my favorite press release subject lines of the year. "Father" Ryan Scott, a self-declared Catholic priest who's been repeatedly called out by the church for holding services and performing sacraments without their approval, has been a source of fascination for numerous journalists, as the thorny issue of what makes a priest a priest a priest.
Is priesthood like being a doctor, for example, with a med school requirement — or is it more like law school, where in many states you can adopt the profession with the right life experiences and successful test?) The Catholic church might argue that the calling is even more stringent than getting an MD, and who am I to say, as I am just a lady and you know what that means. Anyway, there's a lot to read if you're interested in Scott, including an account of his efforts to escape his past and this thorough 2005 accounting from the Chicago Tribune.
Now the folks behind The Thing About Pam and Bag Man are bringing Scott's story to your ears, with a podcast that drops today. "THEY PRAYED WITH HIM… AND HE PREYED ON THEM," reads the subject line, and you know some PR people quite rightly felt awesome about that one. Your host is broadcast journo Alex Schuman, about whom I know very little, so we'll see how this goes. — EB
---
I keep seeing black squares and statements of solidarity for BLM from media companies but I want to challenge those companies to think about how they actually treat their Black employees.
Let's start with a company I used to work for. In 2018
@bunimmurray
was making a show called Surviving R. Kelly. I saw them take the step to hire 5 POC (4 Black, 1 Latinx) editors for this project that we all knew would have deep impact for the African American community. At the time I applauded the move, loving that a story about Black people was going to be told / edited by Black people. I saw these editors mining through hours of interviews about abuse, rape, & other traumatizing events. But it soon became clear that the people in charge of this show didn't want to tell the story in a way that would empower the women who had agreed to be filmed. I saw the editors reject the feedback, expressing their discomfort with changing the narrative of what happened. The response was basically these are the notes, do your job.
This isn't about bad notes, as editors, we've all gotten annoying notes that we suck up and just do. This is about changing the direction of the show to exploit these women. The editors were not being heard and after some deliberation they left the show as a united front.
In the end, I believe this new direction of the show was rejected by the network, and only then were new producers brought in. A third team of editors worked off of the original cut to deliver what the world got to see.
Why am I bringing this up now? Last week the show won a prestigious Peabody award. And yet not once has the hard work of that original team been acknowledged. So to them I say; I see you, I watched how hard this material was to go through and how it took a toll on all of you, and I'm so sorry that your voices weren't heard. But I am so damn proud of all of you for taking a stand.
To
@bunimmurray
I say It's not enough to just bring the Black person in the room, you actually have to listen to what they have to say. I hope you've learned from this and moving forward you will make sure Black editors & producer will have a real voice in telling their own stories.
Breaking news from the Surviving R. Kelly front…
Prosecutors charge 3 with threatening women in R. Kelly case. The AP reports that federal prosecutors are charging three friends of Kelly's, one of whom allegedly threatened to release explicit photos of an accuser, another who allegedly set fire to a vehicle outside of a victim's residence, and a third who allegedly offered a victim $500,000 to stay quiet. An attorney for Kelly says he had no hand in any of the alleged acts of intimidation, but at least one of the suspects said (in a tapped conversation) that his actions followed a jailhouse conversation with the disgraced musician.

Why the First Surviving R. Kelly Editing Team Resigned. The Hollywood Reporter published a gripping longread Wednesday about a 2019 walkout of postproduction staff. The story begins with the Instagram post you see above from editor Peggy Tachdjian, who says that the primarily Black editing team working for production company Bunim/Murray "was so discouraged by the direction the show was taking and their lack of say when they flagged changes they found problematic that they took the rare step of walking off the show as a group." It's a fascinating look behind the scenes of a show that arguably lived up to the potential those editors were working toward "in part 'because they [the editors] walked.'"
---
We, of course, know that cash is very tight, and even if it isn't now, it might be shortly — so we totally get it if you can't swing a paid subscription to Best Evidence these days.
But if you can, Sarah and I would be remarkably grateful: Writing BE and recording the Blotter Presents are things we love to do, and just having folks subscribe for free is super-gratifying. When we get a paid subscription, it's happy texts back and forth, emojis in the Blotter Slack, and rejoicing in the streets. So, thanks to everyone who drops a little cash on us…and if you can't drop any dough but want to help, please consider leaving a positive review for TBP on Apple's podcasts app. Just passing BE on to others who might like it via a forward or through social media helps us boost our profile, and therefore, our readership. Whatever works!
---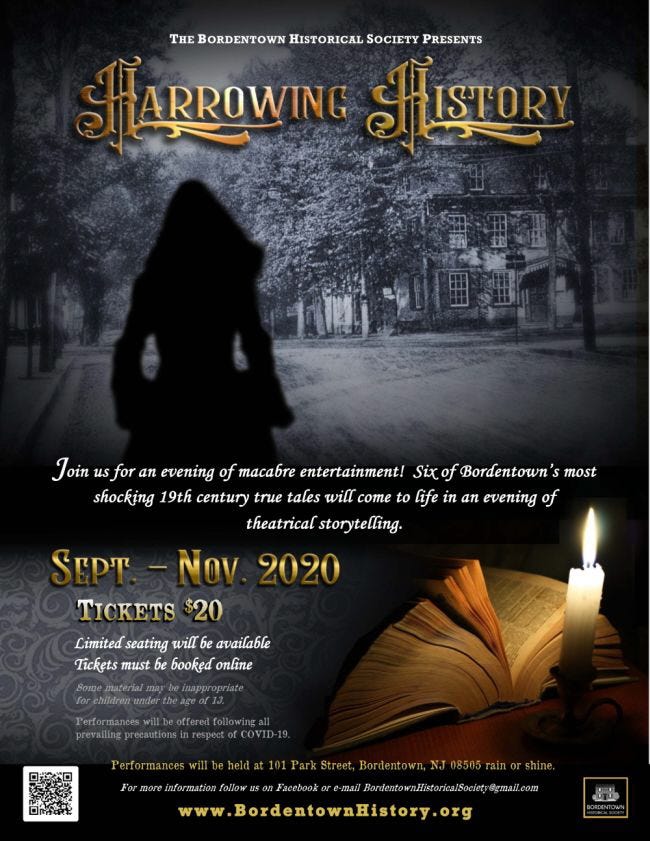 Are you up for some outdoor true crime theater? "Is Bordentown NJ a safe place to live?" is one of the first things to come up when one Googles the city. The answer is "it's a safe area," but the Bordentown Historical Society says that wasn't always the case.
That's why they're presenting an outdoor performance event called Harrowing History, "six stories of murder, mayhem and tragedy" ripped from the Bordentown history books — and performed by actors in Victorian garb and anti-coronavirus face masks, which actually looks kind of badass. Take a peek!
Tickets for the show, which runs in September-November, are $20, and must be purchased online. — EB
---
I went down a hole researching this true-crime job for you, and what I found sure wasn't what I expected. Our story begins with this job listing, from "a Los Angeles media company" that's "seeking an experienced crime journalist to join our freelance team of writers. Must have a serious passion for true crime and be able summarize missing persons and murders cases powerfully and concisely." Pay is $15 an hour, which is pretty great in some parts of the country, especially these days!
I wanted to figure out what the company was, so I searched around, and found a similar, since-deleted ad on MediaBistro. In both cases, the media company is listed as "Navigation Media," but the linked company site is just a placeholder, with a copyright for Navigation Media, LLC.
The search continued when I discovered that Navigation Media, LLC had, just last week, filed trademark papers for an entity called Crimedoor. So, what's Crimedoor? It's apparently intended to be:
Downloadable software featuring information and content in field of true crime; downloadable software for accessing and viewing information and content in the field of true crime; downloadable software for viewing augmented reality content in the field of true crime; downloadable software for viewing virtual reality content in the field of true crime; downloadable augmented reality software for providing augmented reality experiences in the field of true crime; downloadable virtual reality software for providing virtual reality experiences in the field of true crime
That is, per the USTPO.
So, I'm not going to publicly dox the patent filer, but will say that the address on the filings reveals a pleasant-looking L.A. residence, and a bit more digging reveals that the owner of the home is this person, who not only began his career producing ABC's OJ coverage, but for the last few years has been deep in the VR business.
All this to say, what? I don't know, honestly. Maybe this is just my effort to say that if you hear about a true-crime VR experience called Crimedoor, you heard it here first? Or maybe I just like looking things up? (Reader, I really, really do.) I emailed the email address on the Navigation website because I was curious, and if I hear anything back I'll update you here. — EB
---
Friday on Best Evidence: I've been thinking about cults a lot lately — I fell asleep listening to Scientology: Fair Game the other night, right after watching a couple episodes of Hannibal and, wow, that is a bad combination for good dreams. Maybe it's time to talk about our favorite cults and "influencers"?
---
What is this thing? This should help. Follow The Blotter @blotterpresents on Twitter and Instagram, and subscribe to The Blotter Presents via the podcast app of your choice. You can also call or text us any time at 919-75-CRIME.
---