DNA · Maxwell · Bad People
Plus, a survivor on true-crime news video
Hackers went after GEDmatch, shutting it down for days. No, GEDmatch is not a dating site for those who chose a non-traditional educational path — it's the genetic information website that was loosey-goosey enough with its privacy policies (unlike 23andMe and its ilk) that it's used by law enforcement to heat up cold cases.
In fact, it was GEDmatch that led investigators to the now-admitted Golden State Killer, and scores of others until a privacy policy change last fall. This week, the biotech company said via Facebook that it "experienced a security breach orchestrated through a sophisticated attack on one of our servers" which left "all profiles visible to all users" for about three hours. In fact, "During this time, users who did not opt in for law enforcement matching were available for law enforcement matching and, conversely, all law enforcement profiles were made visible to GEDmatch users." Exciting!
The company took the entire platform offline in an effort to manage the hack, and kept it off for several days until (again, via Facebook) they brought it back online on July 25. The comments on both posts are…pretty intense. Facebook, hacking, and a crime-centric DNA site: it's a potent cocktail. — EB
---
Time to pick the bonus book-review book for August! Last month's second-place finishers are back in play, plus the James Renner, and a law-school memoir (I think?) from legal-thriller author Scott Turow. Anne Perry review coming soon; in the meantime, choose me a good one! (Or possibly a legendarily bad one?) — SDB
---
It was a year ago today that…
You can read the full July 30, 2019 issue of Best Evidence here.
---
How was all that only a year ago? Well, it was. You have been reading this thing for a year, maybe more! Thanks so much, as always, to all of you who help keep this thing going with your annual or monthly subscriptions. Your support means the world to us. But we don't hate you if you're not a paid subscriber, of course! That said, if you have the scratch to spare…
---
Honk if you love longreads. My new thing is to pull my blackout curtains ($16.99 at Home Depot, just FYI) and scroll through a longread on my phone until I fall asleep. Here's the true crime that's given me some extremely fucked-up dreams this week. — EB
"The Cold War Bunker That Became Home to a Dark-Web Empire" [The New Yorker] "An eccentric Dutchman began living in a giant underground facility built by the German military—and ran a server farm beloved by cybercriminals."

"Inside Ghislaine Maxwell's dark web: greed, sex and daddy issues" [The Sunday Times] "How did the Oxford-educated daughter of a publishing tycoon wind up in jail charged with trafficking minors for Jeffrey Epstein? Vassi Chamberlain, who knew Maxwell, speaks to her former friends"

"Dead wrong" [CBC News] "In 1999, Glen Assoun was sentenced to life in prison for murdering his wife. He never stopped professing his innocence — and two decades later, the justice system finally admitted he was right."
---
A victims' rights activist is taking YouTube and Facebook to task. You might have read For Alison: The Murder of a Young Journalist and a Father's Fight for Gun Safety when it came out last year — the book, by Andy Parker, is about the death of his daughter, Alison Parker. She and photojournalist Adam Ward were shot and killed in 2015, as they interviewed a Virginia official on live television.
Andy Parker has since devoted his life to the fight for victims' rights and gun control, but has also spent time over the last few years calling out social media and video platforms that host and circulate footage of his daughter's death. He went to the Federal Trade Commission this February, "arguing that YouTube violates its own terms of service by hosting content it claims is prohibited and urging the FTC to 'end the company's blatant, unrepentant consumer deception,'" the Washington Post reported at the time.
His pleas were apparently unsuccessful, as on CNN this week, he again says that the videos of the slayings remain online, and that there needs to be legislation to force tech companies to moderate that content. Interestingly, the item says in a postscript, "After CNN Business reached out for comment on this piece, Google removed two videos of Alison's murder from YouTube." You can read the full op-ed here. — EB
---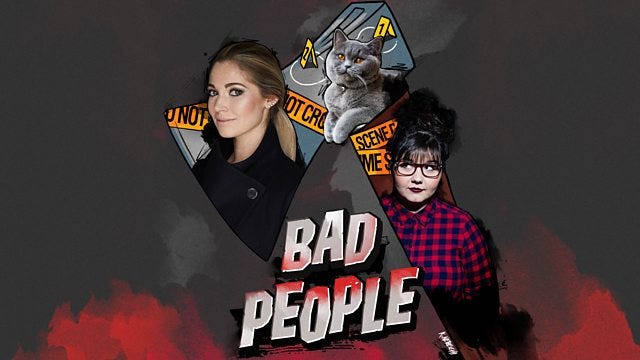 If you don't feel like longreading, how about some new podcasts? — EB
Classic City Crime's first season is about the death of former University of Georgia law student Tara Louise Baker, which has gone unsolved for over 20 years. The show includes interviews with Baker's family, friends and classmates, but host Cameron Jay says that police refused to help him reopen the case. You can catch up on Classic City Crime here.
Bad People is a new podcast from the BBC about "dark and complex subjects, often little discussed and considered taboo, using real criminal cases and debunking misconceptions about criminology." It makes its debut Thursday, with the first episode available here.
Public Safety Matters is a criminology-focused website from American Military University, which is to say that it's no Mother Jones when it comes to how it views the cops. The site recently launched a podcast about the 2004 death of 22-year-old college student Rebekah Gould, an as-yet unsolved case. AMU promises "expert guests with years of experience in law enforcement, corrections, the fire service, or emergency medical services" on the podcast, which is four episodes in. You can catch up here, and find transcripts for each ep starting here.
---
Friday on Best Evidence: Let's have a fun discussion thread, I love those things! What do you want to talk about?
---
What is this thing? This should help. Follow The Blotter @blotterpresents on Twitter and Instagram, and subscribe to The Blotter Presents via the podcast app of your choice. You can also call or text us any time at 919-75-CRIME.