Detective Trapp · Adnan Sayed · Dennis Nilsen
Plus: Part one of a two-part pre-holiday reading list
A new podcast highlights an Anaheim homicide cop. The show's called Detective Trapp, and it's a product of the LA Times -- specifically, staff writer Christopher Goffard, who also brought us Dirty John. This time around, the focus is on Detective Julissa Trapp, who worked for years as a sex crime investigator before making the move to the murder squad.
According to the Northwest Arkansas Democrat-Gazette, Trapp "knows when to soften her voice and bat her eyes to get what she wants," which is a descriptor that gives me the icks. That said, I (sadly) know what they mean. In the podcast -- which is currently on its third episode -- Trapp is investigating a string of sex-worker deaths that have been considered "low priority" by the department, growing ever more convinced that they're the work of an Orange County-based serial killer. You can catch up on Detective Trapp here. (And The Blotter Presents is talking about it in Episode 124.) -- EB
---
The U.S. Supreme Court has declined to hear Adnan Sayed's case. The decision reached in his 1999 trial, which was at the heart of Serial's ground-breaking first episode, will stand, the court decided in an announcement you can read here.
The New York Times reports that Syed's arguments that he was the victim of an incompetent defense were not enough to justify a court appearance, a decision that his lawyer, C. Justin Brown, told the AP was "deeply" disappointing. Maryland Attorney General Brian Frosh applauded the denial, saying, "We remain confident in the verdict that was delivered by the jury and are pleased that justice for Hae Min Lee has been done."
Rabia Chaudry, whom we all know from Serial, says that the decision "was fully expected" and that Brown is already planning moves in federal or state court. "We were just waiting. It was just a technicality. Now it's done, so we can move forward," Chaudry said. -- EB
---
True-crime drama Richard Jewell is facing criticism for suggesting that a female journalist traded sex for access. The movie about Jewell, who was the subject of national attention when he was named as a suspect in a bombing at the 1996 Atlanta Olympics, is directed by known pinko SJW Clint Eastwood, jk jk. (Eastwood did direct it, though.) The film's trailer makes it seem like a companion piece to The Joker, with Paul Walter Hauser (who plays Jewell) seeming to directly address the camera as he proclaims his desire to "fight back."
The seeming incel dog whistle aside, the movie has also ticked off folks like Atlanta Journal-Constitution editor-in-chief Kevin Riley, who says that the film's portrayal of late journalist Kathy Scruggs does a disservice to her memory. In the movie, Scruggs (who is played by Olivia Wilde) "offers to sleep with FBI agent Tom Shaw (played by Jon Hamm) in exchange for information about the investigation," the Hollywood Reporter says. Shaw provides the name of the suspect, THR says, and it's implied that the two then had sex.
Yes, I know, Jon Hamm, but let's stay on task here. "There has never been any evidence that this is how Kathy got the story," Riley says, asking, "Why would a storyteller decide to add a detail that is not only insulting but is unnecessary to the drama?" The film will hit theaters on December 13, but knowing misogyny like that is inserted, it's hard to argue that this is a true-crime property worth your money or time. -- EB
---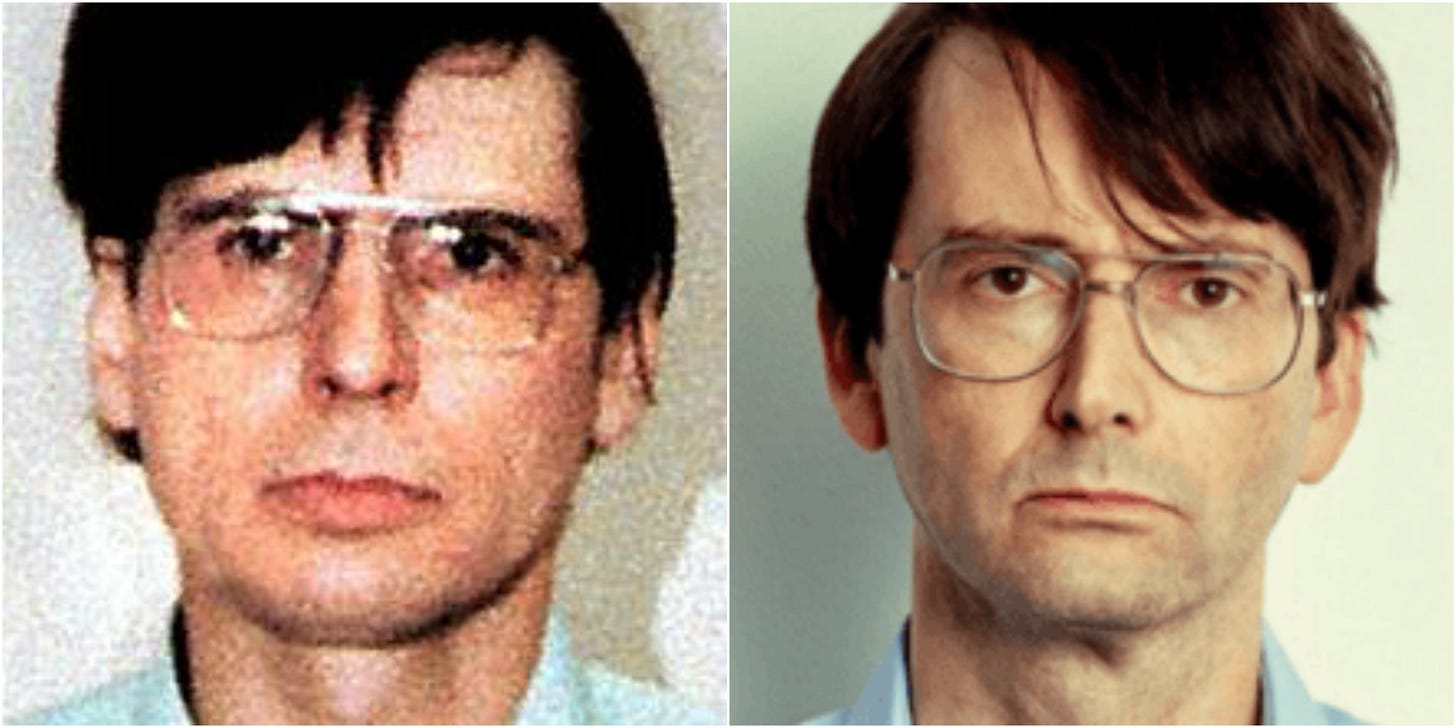 Wow, does David Tennant look like serial killer Dennis Nilsen or what? The former Doctor Who lead will play Nilsen in a three-part ITV drama based on the 1996 true-crime tome Killing For Company, which detailed Nilsen's alleged slayings of 12 men in the late 1970s and early 1980s.
The show, which will be called Des, released its first photo of Tennant as Nilsen, and, yikes. A release date for the film has yet to be set, but it's promised for some time in 2020. -- EB
---
As this is a short week, I'm running out of days to get you every story I want to get you in a timely fashion. So today and tomorrow I'm dropping in a lightning round of true-crime stories that fascinated me in recent days. Consider it a long holiday weekend reading list!
Here's today's lineup:
---
Wednesday on Best Evidence: It's The Blotter Presents Episode 122, with guest Toby Ball on Slow Burn's third season and CBC's Hunting Warhead podcast.
---