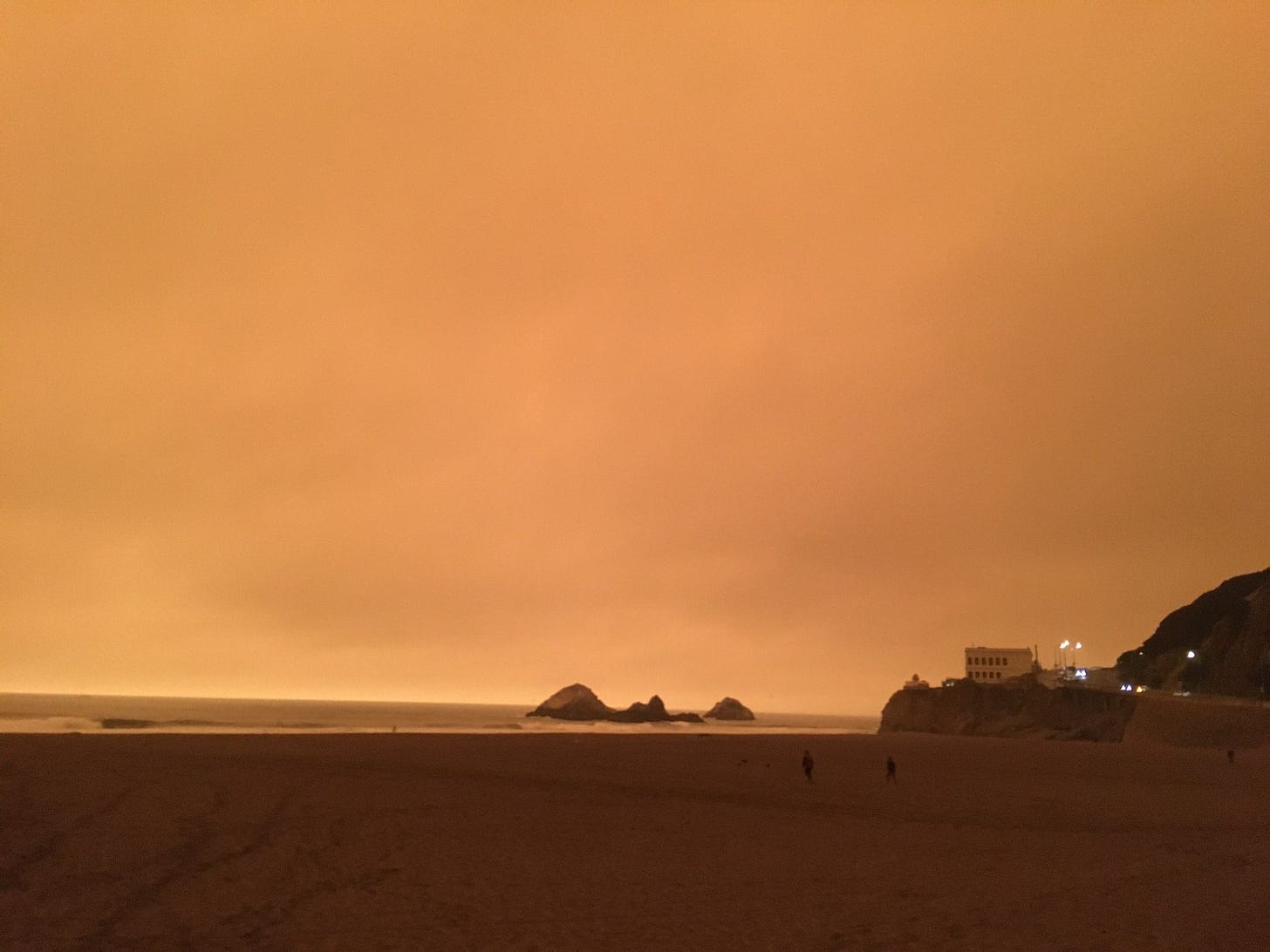 Hello from San Francisco, where as I write this mid-day Wednesday is dark as twilight. The pervasive darkness is a result of wildfire ash trapped in a layer of the environment between us and space, and in case you were wondering, yes, it does get cold when the sun is blocked out, who knew. It's been interesting sitting here listening to people walking past my apartment — people are definitely aggro and anxious (as am I), and we've only been doing this for half a day.
The whole thing sent me down a hole of news coverage of places with all-day darkness. According to some studies, Seasonal Affective Disorder (SAD), the form of depression caused by lack of exposure to natural light, is associated with crime rate spikes not because it's easier to get away with stuff in the dark, but because many respond to depressive conditions either with violence or drug/alcohol abuse. It also appears to aggravate existing mental health issues, a 2000 Norwegian study suggests, increasing the rate of violent crimes committed by previously non-violent sufferers. Is there an argument here that the climate crisis will also, if unchecked as it has been, become a crime crisis? Today's not the day to ask me to think deeper about this, but I'd love to hear your thoughts. — EB
---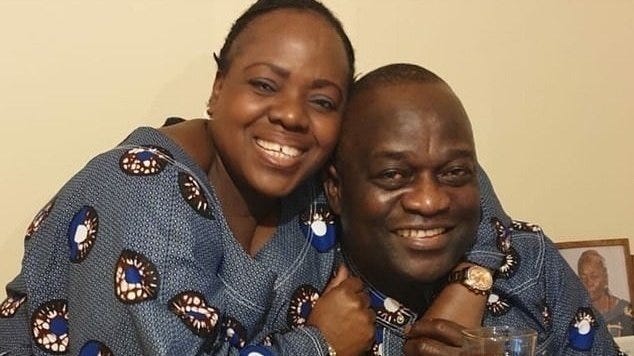 The Guardian has a fascinating audio piece on the investigation into the death of Belly Mujinga. Mujinga died of COVID-19 in April, days after she was attacked and spat upon by a man who claimed he had the deadly disease. By late May, police said that they were no longer investigating the case, saying the assault and her death were not related.
Her family remains unconvinced, and a Change.org petition seeking justice in the case has well over two million signatures as of this writing (and likely far more as of publication time). According to the Guardian, though police say they tracked down the suspect in the spit attack, they didn't arrest him, as he "produced a negative antibody test, showing he did not have the virus."
But given how inaccurate many medical experts say most antibody tests for COVID-19 continue to be, it's still not certain that her infection wasn't caused by this man — but, then again, it's not certain that it was. Right now, most countries don't have deliberate exposure laws for COVID-19 the way some do for, say, HIV. This is unlikely to be the last case we see of either allegedly deliberate or negligent exposure, and it will be interesting to see if it's Mujinga's case, or another one, that starts setting precedent for prosecution. You can listen to the Gaurdian's audio report here. — EB
---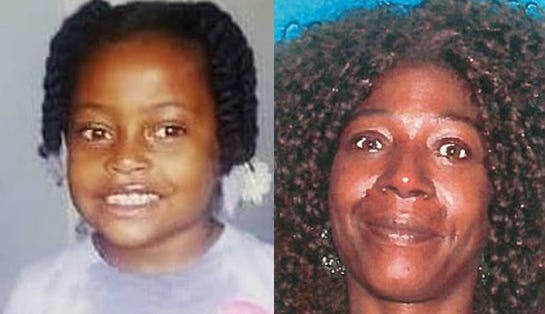 mytwintiers.com
Missing girl, 6, from California found safe in Buffalo after 'Live PD' viewer tip
Talia's case was featured on A&E's Live PD television show in May 2020.
You can't keep a good man — or Dan Abrams — down. Abrams didn't lose his job as host of now-canceled (in every sense of the word) copaganda show Live PD all that long ago, but he's already found a new bag: Variety reports that the Law & Crime Network founder is now shilling Law & Crime Daily, a syndicated daily show "that examines the day's most interesting court cases and true-crime events." In other words, Entertainment Tonight, but for mayhem.
According to Abrams, "right now, all the news networks are all politics, all the time," suggesting that there's a void for true-crime coverage, I guess? He's also expressing hopes that Live PD will return, saying, "I think that a show that highlights what police officers are doing is more timely than ever right now – the good and the bad. So I am pushing for it to return and certainly hope it does." It's certainly odd that Abrams seems to think that if he covers the "bad" that police officers do that he'll still get their previously-instrumental cooperation to make the show, an attitude that suggests that he has not been paying attention. Anyway, his new show kicks off on September 14; check your local listings for what network near you (if any) is carrying it. — EB
---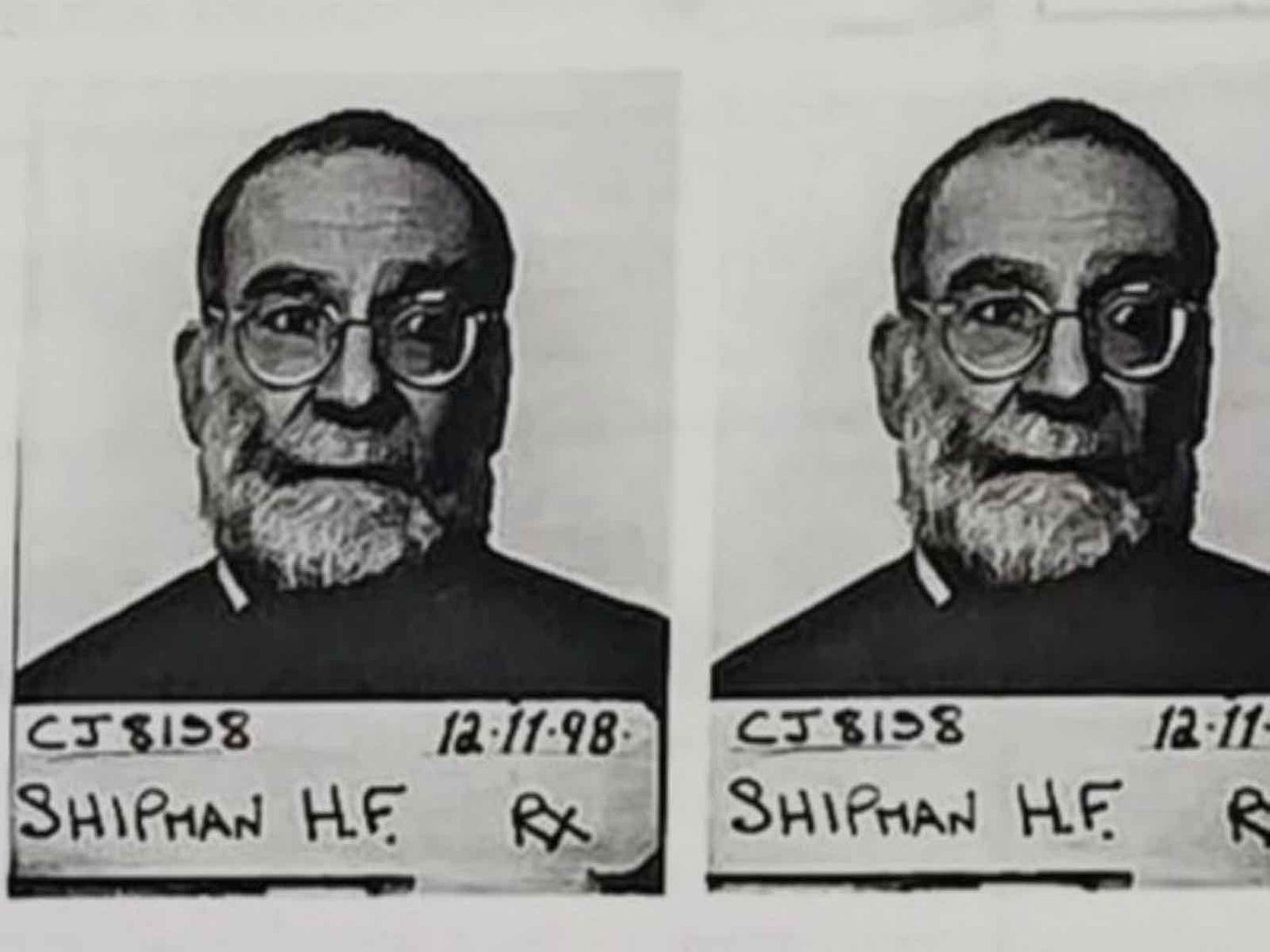 The Harold Shipman Files: A Very British Crime Story is set for release on BBC2. We talked about this doc when it was announced a little more than a year ago, and now it's here, which I guess is proof that you can count on death, taxes, and the BBC even in These Troubled Times.
During his career as a doctor, Shipman also killed at least 215 people, though it's estimated that the true number is closer to 250, many unnoticed by officials as his victims were mainly the elderly or otherwise marginalized. The three-part doc digs deeper into why no one even cocked a brow at Shipman for so long. It'll air during "BBC Week 39," which news orgs say like it means something, but I'm not sure…if the BBC follows the Gregorian calendar, that means some time between September 21 and 27. — EB
---
True-crime podcast speculation time! So, I saw this job listing, and I'm just going to cut and paste it here in case it's pulled down.
REMOTE - True Crime Writer For Podcast - Legal Focused Podcast, Chicago, Illinois

Date Posted September 09, 2020

Industry Newspapers / Wires, Digital Media

Specialty Investigative

Required Education Bachelor's Degree

Job Status Freelance

Salary TBD

Description:

A true crime podcast is looking for a writer who can research and write roughly 60 minute scripts centered around crimes that have gone through the legal system. The podcast launched over 3 years ago, has over 50 million downloads and is looking to add on to their team of writers.

Ideally seeking writers who have experience writing stories centered around the criminal justice system. The right fit for us is someone who actively follows high profile cases throughout the country and can tell the story of the case in a tasteful and engaging way. Respect to those involved and their families in each case is important to us.
OK, so we have Chicago-based true crime podcast, three years old, episodes are an hour long, and it's relatively popular (though 50 million downloads is a pretty vague metric without more information). Name your suspects below. — EB
---
Friday on Best Evidence: When is true crime true crime, and when is it just…history?
---
What is this thing? This should help. Follow Best Evidence @bestevidencefyi on Twitter and Instagram. You can also call or text us any time at 919-75-CRIME.