Cold Case Hammarskjöld · A Confession · Sky Crime
Plus: A wedding crasher begs for adaptation
Cold Case Hammarskjöld is racking up positive reviews. The true crime doc about the plane crash that claimed the life of UN General Secretary Dag Hammarskjöld premiered at Sundance earlier this year, and was released in theaters this past weekend.
I've never given much thought to Hammarskjöld's 1961 death, long thought to be the result of a plane crash in Ndola, Rhodesia. The film (which is by muckraker Mads Brügger) presents arguments that not only was the crash an assassination, but that an even greater plan was at work. Rolling Stone calls the hypothesis it spins "a true WTF," and arguably, it's either a very good or a very bad time to spin conspiracy theories, depending on your stance on where the news ends and speculation begins.
In an interview with the Austin Chronicle from earlier this summer, Brügger says that he is "enormously attracted to the stories that refuse to be demystified." Does that approach jibe with true crime fans' desire for mysteries to be solved? That embrace of the unknown might make this movie a tough sell for folks like us -- but then again, The Washington Post's chief (and, I'd argue, toughest) film critic, Ann Hornaday, also says that it is "the most proficient exercise in alternate history this side of Serial." Oh, Ann, you said the S word…now I've gotta give this one a shot. -- EB
---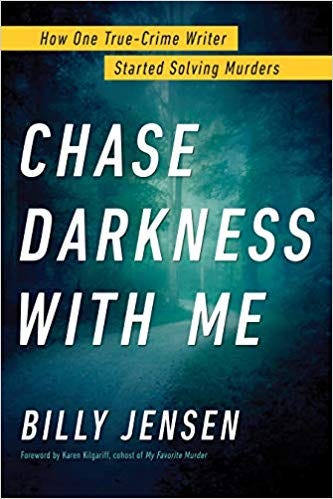 A true-crime author has written a book about making the transition from reporter to crime solver. According to his website, Billy Jensen's been in the journalism game since the late 1990s, netting his first clips with the Long Island edition of The Village Voice. After Michelle McNamara -- a longtime friend of Jensen's -- died in 2016, it was Jensen who helped complete I'll Be Gone In The Dark, and after that, he says, he made the decision to start solving crimes, himself.
The result of that decision is Chase Darkness with Me: How One True-Crime Writer Started Solving Murders, which was released last week. The book's already garnered a blurb from none other than John Douglas, who terms it "a breakthrough crime narrative," and boasts an intense and moodily-lit website that details (scroll all the way down) a far-reaching tour in support of the tome. (The site is similar in tone to the one for the podcast Jensen co-hosts, The Murder Squad. I assume the rise of true crime has also spurred an uptick in genre-specific marketing?) In an interview from April, Jensen suggests that the properties are all interrelated, as "the podcast is really an extension of the book, and a natural progression of the audiobook." He's also reportedly involved in an HBO adaptation of McNamara's book, so expect to see his extremely seriously-looking headshot to continue to make the rounds. -- EB
---
Sky is launching a dedicated true-crime channel. The Comcast-owned cable empire, which serves much of Europe, is launching Sky Crime this October, The Drum reports. Current Sky customers will get the network "at no extra charge," a press release says, promising coverage of "the more infamous examples of true crime to be committed in the US and UK." According to the Hollywood Reporter, content for Sky Crime will come from Oxygen and HBO, with deals already struck for shows like I Love You, Now Die and The Disappearance of Susan Cox Powell. -- EB
---
As long as we're talking UK crime properties… We talked about A Confession a few weeks ago, an ITV drama based on the disappearance of Sian O'Callaghan -- or, more precisely, the questioning of the suspect in her death, an interrogation that cost detective Steve Fulcher his job. Martin Freeman, whom you might know as Watson, Tim from The British Office, or a person with a very bad American accent in the Marvel films, plays Fulcher in the six part series. On Wednesday, the network announced that the show would premiere on Monday, September 2, with episodes airing weekly thereafter. If you're interested in the show but don't have access to British TV, you're out of luck for now, as A Confession has yet to announce a distribution deal in the U.S. (in fact, even its trailer is unwatchable stateside) -- but you're all enterprising folks, so I'm sure you'll find a way. -- EB
---
Why hasn't this been adapted: The wedding crasher of Comal County. It's a story that's been picked up by outlets like Today and People, so I wouldn't be surprised to see an announcement on a ripped-from-the headlines property at some point soon, but I'm still going to claim credit if it happens. Here's the deal: Back on August 12, the Comal County, TX, Crime Stoppers penned a Facebook post saying that the woman you see on the left "has been dubbed 'The Wedding Crasher'" by officials, who say she "has been frequenting wedding events not only in Comal County, but surrounding counties as well, preying on unsuspecting families and friends. The suspect arrives uninvited to weddings, poses as a guest and then steals the gifts." The tale has since been reblogged and rewritten scores of times, in loosely-reported news items that likely appeared on a website or broadcast station near you.
The suspect has reportedly been active since last December, but despite the ubiquity of the yarn (and a $4,000 reward offered by Crime Stoppers), she has yet to be identified. I feel like there are so many different ways a smart screenwriter could go with this story, as well as so many super dumb ones. For example, in the wrong hands, this could turn into a "lady just needs to be loved" property, which would just bum me out. Here's hoping the right production company gets hold of it, so we can get an adaptation that takes us beyond the played-out wedding tropes Hollywood's been shoving down our throats for generations. -- EB
---
Friday on Best Evidence: Let's take another look at Lolita, shall we?
---
What is this thing? This should help.
Follow The Blotter @blotterpresents on Twitter, Facebook, and Instagram, and subscribe to The Blotter Presents via the podcast app of your choice. You can also call us any time at 919-75-CRIME.