Chicago 7 · Felicity Huffman · The NRA
Plus: A whole new podcast slate, good god
A pandemic's not going to stop The Trial of the Chicago 7 from seeking awards glory. Aaron Sorkin's film on the 1969 trial of anti-war and pro-social-justice protesters Abbie Hoffman, Bobby Seale, Jerry Rubin, David Dellinger, Tom Hayden, Rennie Davis, John Froines, and Lee Weiner is a Netflix joint, but that doesn't mean they're not going for the gold: it was also released where movie theaters are open, in an effort to qualify for most major awards. (As a Sorkin project would, one supposes.)
But of course, it's also available to anyone with access to Netflix, and it's gotten so-so reviews, with the Guardian saying that "there's a stinging currency here that cuts through the wafting patchouli and tie dye and makes for a forcefully contemporary and relevant piece of film-making," and Slate writing that its "uninterrogated gender politics" make it a "fundamentally traditionalist movie."
My favorite critical line, though, is from NY Times reviewer A.O. Scott, who writes that Sorkin has pulled together "a remarkable collection of performers in what might be described — again, not dismissively — as a Very Special Sober Episode of Drunk History." And he's not wrong: we're talking about Yahya Abdul-Mateen II, Sacha Baron Cohen, Michael Keaton, Frank Langella, Eddie Redmayne, Mark Rylance, and Jeremy Strong, among many others.
That panoply of boldfaced males is perhaps why, as reported by the Hollywood Reporter, its entire cast (not just a select one or two) "will be pushed for awards in the supporting actor category" for most major awards. The strategy isn't a new one (according to THR, it's a move that began with the cringey racial-divide explainer Crash), but can work to boost its inclusion in other, more significant categories.
I haven't watched TTofC7 yet, mainly because it seems like all I can handle in these last few days before the election are unforgivingly brutal horror films and The Great Pottery Throw Down. Have you checked it out — and, if so, does it feel like the kind of movie that 1) should and 2) will win awards? — EB
---
Maybe you're not like me, though, and you're up for some coverage that marries true crime and current-day politics. New documentary Fish in a Barrel might scratch that itch: it's "an exposé of how the NRA's history of alleged campaign violations have stymied popular efforts to make even modest reforms on access to firearms," its press materials say, from John Wellington Ennis, a guy whose résumé includes Oprah and an odd short called "The Sensual Lover of Bindalele."
"It's such a crazy story I don't believe I get to tell it," says Ennis via press release. "I mean, the NRA, pulling dirty moves in elections, then selling out to Russia, after all their patriotic grandstanding? No one would believe it. But there's so much documentary evidence, it took up a feature-length film." The doc is on Apple TV, if you're up for it. — EB
---
Felicity Huffman has completed her full sentence for her role in the college admissions scandal. The dek on NBC's report made my blood run cold for a moment: "Twelve months ago this weekend, the Desperate Housewives actress walked out of a federal lockup in California." Seriously, that was a year ago? My god.
Anyway, Huffman's sentence included a full year of supervised release, so that just wrapped up, Us Weekly confirmed. She also completed 250 hours of community service (she reportedly worked at the Teen Project, a LA-based non-profit for at-risk, homeless youth) and 11 days in prison at a federal lockup in Dublin, California.
Last week, Huffman petitioned a court to return her passport (it was being held by the U.S. Probation and Pre-Trial Services Department during her sentence period). She's now "free to travel without restriction," NBC reports, but given how few countries want to allow U.S. citizens in…well, let's just say I hope Huffman likes Albania. — EB
---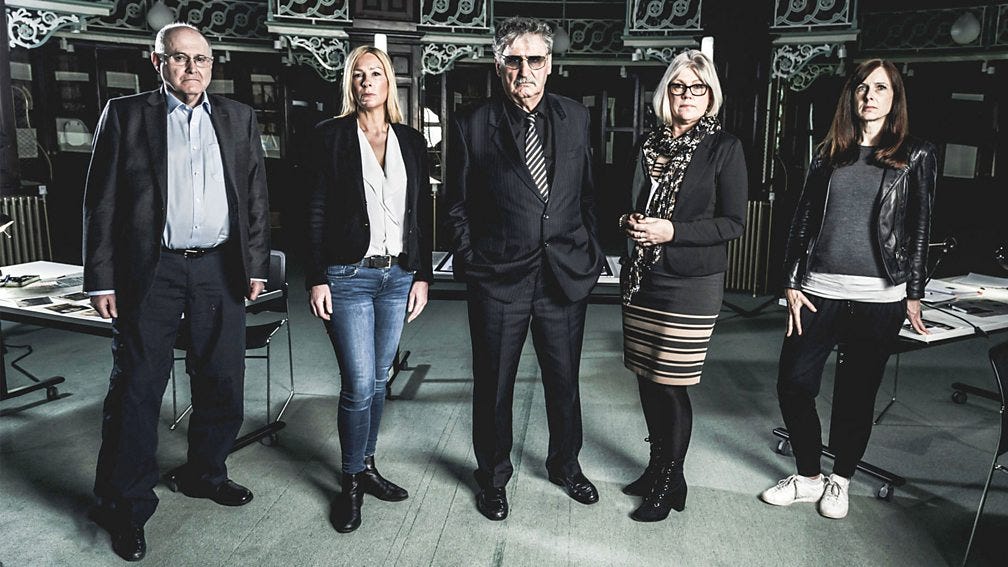 A new BBC show will focus on crimes in Wales. Dark Land: Hunting the Killers kicks off on BBC 1 this weekend with a look at the unsolved slaying of 23-year-old Maureen Mulcahy (a crime that has obsessed online detectives for decades). Here's the premise, per Wales 24/7:
Led by former Chief Constable of Dyfed-Powys Police, Jackie Roberts, the team is made up of experts in a variety of fields including DCI Paul Bethell, the former head of the South Wales Cold Case Unit, geographic profiler Dr Samantha Lundgren, forensic psychologist Professor Paul Britton and archive researcher Dr Nell Darby.

Armed with this diverse array of skills and specialities in all areas of forensic criminology, the team hope to use modern policing techniques to identify prime suspects in these unsolved cases.
So, pretty standard stuff, but with the bonus (for those of us not from Wales) of being about crimes that are less well-trod or familiar. It's only available to subscribers of BBC Wales for now, but we'll keep our eyes out for other ways to get a glimpse of this show. — EB
---
ID is launching three true-crime podcasts. The network says via press release that its planning "a slate of original podcast programming" starting with Red Flags, "a weekly talk show designed to be a one-stop shop for all the latest buzz in the true crime world." (There's a trailer for that property here.) The hosts are "crime writer Tori Telfer and armchair detective turned Tik Toker Karina Michelle," which I don't have the energy to unpack right now. It drops every Thursday as of November 12.
Then there's The Clown And The Candyman, which drops on December 15. It "reveals the network of pedophiles that connected two deranged serial killers, Dean Corll and John Wayne Gacy," and is the audio companion to an ID series on the same topic that will air in January. (This is the TV show, I assume.)
Finally, there's Unraveled, with ubiquitous true-crime personalities Billy Jensen and Alexis Linkletter. Planned for "early 2021," this is a podcast intended to spend a multi-episode arc on a specific case, starting with seven episodes on the Long Island Serial Killer. — EB
---
Friday on Best Evidence: Sarah and I have been thinking a lot about crooked politicians the last couple days (weeks, months, years), no reason why I'm sure! Let's rap.
---
What is this thing? This should help. Follow Best Evidence @bestevidencefyi on Twitter and Instagram. You can also call or text us any time at 919-75-CRIME.