Batman · Scott Peterson · (Fake) Serial
Plus: 'Making a Murderer' confusion
Neither Sarah's nor my dad is the Zodiac, but maybe the Riddler is? It's Slate's contention that The Batman — the "and you thought Chris Nolan was all dark and shit? Wait 'til they get a load of me" take on the vigilante with Robert Pattinson in the hood — is in part a take on the Zodiac tale.
Paul Dano plays the Riddler, who's into Halloween cards (like the Zodiac) and cyphers (easier to solve than the Zodiac, but sure looks familiar). Of course, this is mainly speculation, as we're just looking at a moodily-lit set of snips from a movie that hasn't even finished production yet, as per Deadline it had to halt production as the pandemic arose in March.
In fact, director Matt Reeves says that only 25 percent of the movie has been shot, so who the hell knows how this thing will actually turn out? That said, Reeves says, "Paul Dano plays a version of the Riddler you've never seen before … he's just emerging." Which could mean many things! So, I guess the question is, do you want your true crime chocolate in Batman's peanut butter? — EB
---
Scott Peterson's death sentence has been overturned. Peterson, who was sentenced to death in 2005 for the slaying of his pregnant wife, Laci, wasn't at risk of immediate execution: California Governor Gavin Newsom declared a moratorium on the act for his stint in office, so though prosecutors can seek that sentence, it won't be carried out.
In a decision announced Monday, the state Supreme Court ruled that though they "reject Peterson's claim that he received an unfair trial as to guilt and thus affirm his convictions for murder," the judge in his trial "made a series of clear and significant errors in jury selection that, under long-standing United States Supreme Court precedent, undermined Peterson's right to an impartial jury at the penalty phase."
At issue were the dismissals of certain jurors, the ruling reads, as "While a court may dismiss a prospective juror as unqualified to sit on a capital case if the juror's views on capital punishment would substantially impair his or her ability to follow the law, a juror may not be dismissed merely because he or she has expressed opposition to the death penalty as a general matter."
Prosecutors may now seek a new penalty phase trial, but it's unlikely, the Associated Press reports. It's now expected that they will agree to commute the sentence to life without possibility of parole, the LA Times reports, which would allow Peterson to live out his days at San Quentin prison. — EB
---
Spotify is packed with counterfeit Serials. It's a true-crime crime! So here's the deal: According to Digiday (a media-meets-marketing trade pub, hi, I read fun stuff). Anchor, a hosting platform Spotify bought last year, "has allowed shady creators to distribute dozens of shows with the same names as popular podcasts."
Top of the same-name list is true crime juggernaut Serial, but "30% of all the Podtrac top 20 podcasts are currently being copied on Anchor," Podnews reports. The problem is so bad that users of the Anchor app won't see the real version of a show at the top of their search, as "A user hunting for the podcast 'Serial,' for example, would have to scroll past nearly a dozen fake shows before finding the show that brought podcasting into the mainstream," Digiday reports.
But why is this happening? "The fake shows appear designed to trick listeners into listening to them, so they can be monetized through ads injected automatically using Anchor technology"; so, "A copycat podcaster can create a show on Anchor, upload it to Spotify, then use Spotify's automatic ad injection to monetize a confused listener," Digiday reports. In other words, there's not a huge financial reason not to allow this, so…yeah. — EB
---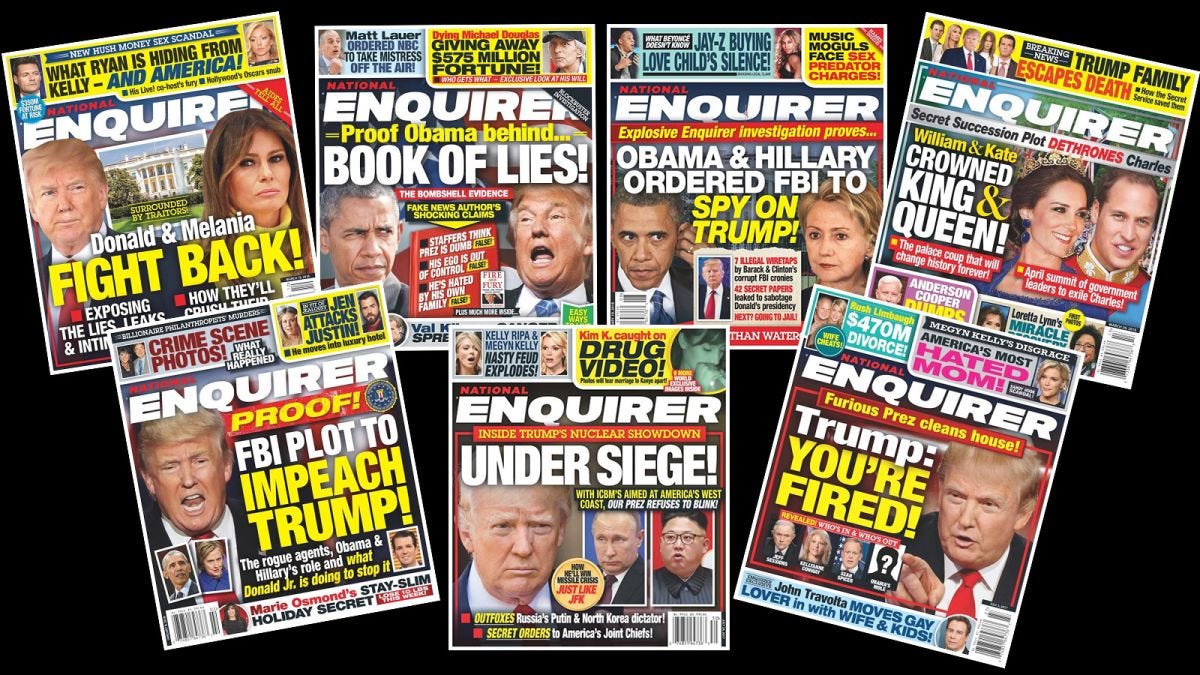 See ya, Pecker. David Pecker, the CEO and publisher of National Enquirer parent company American Media who featured prominently in Ronan Farrow's true-crime yarn Catch And Kill, has "been dethroned," the Daily Beast reports.
The once-mightly AMI has merged with a wholesale distribution company called Accelerate (they "deliver products 'from corkscrews to umbrellas,'" the New York Times reports), and Pecker will instead be an "executive adviser," which sure doesn't sound like much of a job at all. Chris Scardino, the former executive vice president and group publisher of American Media, will take Pecker's place at the top. — EB
---
Speaking of tabloids…
Let's count the ways this true-crime property headline makes no sense:
Making A Murderer is about the cops allegedly framing a guy

This is just a cold-case podcast, one of about a zillion out there

The case has nothing in common with the case at the heart of Making A Murderer

Making A Murderer is a TV series, not a podcast
What else? — EB
---
Wednesday on Best Evidence: Gucci and true crime, with a Jared Leto twist, perhaps?
---
What is this thing? This should help. Follow Best Evidence @bestevidencefyi on Twitter and Instagram. You can also call or text us any time at 919-75-CRIME.